It was a long time coming—23 years to be exact—but last month the Wisconsin Department of Natural Resources (WDNR) announced the state's first-ever managed elk hunt in the northern range herd near Clam Lake. WDNR Big Game Ecologist Kevin Wallenfang called the announcement "exciting news" and "a great conservation story." Few who have followed the lengthy, sometimes frustrating reintroduction would disagree.
In 1995, Wisconsin biologists from the DNR and the University of Wisconsin-Stevens Point, brought in 25 elk trapped in Michigan and released them in suitable habitat in the Chequamegon-Nicolet National Forest. What has transpired in the ensuing years is an intense management program, the additional release of Kentucky elk and a few setbacks.
Wolves, for example, returned to the landscape on their own just as the elk were reintroduced, and they undeniably take a toll on elk numbers, especially during harsh winters, according to Wallenfang. Black bears, coyotes and other predators also occasionally take newborn calves early in the summer, and there are a few elk versus vehicle losses each year, as well.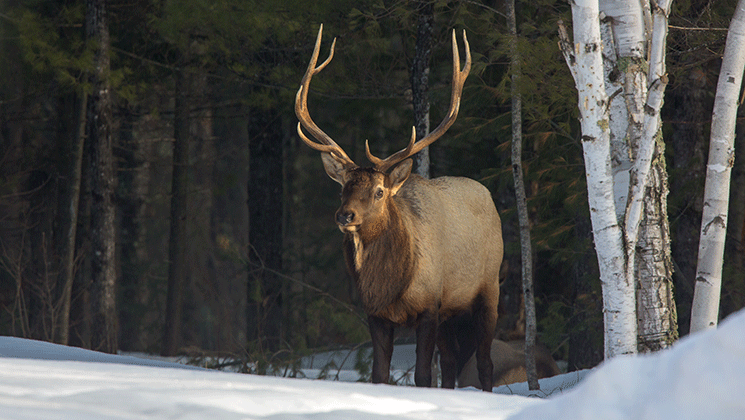 The end result has been a slow but steady increase in elk numbers in the northern herd. Now that the population has reached at least 200 elk, a limited hunt can occur, offering several lucky Wisconsin hunters the chance to be the first to participate in a managed elk hunt in the state.
In an interview last year, Wallenfang noted that elk hunting is built into Wisconsin's current management plan, stating that "the Clam Lake herd requires at least 200 elk in the population before a hunt can occur... The thresholds are established in state law."
This first hunt will be for bulls only and limited to ten total tags. Wallenfang says there is a "high bull to cow ratio in northern Wisconsin" and he expects hunter success to be high. There are some pretty good bulls in the Clam Lake herd, too. Numerous 6x6s are present and one big bull is 18 years old. Wallenfang calls him "nasty" since that bull has fatally injured at least two other bulls he knows of.
The Clam Lake herd contains approximately 70 bulls, and most them will never get a chance to breed because the largest bulls create and protect harems of cows during the fall rut. "We feel we can have a hunt without any limitations to the future growth of the overall population," said Wallenfang.
The ten tags being offered will be allocated as follows: Four tags will go to Wisconsin residents chosen by lottery; one will be raffled off by elk reintroduction partner the Rocky Mountain Elk Foundation (RMEF); and five tags will be available to Native American tribes who have also been critical in the reintroduction effort through the Great Lakes Indian Fish and Wildlife Commission (GLIFWC.)
The reintroduction and hunt are particularly rewarding for those Native Americans in the region. According to GLIFWC Executive Administrator James Zorn, "This is indeed a positive sign that co-management of the resource is working, which allows our communities the ability to revitalize these traditional life ways and practices."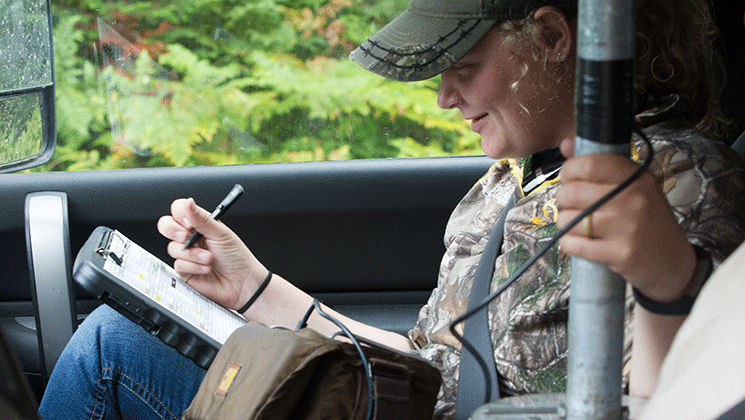 Elk are native to Wisconsin, but were extirpated from the state by the late 1800s due to over-hunting and loss of habitat. At one time, Native Americans relied heavily on elk to survive in the state, and in 2005, the ancient skeleton of a large bull elk was pulled from a lake just west of Clam Lake. That skeleton contained clear indications of butchering and a stone spearhead was found with the bones. Obviously, elk meat was much-appreciated by hunters then, as it is now.
The RMEF has two dozen Wisconsin chapters and 9,700 members in the state, and they continue to be strong supporters of the reintroduction efforts. In a statement released last month, RMEF chief conservation officer said, "This is the culmination of more than two decades of elk-related conservation work. The RMEF has been involved with reintroduction efforts in Wisconsin dating back to 1995, and continues to put funds on the ground to benefit the state's elk herds and elk habitat."
According to Wallenfang, the long-term population goal for the Clam Lake elk herd is around 1,400, with another 390 in a southern Wisconsin unit, which is not part of the 2018 hunt.
The cost for Wisconsin resident hunters to enter the lottery will be $10. Successful applicants will also have to buy a Wisconsin elk hunting license for $49. 70 percent of the proceeds from the application lottery fund will go directly back into elk management in the state. WDNR has produced a YouTube video announcing the hunt and a Facebook Live presentation explaining the details.
Lottery applications will be accepted beginning May 1, and successful applicants will be required to take an elk orientation course. The dates of elk hunt, set to avoid interfering with the whitetail firearms season, are Oct. 13 to Nov. 11, and Dec. 13 to 21.
For more information, go to dnr.wi.gov.