by
posted on October 28, 2014
Support NRA American Hunter
DONATE
I grew up in Maryland where one of my first whitetail hunts was in woods so thick the buck simply appeared at 75 yards. I fired Dad's classic Remington 870 in 16 gauge—which had no modern rifled slug barrel, by the way—and had my first 8 pointer. We deer "sluggers" of today have two things going for us that I didn't: dedicated slug guns and advanced shotgun slugs. Hunters who pull out all the stops tend to have both as a gun is only as good as the knock-down, killing power of what you put in it. So as we gear up for whitetail shotgun-slug season, here is a sample of offerings from four key slug manufacturers to help you seal the deal downrange.
Federal Premium
"F" is for first, Federal and firepower so what a way to lead off. Federal says "every shot counts"—and so do we. It has multiple slug options, but when my brother, Joe, and I meet up for our Maryland whitetail hunts, one of our top choices is the Trophy Copper Sabot Slug because of its consistent penetration and expansion. As you'd guess, it's an accurate, all-copper slug that features less drop and manageable recoil, which my sister-in-law, Tricia, found ideal when she recently decided to get into the game and start hunting.
For fully rifled slug barrels, check out the accurate, heavy-hitting Premier Copper Solid Sabot Slug available in 12- and now 20-gauge. It pairs the angled petal score design of the Copper Solid Muzzleloader bullet with the ballistic coefficient of a deep penetrating slug round for top performance, providing 100-percent weight retention and two times the controlled expansion.
Of course, "F" is also for Fusion, Federal's ammo line designed specifically for deer. Fusion slugs, available in 12- and 20-gauge, offer serious energy and devastation in a rifled-barrel shotgun. A pure copper jacket is electrochemically bonded to the core and delivers lethal expansion, high weight retention and deep penetration.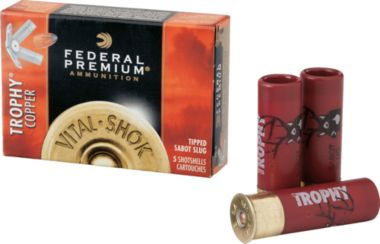 Hornady American Whitetail Slug
Isn't it great when you make a quick stop at the gun shop for ammo and the manufacturer's label makes it easy to find what you need? Hornady made the search simple when it introduced the American Whitetail Slug. The 12-gauge line offers value-priced for rifled slug barrels, and will be joined by a smoothbore companion in 2015.
Hornady's 325-grain Interlock bullet is designed specifically for maximum terminal effect from a rifled shotgun barrel. A hollow-point, serrated design causes rapid expansion on impact. Hornady's testing shows the tough lead-alloy core performs out past 200 yards! Factor in a rigid polycarbonate sabot for enhanced accuracy and you're sure to win a knock-down match with even the biggest midwestern whitetail. ($14.20 per box)
The upcoming American Whitetail 1-ounce Rifled Slug—which will launch in 2015—will help you to turn your smoothbore shotgun into a "deer hunting machine." Loaded with a 1-ounce Foster (hollow-point) slug, this 12-gauge option has a tough, lead-alloy core loaded to 1,600 fps. The compression-style wad protects the slug at ignition and helps to seal the bore for maximum velocity. ($10.51 per box)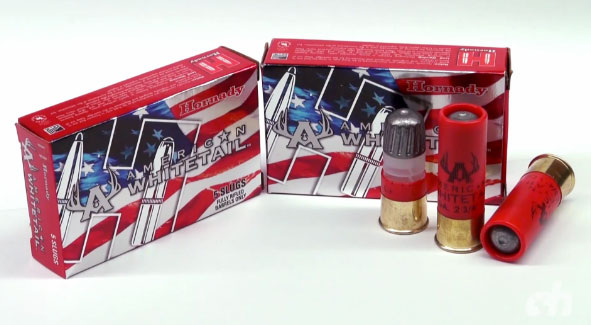 Remington
I've shot my fair share of whitetails with Remington Sluggers through the years so my head turned when the company introduced the first high-velocity Foster-style lead slug designed just for smooth-bore shotguns. Not only does the Slugger High Velocity exit the barrel at a whopping 1,800 fps—13 percent faster than standard 1-ounce slugs—the 7/8-ounce rifled slug delivers 200 ft-lbs more energy at 50 yards on deer with flatter trajectory. The High Velocity line covers a 12-gauge with 2-3/4-inch and 3-inch options as well as 2012-gauge options and 2-3/4-inch 20-gauge with a 1/2 oz. lead slug.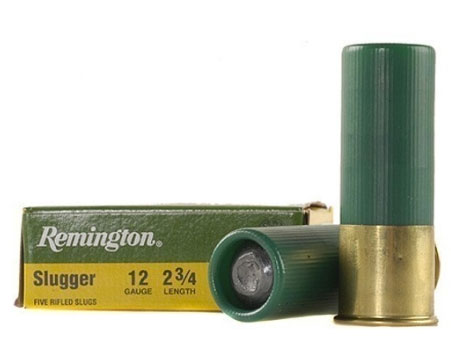 Winchester
No roundup is complete without Winchester's Supreme Elite Dual Bond Shotgun Sabot Slug and here's why: diameter, penetration and weight retention.  Dubbed a "bullet within a bullet" when it was unveiled five years ago, it sports a hollow-point cavity and an innovative 12-segment design. The outer jacket, engineered for rapid upset, opens up to six segments as it penetrates hide and heavy bone while the inner jacket works with a bonded lead core to form six more segments delivering about two times the controlled expansion.
The result: a quick, clean kill. It's available in 12- and 20-gauge in both 2-3/4- and 3-inch options. Of course, if you're looking for another 3-inch option in 12 gauge, there is always the Rackmaster.
I'd be remiss if I didn't mention Winchester's dependable, time-proven 12-gauge, 2-3/4-inch Super-X option. Designed specifically for rifled barrels or choke tubes, the hard-hitting hollow point launches at 1,600 fps, providing sheer stopping power, partly thanks to a unique two-piece sabot designed to enhance accuracy.