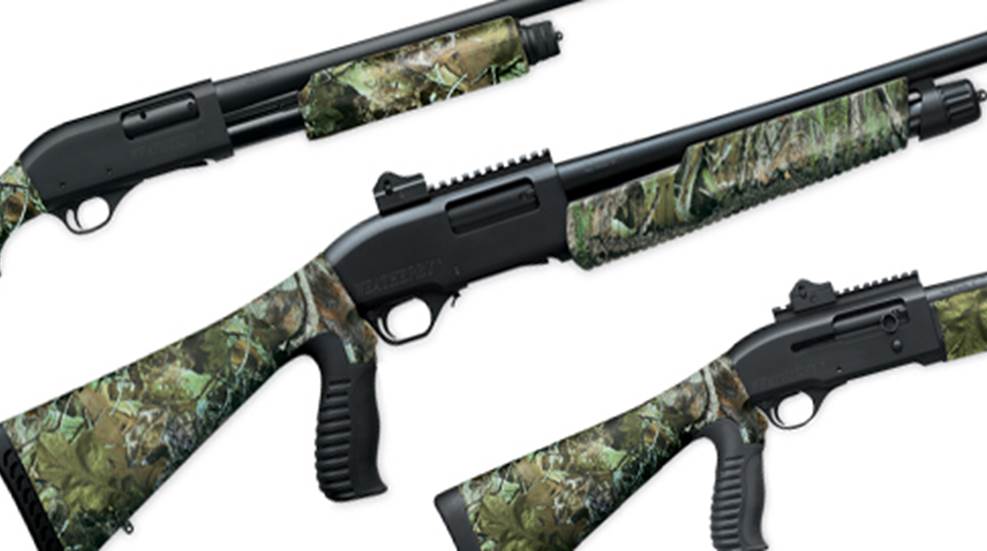 Although Weatherby has been in the shotgun game for some time, an informal survey among a handful of hunting friends found many of them still regard the company as a riflemaker. These guys—most of them turkey hunters, by the way—are missing out, and so is anybody else who hasn't taken notice of this California-based manufacturer's shotgun offerings. This spring brings a particular reason to celebrate the company's efforts as in a year when most gunmakers seem to have put more emphasis on waterfowl guns, Weatherby stepped up with, not one, but three shotguns designed for turkey hunters—all of them at price points many sportsmen will appreciate.
PA-459 Turkey
The PA-459 Turkey is a 12-gauge pump-action shotgun chambered for 3-inch or shorter shells and comes in a compact configuration turkey hunters will appreciate. The barrel is a short 21 ¼ inches choked at the end with an extra-full removable tube (the extended choke adds an inch and a half), while the stock also boasts a compact length of pull at just 13 ½ inches to keep the gun from snagging on loose-fitting or bulky turkey vests. The shotgun's overall length is 41 ¾ inches. Comfortable shouldering is aided by an almost tapered, ergonomic buttstock design with a rubber-textured pistol grip for a sure aim even when gobblers are slow to close the final distance. A Picatinny rail comes already installed atop the action for the mounting of a low magnification optic, but doesn't require glass, as it also has an LPA-style ghost ring rear sight and blade fiber-optic front sight for easy target acquisition. All metalwork on the gun is matte black, while the synthetic stock and fore-end are dipped in a Mothwing Spring Mimicry camouflage finish. The gun tips the scales at 6 ¾ pounds, and retails for a budget friendly $499.
PA-08 Turkey
Delivering virtually equal performance at even more economy, the PA-08 trims some costs utilizing a standard buttstock configuration minus the pistol grip and a standard full choke instead of the extended extra-full offering. The rugged, yet lightweight stock is injection molded. The shotgun is built utilizing Weatherby's proven dual-action bar system for easy, reliable racking of a follow-up round when needed, and the barrel remains a compact 22 inches with only a ½ inch extra length of pull and ½ inch more of total length over its pump-action counterpart, the PA-459. The PA-08 is also chambered for 12-gauge 3-inch shells with matte-black barrel and action and Mothwing Spring Mimicry camo on the stock and fore-end. The 08 also weighs 6 ¾ pounds, and can be purchased for a super-affordable $399.
SA-459 Turkey
Weatherby created an entirely new shotgun family with the creation of the gas-operated, semi-auto SA-459, and accounts for the balance of the company's new turkey gun offerings for 2012 with both 12-gauge and 20-gauge models. From a design perspective, the guns are the same. Both feature a slender fore-end for easier handling and grip, an oversized hourglass bolt handle and comfortable pistol-grip stock for maximum comfort when set up at the base of a tree and awaiting the chance to crush that ol' longbeard. Both come with an extra-full extended ported choke tube, Picatinny rail, LPA-style ghost ring rear sight and fiber-optic blade front site. Mothwing Spring Mimicry camo covers the fore-end and stock. Both guns are also chambered for 3-inch shells and include swivel studs for easy attachment of a sling.
While the smaller-framed and lighter (by a ½ pound) 20-gauge is great for female and young shooters, full-size male turkey hunters will find it a pleasure as well. With today's extra-full turkey chokes and high-density turkey loads, 20-gauge shotguns possess all the knockdown you'll need to fill a gobbler tag without the weight of toting a 12-gauge throughout the day. The MSRP for the SA-459 is $699, pretty good for an auto-loader.