by
posted on April 8, 2014
Support NRA American Hunter
DONATE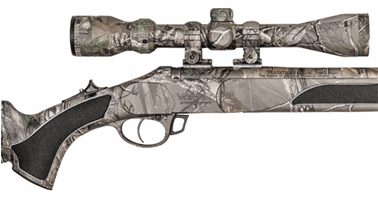 American Hunter Editor in Chief J. Scott Olmsted and I both like muzzleloaders because of their simplicity.
"The setup is like a little boy's dream: a pipe stuffed with some propellant, a projectile and an ignition system set off with a mere lever," Olmsted writes in the "Hardware" department of the April 2014 print edition of American Hunter.
But we both had to admit a little technology can be a good thing when we got our hands on the new Vortek StrikerFire from Traditions. Like its name suggests, the .50-caliber inline is striker-fired.
In his review of the gun, Olmsted explains, "A hammer is replaced with a sliding cocker/de-cocker. When ready to shoot at game, a hunter thumbs the cocker on the tang forward till it clicks in place and cocks the gun. At that point a panel at the bottom of the tang is orange, indicating the gun is ready to fire with a squeeze of the trigger. A small button on the tang cocker is the thing that goes click as it pops upward almost imperceptibly, indicating engagement. Press the button to disengage the striker, and then slide back the mechanism to de-cock the gun."
The benefits? No fumbling with an external hammer, wedging your thumb between it and a scope, to cock or uncock the StrikerFire. As Olmsted notes, the system has been used for years by makers of fine European centerfire rifles.
Other places where the StrikerFire--and muzzleloader hunters using it--benefit from technology include a finger-removable Accelerator breech plug, an excellent TAC2 trigger, and a receiver and barrel coated in Cerakote to protect against rain and snow. This muzzleloader shoots well, too, averaging 1.5-inch, three-shot groups at 100 yards with three different bullets and a 100-grain charge of Pyrodex.
The American Hunter staff was so impressed by the Traditions Vortek StrikerFire that we named it our "Golden Bullseye Muzzleloader of the Year" for 2014. My question now is, would it be inappropriate to wear buckskins while carrying the StrikerFire?