by
posted on October 5, 2016
Support NRA American Hunter
DONATE
"There's a point," quail biologist Dale Rollins called from my left. "Just beyond that cholla cactus." Through the thorny branches I spotted one of Dale's English setter/Brittany hybrids, tail high and curled, head low and steady. Ted Gartner, following three dogs at once with the latest Astro GPS tracking collars from Garmin, moved in from the left. I approached from the right, Rollins up the middle. Before any of us could close to shotgun range, our quarry decided retreat was a better option than valor. A dozen buzzing birds flushed, fanned across the sere Texas grass and settled 200 yards farther out.
"No problem," Rollins said above the January High Plains wind. "They'll relocate 'em." But the dogs never got the chance. The heady aroma of another covey stopped them before they could progress 100 yards.
"There they go!" our biologist host shouted as another dozen quail exploded like a celebration into the early-morning light. I was focusing on a towering cock bird when Gartner's gun popped and the bird suddenly crumpled. I switched to a hen riding the wind, but it tumbled to Rollins' gun, leaving me scratching my frustration. But only for a second. Six fresh birds hopped out of the broomweed like locusts, and this bunch was all mine. I swung the CZ 28-gauge I had borrowed from Gartner, slapped one white-cheeked bird, swung smoothly to a second and doubled.
After a decade of drought and deprivation, Texas' High Plains bobwhites were back.
■■■
How a 6-ounce bird can thrive in the hot, dry, windblown, treeless cactus grasslands from Kansas to Texas yet die out in the balmy pine woods and sharecropper fields of the South isn't as great a mystery as some might think.
It's habitat.
Biologists like Rollins have been harping endlessly about habitat for the last 100 years. And you know why? Because it's true. While hawks, foxes, coons, fire ants, pesticides and herbicides all play a role in quail declines, the key to it all is habitat. If the habitat is right the predators are fewer, the vegetation is more sheltering, the forage base is stronger, and our favorite little upland covey bird is most likely to thrive.
Rollins, head honcho at the Rolling Plains Quail Research Ranch near Roby, Texas, has been studying bobwhites for so long he sounds like one. The man can whistle every tune a bobwhite ever sang and some they only twitter. More importantly, he's overseen countless studies into brush, grass, weeds, seeds, crops, insects, eye worms, raptors, foxes, coons, herbicides, fire, drought, floods and just about anything else that impacts quail—including hunters and dogs.
"You see this weed?" Rollins asked us eight hunters gathered last January for what he called a "Jubilee Year" for quail hunting. "This is annual broomweed. Pledge your allegiance to this because it's everywhere and it's a big part of the reason you're about to flush more quail than you've ever flushed before."
He wasn't kidding. Bird after bird, covey after covey ran, hunkered, flushed and fell. Pointers, setters, shorthairs—the dogs were getting as dizzy as we. And it was easy to understand the broomweed connection. It is a perfect example of effective quail habitat. Useless for livestock feed, broomweed is the perfect height and shape to shelter quail from aerial predation. It fans an umbrella of branches 1 to 3 feet above a thin forest of stalks that allow our favorite little upland birds open understory for running. Hide and run, and you can live a long and happy quail life.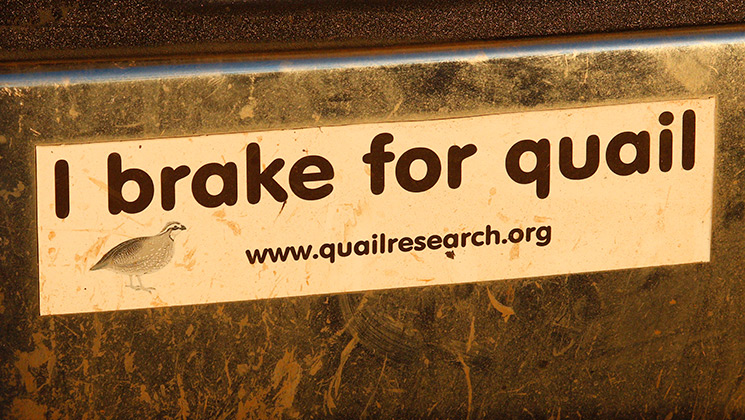 In the spring of 2015, after six years of extreme drought in Texas, during which virtually all quail cover was pounded to dust, it rained. And rained. Record rainfall woke a sleeping giant. Billions of broomweed seeds exploded to life. Grasses and forbs flourished. Billions of insects hatched. So did quail. Populations increased five times, in places even eight times.
How can that happen? A single hen lays a clutch of 12 to 14 eggs, leaves her mate to incubate them. She may then mate with another male and leave him with a clutch while she lays a third clutch that she incubates. She might even leave those chicks to the care of another male and nest again! Within three or four months, a single hen can add 30 chicks or more to the population. With superb escape cover and an abundance of protein-rich insects to eat, most of those chicks survive. The next thing you know, you and your dogs are wading in bobwhite paradise.
This is why the Plains states have superseded the Southeast as our quail capital. While most of the latter region has been converted to vast crop fields, mature forests and manicured pastures crawling with coons, opossums, house cats, hawks, fire ants and choking fescue grass, much of the drier Plains remains in a more quail-friendly mix of native grassland pastures, weedy field edges and grain fields. Just add rain for a flood of new quail and the best quail hunting of a lifetime. That was what we hunted last January.
On our second day of hunting, I hooked up with Rick Snipes, president of Rolling Plains Quail Research Ranch, for a day of action some 40 miles to the west. Here scaled quail, locally called blues or cotton tops, proved as delightfully overpopulated as bobwhites. We hit the first covey seconds after Rick turned one of his prize setters loose. In the cool of the morning, the covey ran. We chased. They flushed wild. The dog found another. We chased. They flushed wild. About the fourth time this happened, it must have warmed enough to calm them. They held under the dog's nose and flushed so close to our guns I thought they were bobwhites.
One doesn't shoot a blue quail double with a 28-gauge every day, but I did several times that day, the CZ over/under functioning like a guided missile. In places blues were mixed with bobwhites. Rick dropped dog after dog and each established point after point on native grasslands literally seething with birds. Bobs. Blues. Mixed bunches. At times we could see a half dozen running through open grass while the dogs were locked on another covey and a third was airborne. I stopped counting coveys after 10. We collected 15-bird limits before lunch, and Rick, all 6 feet, 13 inches of him, apologized for the slow action.
Texas may have been the epicenter for quail last season, but Kansas wasn't far behind. We bumped more birds there than we had since the banner year of—gosh, I think it was 1988. Double-figure covey days were reported in various parts of the state. I suspect Oklahoma was no different. Above-average rains surely get the blame there, too. When weather is good, and plenty of annual weeds sprout to feed and shelter quail, even Nebraska and southern South Dakota become bobwhite hotspots. Following several good years of the right conditions, bobs can pioneer as far north as Pierre, S.D.
■■■
But Lone Star bobs and blues aren't the only quail paradise. New Mexico and Arizona spread a cornucopia of quail across surprisingly dry landscapes. The high-desert, short-grass regions of New Mexico and southeast Arizona grow scaled quail. As elevation drops, grass gives way to the cacti and thorny shrubs of the Sonoran Desert where Gambel's quail ascend to primacy. The rocky, gravelly desert might seem harsh for a little quail, but Gambel's own this country, using thorny catclaw brush, prickly pears, cholla and lush palo verde brush to escape not just man and his dogs, but rattlesnakes, hawks, swift foxes, bobcats, coyotes and other predators of the desert. With little to no agriculture usurping habitat, quail have an abundance of cover—as long as it rains.
Rain is always the bottleneck in the Southwest. During year after year of drought quail barely hang on, small coveys eking out survival around permanent springs or manmade cattle watering troughs. But when winter rains sweep in from the Pacific, the miraculous explosion of growth fuels a resurgence in Gambel's quail. Lush green-up gives hens an abundance of vitamin A, essential for maximum egg production and nesting success.
The last time friends and I hunted east of Tucson in a banner year, my English setter, Sota, pointed a 15-bird limit for me by early afternoon. I left her in the field with my buddy Mark and his friend. By late afternoon they emerged with limits of their own. That little setter had pinned at minimum 45 birds and more likely twice that, given typical shooting averages.
Farther west and north the similar-looking California valley quail provides consistent action from Southern California to British Columbia, across southern Oregon to southwest Idaho and down through much of Nevada. This adaptable species seems to thrive in a mix of grass, brush and even forest edges. Give it the edge of a corn, wheat or other grain field, and it does even better. Irrigation ditches and sinks offset drought and stabilize populations of this species. Hunting is fairly consistent from year to year.
The mountain quail of the Pacific Coast mountains and Sierra Nevada ranges is even more at home in forests and brushlands, usually roaming higher than valley quail. This species probably sees less hunting pressure than any other. Part of the reason is the denser habitat in which it lives, part the higher elevations, and part its ability to thrive away from agriculture. Hunters willing to push deeper into the chaparral brush and mountain forests can meet with some exciting hunting. The birds can be called in by mimicking their covey whistles, and they, like California quail, often coalesce into huge coveys. Shooting can be fast and furious.
Finally, there is our most exotic quail, the enigmatic Mearn's, also called the fool's quail, Harlequin quail and Montezuma quail. You've never seen one? That's probably because you haven't scrambled into the oak-forested mountains of extreme southeast Arizona, southwest New Mexico or southwest Texas.
The Mearn's is a dramatically marked, odd little quail that digs and eats tubers more than it plucks and eats seeds.
Hunters look for bare dirt diggings when prospecting for Mearn's. Two seasons back buddy Brian Lasley and I hunted with Bret Browning of BellaReta Outfitters near Sonoita, Ariz., and hit the jackpot.
Summer rains, which are essential for Mearn's reproduction, had been excellent for two years in a row. The yellow grass under the live oaks was taller and thicker than I'd seen it in some 35 years of looking. So were the quail. Browning's three dogs ran big and long, but he kept them under control with a D.T. Systems e-collar.
Famous for holding until nearly stepped on, these birds hadn't all read the script. Probably because they'd been hunted before, they often flushed as wild as any bobwhite. Nevertheless, there were so many that Browning's dogs kept finding fresh coveys while sniffing out singles, and we got a lifetime of shooting. A typical Mearn's hunt might yield five or six birds. Three of us limited that day. We're not likely to repeat that. But we're willing to try.
For much of the 20th century, bobwhites from Florida to Louisiana, Nebraska to Virginia drove the market in shotguns and shells, bird dogs and boots. Virtually every red-blooded American male and plenty of females either hunted bobwhites or knew someone who did. Bird hunting was rural tradition, coming-of-age, social glue and cultural icon. Quail hunting was our touchstone with nature, and we were hunter-gatherers at work.
We still are, only now our workplace—our glorious, rejuvenating, open-sky office and factory—has shifted to the High Plains and Southwest. This winter, strap on your work boots, pack up your tools of the trade, whistle up your four-legged co-workers and punch in for the most satisfying labor you're likely to endure this century.