by
posted on June 4, 2022
Support NRA American Hunter
DONATE
"Guys, I need you to get up and get dressed. We need to take shelter in the garage. This thing is right on top of us," said Will.
I had met Will Brantley just a few hours prior (though this hunt had been well over a year in the planning). Now, the decided change in his voice told me that things had just gotten very, very serious. The lightning was frequent enough that you could nearly read by the light, and the wind was unlike anything I'd ever experienced. I threw on some clothes, my boots and enough hunting gear to prepare for any change in temperature. I also grabbed all the flashlights and other gear I could get my hands on, as the power had already gone out.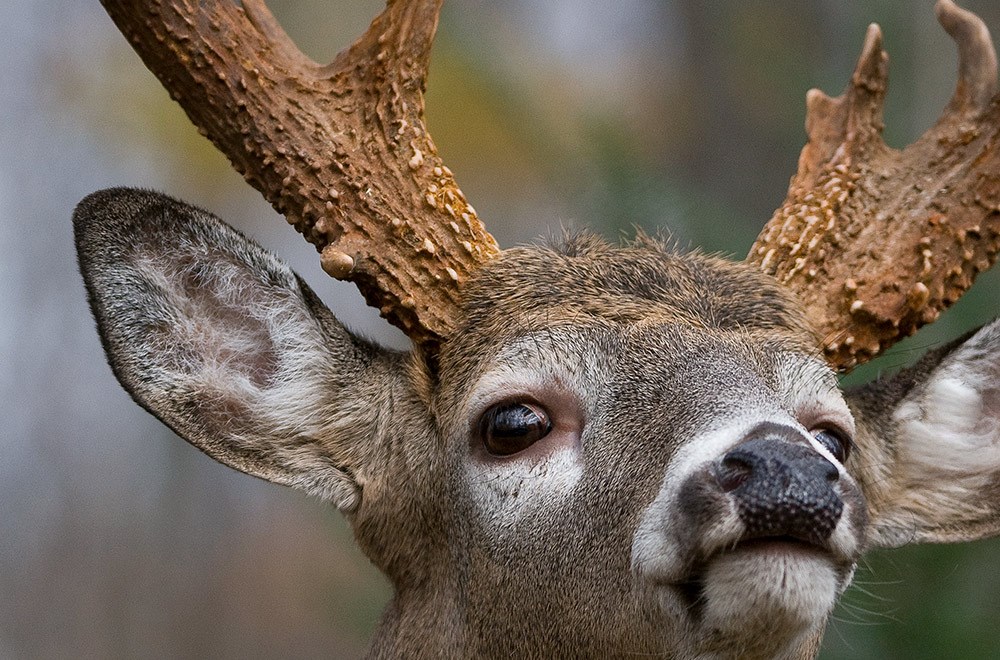 I had driven from Upstate New York to New Concord, Ky., for this whitetail hunt during Kentucky's late muzzleloader season. Though the rut was definitely waning, during my drive the weather was still nice and the terrain I was seeing was nothing short of idyllic for an Eastern deer hunter. Actually, I was invited to participate in this hunt in December 2020, but exposure to the Coronavirus and a testing procedure that took way too long prevented me from going. We scheduled a redo for December 2021 and I was absolutely stoked to finally be in the Midwest. My Traditions NitroFire rifle was putting three Federal B.O.R. Lock Trophy Copper bullets into a group just over 1 MOA at 100 yards, and with a rock-solid Leupold VX-3i scope on top, I felt perfectly confident out to 150 yards. Will had assured me that I'd have to work pretty hard to find a shot that far in the Kentucky woods.
"Phil, the late muzzleloader hunt is both a blessing and a curse," Will had said. "The hunting pressure is certainly lessened, but the flip side is that the deer have been hunted hard during our rifle season, with a good number of deer having been taken. But still, it's pretty good hunting around here, and we've got a few deer that might move the needle for you."
Will Brantley takes his deer hunting seriously, and his words were certainly encouraging. Hunting a new area, let alone a new state, can be a daunting task, and considering the fact that I had but four days to try to connect on a whitetail buck that isn't at a disadvantage due to the full-swing rut just adds to the challenge. And, I saw the undeniable wisdom of listening to the man who is on that property year-round; after all, if you have a guide, it pays to listen to him. As the hunt drew nearer, I got a few text messages featuring trail-camera photos of deer that earned my absolute attention, so the excitement began to build.
Our New York rifle season had come and gone, and despite a wicked outbreak of EHD that claimed the lives of nearly 80 percent of the deer in the Hudson Valley, I connected on a mature buck in the Catskills on opening day. As a result, I had plenty of time to spend fine-tuning that Traditions muzzleloader. With the 270-grain B.O.R. Lock bullet and a 100-grain powder charge from the Federal FireStick system, I could print extremely impressive groups for an off-the-shelf muzzleloader, and with a 3.5-10x40mm Leupold on top I could "thread the needle" in the woods if needed, or reach out to sane distances should some suitable buck make the mistake of posing in one of the numerous crop fields in the area. I packed my rifle and associated hunting gear, optimistically tossed a good-size cooler in the back of the truck and pointed the truck southwesterly.
■ ■ ■
One thousand miles later I rolled into Will's camp on a humid Friday afternoon, with temperatures nearing the 70-degree mark on the 10th of December. New Concord is in southwestern Kentucky, situated on a peninsula on the west side of Lake Kentucky, where the state line with Tennessee makes a zig-zag. I got my gear stowed, and we proceeded to check the rifle's zero and Will gave me a crash-course in his climbing stand before popping the top on the first beer. "It's gonna be raining pretty hard overnight, but should be clear by 5 a.m.," he said. "Let's get up at 4 and plan to sit all day."
The well-known Colorado elk guide Miles Fedinec rolled into camp to hunt with us, and Will's wife, Michelle, and son, Anse, joined us as well. We all had a great time at dinner and enjoyed a couple of nightcaps while getting to know one another. We all turned in at a respectable hour—despite my convictions about being on vacation—and I listened to the intensifying rain pound the metal roof of the lodge. I had seemingly just drifted off to that dream world where whitetail hunters never miss and the bucks are around every turn of the trail when Mr. Brantley disturbed the peace with that undeniably sobering order to dress and prepare for the worst.
I was born and raised in New York's Hudson Valley, and while we have some extreme weather situations—the odd hurricane will make its way to us, and we are no strangers to the Nor'easter—tornadoes are a rarity. When they do strike, they are certainly notable, but as I said, they are a rarity. The cellphones were raging in alarm with the approach of the storm that generated some of the most horrific tornadoes in recent history. While the cellphone service lasted, we could see the cells moving in a northeast direction, with one line slightly north of us and another line slightly south. "Caught between the Scylla and Charybdis" came into my mind as we gathered in the garage—the space with the least amount of glass and the most amount of shelter in a building situated on a concrete slab—and put Will's wife and son in his truck, parked in the garage. Will, Miles and I gathered around and began to talk as though nothing were happening; I can only suppose it was some sort of mental defense mechanism in the face of a hellacious storm we could neither defend against nor see the worst of. Hunting stories from around the globe were shared as the lightning ripped the sky and the hail pounded the roof, and loose plans for the worst were made. With no power, no communication with the outside world and no idea whether the worst was over, we listened to the intensity of the storm dwindle. Will fired up his generator, we made the decision to sleep in and cancel the morning hunt and we all tried our best to get some sleep for what remained of the night.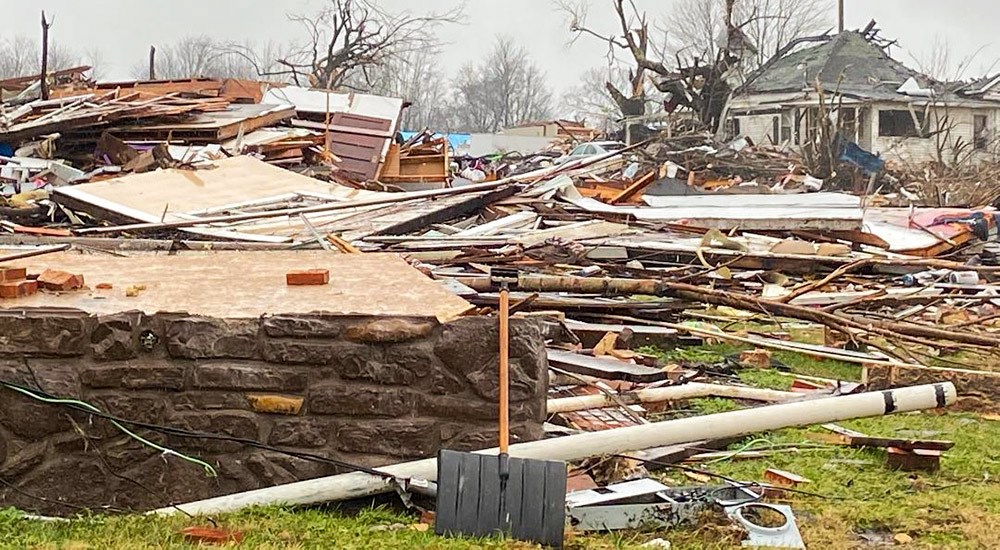 I woke to find the sun shining, and dressed and joined the others to assess what had happened overnight. The details of the damage were nearly unbelievable. The nearby town of Mayfield had been flattened, with a loss of life that was nothing shy of unimaginable. The candle factory had third shift on, trying to meet the orders for the Christmas rush, when the tornado hit in the middle of the night, and few made it out of there with their lives. The biggest of the twisters was on the ground for more than 200 miles, and did terrific damage in Arkansas, Missouri, Tennessee and Kentucky. Bottom line: A happy-go-lucky deer hunt turned into a tragedy, overnight.
Seeing the look on Will's face, I knew he had family and friends to attend to, and that deer were probably the last thing on his mind; rightfully so. Doing my best to at least be unobtrusive, I indicated that the comfy-looking box blind located across the road from the lodge would be where I could be found for the remainder of the daylight. I grabbed a couple of granola bars and some water and sat for the day. It was an uneventful experience, until last light when a pair of does (one of which must've been hit by a car, for she had a floppy, broken ear and bulging eye, but was none the worse for wear) and a rather randy forkhorn gave me some entertainment.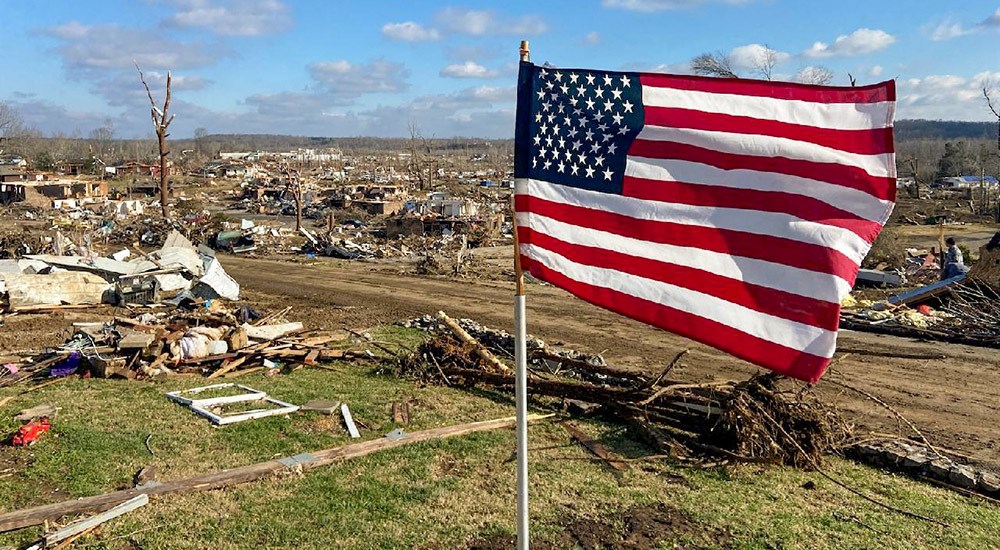 The damage caused by the tornadoes of southwest Kentucky Dec. 10-11, 2021, and the loss of life wrought by them, was nearly unfathomable.
Heading back to camp, I met Will and Miles returning from checking on folks; their description of the damage was surreal. Will and Michelle's hometown of Dawson Springs was nearly wiped off the map. Hundreds of people had lost their homes, but all the family members were thankfully safe. Power was out for miles in all directions, and the guys had to drive to Tennessee to get fuel for both the trucks and the generator. But, in spite of all the adversity, Will remained positive and focused. "We're gonna get up at 4 a.m. tomorrow, and hunt that spot I told you about; the one where I saw those good bucks on the trail cam," he said. "Grab your knee boots and we'll get you in that climbing stand."
I explained to Will that, in spite of the planning and the long drive, I would have no problem calling off the hunt immediately so he could help sort out his world, but he wouldn't hear of it. "I'm not sure you could get out of here right now anyhow, so let's make the best of this," he replied. I couldn't argue.
■ ■ ■
Lulled to sleep by the humming of the generator, 4 o'clock came earlier than wished for, and we found that temperatures had dropped below freezing overnight, leaving the landscape blanketed in frost. This particular lease Will was so excited about was about a half-hour north in Dexter, Ky., and was a block of hardwoods in the midst of large crop fields, bisected by a small creek. Providing cover and solitude, this patch of woods was used not only as a bedding area but the deer would sporadically feed on the mast crop throughout the day. This was definitely a spot to sit all day. We dressed, breakfasted and headed to Dexter in order to be on stand long before light.
Arriving at the lease, we made the trek to the stand site in the dark, crossing the creek with a bit of trouble on the steep, greasy clay banks; I was happy I wore my LaCrosse rubber boots. This wood was a wonderful blend of oaks, hickories and maples, not overly mature but old enough to allow for good shooting lanes. With temperatures hovering around 30 degrees and dead-calm conditions, this was going to be the type of morning deer hunters dream of all year.
Will had a small brush blind on a finger of land, but insisted that it was situated too low for his liking. A bit of elevation would greatly help, so he'd brought along his climbing stand. For those who know me, it's no secret that I don't do well with heights. Airplanes, ladders, treestands, cliffs, gorges, balconies—all are the bane of my existence. Therefore, a climbing stand was not a piece of gear I was looking forward to using, but as I stated, listening to the guide is usually the key to success. With a definite lack of grace, I managed to ascend to a height where my shooting distance was increased, yet I wouldn't pass out from a lack of oxygen. Will made sure I was settled, and he left to put Miles in a stand on the other edge of the property. All that was heard was a trio of generators purring in the distance.
In that wonderful half-light of dawn, the first fox squirrels started their morning routine, and sounded like a herd of cattle in the frosty leaves. It wasn't 15 minutes later that the first group of deer came through: a trio of overly inquisitive does that didn't like the look of my treestand. As the world was fully illuminated, I took stock of the surroundings, adjusting the stand to watch the gully that housed the small feeder stream; the deer came from that direction and it made sense that they'd like the cover. I was watching the squirrels' antics when I heard a single footstep that sounded rather un-squirrel-like. Slowly turning my head left, I caught a glimpse of bone-white antler, rising well above the ears, and attached to the muscular body of a mature buck, no more than 45 yards away.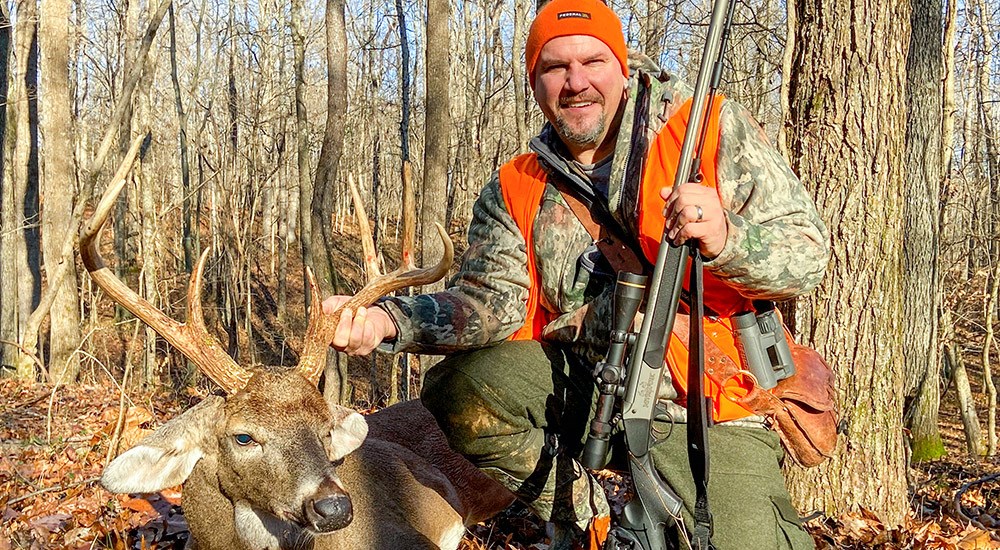 The Traditions/Federal FireStick system accounted for the author's best-ever muzzleloader buck, a mature 7-point from southwest Kentucky.
I knew immediately this was a shooter, the type of deer anyone would want to take, and gathered my thoughts to make sure I didn't screw this up. Waiting until the buck walked behind an oak, I raised the NitroFire to my shoulder, settled the Leupold's crosshair just behind his shoulder and dropped the hammer. The big buck wheeled at the shot, ran down across the feeder stream and back up the other side, worrying me a bit. But I was elated when I saw the buck's head jerk back violently, and fall. The woods went silent for a bit, and I sent a message to Will that I'd taken a good buck. He didn't take long to come help me out, and because I didn't know the property boundaries in relationship to my location, I waited for Will in case the buck got back up. It took a minute to sort it out, but we found that 7-point buck on his belly, as dead as fair play.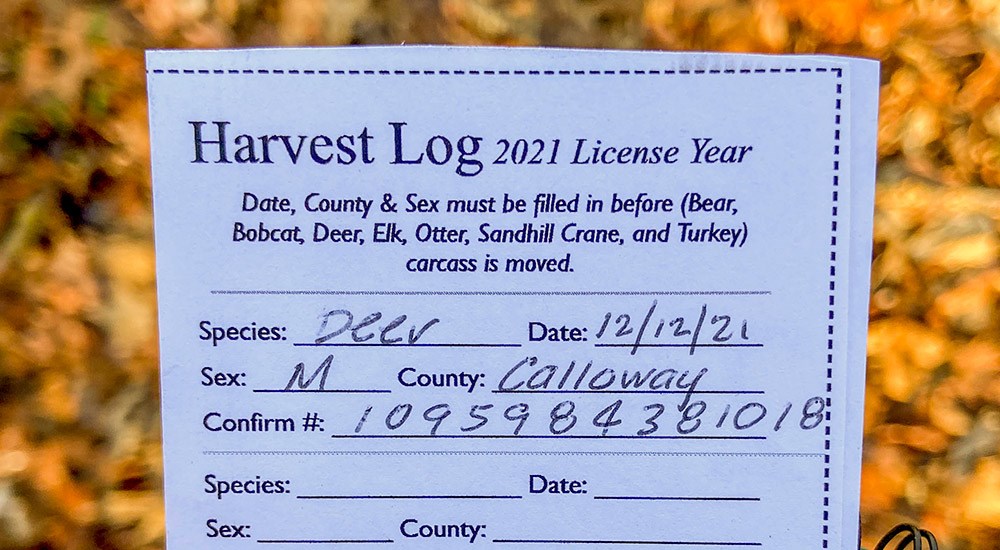 "You know, I'm so happy you got this guy," said Will. "Never once saw this guy on camera. And it is the first good news all week; our 16-year-old dog passed the day before you arrived, and then the tornado destroyed the area. This is a good feeling."
We celebrated this deer, the best buck I've taken with a muzzleloader, and a buck I'll never forget. Will quartered the deer in the woods, preserving the cape for a taxidermist friend, and we packed him out of that beautiful patch of Kentucky. We even found the expanded bullet against the offside skin; that Trophy Copper was expanded perfectly, doing its job just as intended. I had one small regret: I didn't get to spend more time in those hardwoods. But I was very, very happy to be successful in the face of everything that had happened.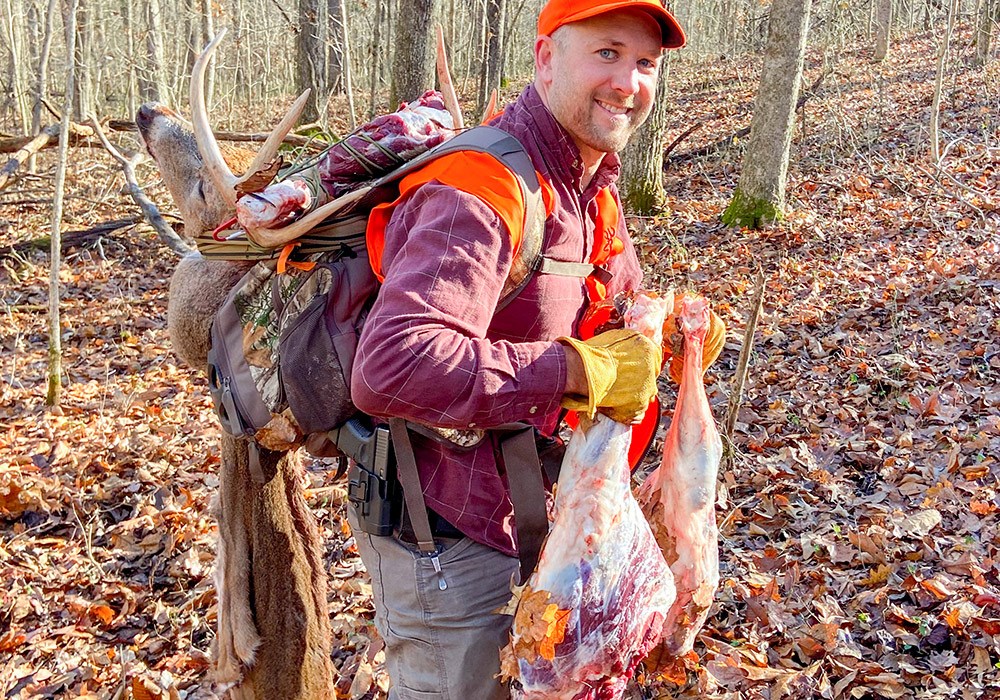 The author's Kentucky host, Will Brantley, packs out the majority of the author's buck. His smile is the result of at least a little good news.
Will's home was not far, and he wanted to check on the homestead before we went back to camp. Making one last check of his garage, he happened to notice that the lights were on. Power was back! The restoration crews broke their tails to get power to the people. On the ride home, one side of the highway had power, and those gas stations with power were filled with customers. By the time we got back to camp, the power was restored there as well, and there was much rejoicing for hot water and other modern amenities. Knowing that the recovery work was just beginning, I told Will that I would get out of his way and leave early the next morning. My return trip was uneventful, and as of this writing, a week later, cleanup and recovery efforts are still underway.
The Tornado Buck—as we dubbed that 5½-year-old 7-pointer—is now a European mount proudly displayed in my office. For the rest of my days, each time I look at that deer I will recall the time we gathered in a garage, and were unsure of the future. Though we were together for a brief time, I know none of us will forget that December weekend when the world turned upside down.
---
Traditions' NitroFire Muzzleloader
The Traditions NitroFire and Federal FireStick system I used in Kentucky is American Hunter's 2021 Muzzleloading Product of the Year.
The NitroFire rifle is a great .50-caliber break-action muzzleloader. There is a small shelf at the base of the barrel where the bullet is seated. The powder charge is encapsulated in a plastic housing, which accepts a 209 primer and is loaded from the breech. Because the bullet is seated on that shelf, and not on top of a powder charge, a uniform seating depth is obtained each time, and because the powder charge is measured at the factory, powder uniformity is much better than with loose powder or even pellets. There is an external rebounding hammer in addition to a crossbolt safety. The pliable recoil pad takes any sting out of the rifle. The polymer stock and Cerakote-coated metalwork make the rifle impervious to the elements. My rifle had a 26-inch fluted barrel, drilled and tapped for a riflescope. A solid aluminum ramrod is included, and is carried below the barrel. The Elite XT trigger broke consistently at 3 pounds, 10 ounces and allowed for accurate shot placement. MSRP: $549-$1,220; traditionsfirearms.com.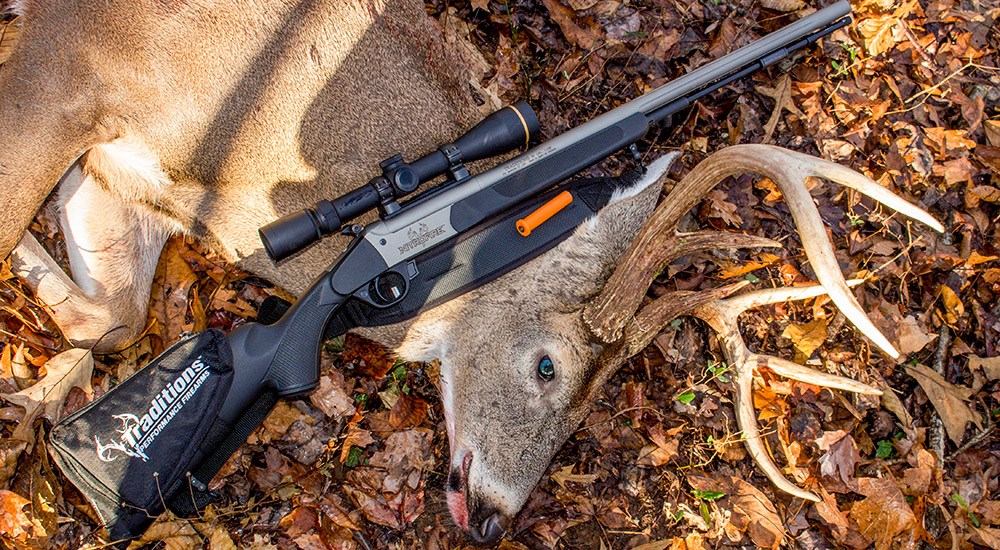 The FireStick capsule is available in 100-grain and 120-grain charges, loaded with Hodgdon's Triple 8 powder. Because the powder is encapsulated, it is impervious to weather, and simply pulling the capsule renders the rifle to an unloaded state. Federal's B.O.R. Lock MZ Trophy Copper muzzleloader bullet is a monometal design with a polymer tip, weighing 270 grains. It uses a polymer base cup to engage the rifling and to properly seal the gases; in addition there is a fouling-cutting ring that reduces the need to clean the bore as much as we are used to. I've found that this bullet is extremely consistent, and that it is insensitive to a dirty bore. In fact, I've shot it 15 shots without cleaning, cleaned the rifle, and the next shot from a clean bore would not change point of impact. This is simply not the case with saboted bullets. The spitzer ogive resists wind deflection, and offers a rather flat trajectory. My rifle liked the 100-grain capsule with the 270-grain B.O.R. Lock, giving a muzzle velocity of 1880 fps. The recovered bullet from my buck weighed 266.2 grains and expanded to 1.06 inches. You really can't ask for better performance. MSRP: $31.99 per 10-pack; federalpremium.com.
The Leupold VX-3i scope is rock solid, robust and offers plenty of eye-relief, so it's a good choice for the hardest-kicking rifles. It can be mounted low to the bore, and is certainly one of the best deer scopes available; it is great for low-light situations, and Leupold's lens coatings are excellent when looking into the rising or setting sun, or when you need a good level of contrast. With a simple Duplex reticle—perfect for shots inside 150 or 200 yards—it remains a fantastic value. MSRP: $399.99-$499.99; leupold.com.