by
posted on August 6, 2022
Support NRA American Hunter
DONATE
Many hunters think Teddy Roosevelt was the only hunter to occupy the White House. This is understandable since hunters and historians alike have lionized him over the last century. But before Roosevelt, there was another hunter in the White House, and his hunting is barely mentioned today.
A caveat is in order. A number of presidents have hunted at least occasionally, but the context of this article is presidents who had a dedicated passion for hunting and hunted regularly before their presidency and during their presidency and after their presidency. Under this rubric, only one other man belongs alongside Roosevelt.
"I am convinced that there can be no better conservators of the sensible and provident protection of game and fish than those who are enthusiastic in their pursuit."
—Fishing and Shooting Sketches, 1906
He was Grover Cleveland, the only president in American history to hold two non-consecutive terms in office. He was first elected in 1884, then lost the 1888 election, but came back and won the 1892 election. Born in New Jersey (1837) and raised in New York, he rose by working hard, becoming a lawyer, sheriff, mayor of Buffalo and finally governor of New York before winning the presidency. (Almost 20 years later, Roosevelt followed a similar path to the presidency, after having been a New York state assemblyman, a police commissioner and finally governor of New York, which propelled him to the vice presidency. However, he unexpectedly became president when William McKinley was assassinated in 1901.)
Cleveland held a reputation for honesty and was considered incorruptible at a time when New York politics was rife with corruption. His no-nonsense attitude first became evident when, as sheriff, he personally hanged two murderers instead of delegating the task to others. Thus he was the only president who had actually hanged criminals. Now that's a man who really believed in law and order!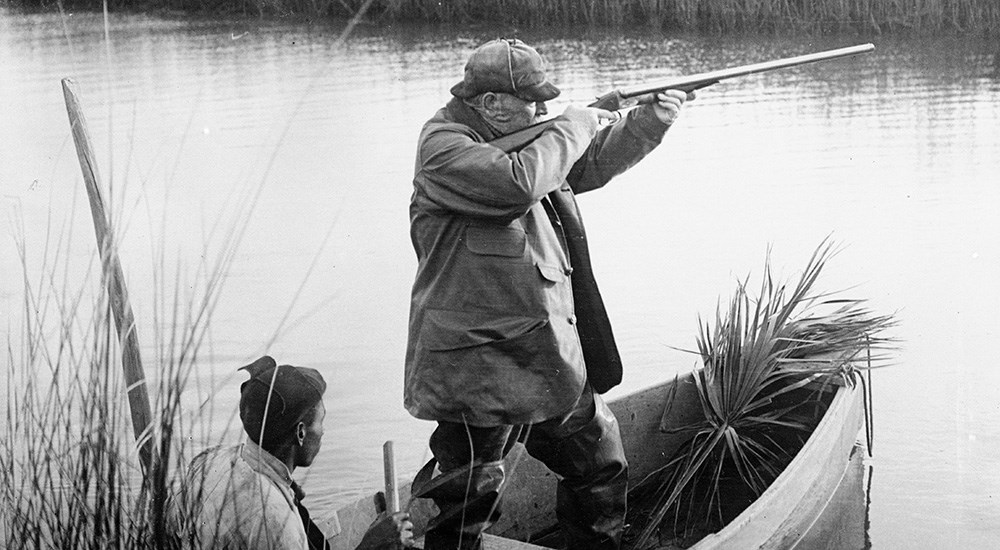 Photo: Roger-Viollet Collection / Getty Images
Cleveland was both a hunter and angler. If the outdoors was a catharsis for the pressures of the presidency, then this was particularly so for Cleveland because he detested the endless requests by partisans who sought federal jobs. Throughout his career, his constant fight against government corruption often led him to seek rest and relaxation in the outdoors. Thus, when not hunting, he went fishing.
Though in later life his waterfowl hunting became a favorite pastime, he had previously hunted both big and small game, though not always with success. In 1883, when he was governor, he wrote to his secretary during a hunt in the Adirondacks: "I had a beautiful shot at a deer Saturday and missed him. We are now preparing to start again for my last chance." It is not known if that last chance worked.
Among small game, he relished rabbits. Rejecting the notion that rabbit hunting is not a real hunting challenge, he said, "I am not ashamed of their pursuit; and I count it by no means bad skill to force them by a successful shot to a topsy-turvy pause when at their best speed." In other words, he liked shooting rabbits when they were running at full speed and watching them tumble.
Respite on Hog Island
So dedicated a hunter was Cleveland that right after he won the 1892 election in November, he embarked on a hunting trip as president-elect. He went to Hog Island, a barrier island on the eastern shore of Virginia (about 50 miles north of Norfolk).
Hog Island, despite its name, was actually a waterfowl hunting retreat visited by affluent hunters. Despite the isolation, it had a small settlement of hardy folks, mostly in a village called Broadwater. Nevertheless, the location was tailor-made for Cleveland—10 miles offshore and inaccessible to office-seekers and the prying press. (That was a time before airplanes or helicopters or drones, so this island afforded Cleveland the hunting privacy he sought.) In fact, one newspaper report grumbled, "Here the President-elect is about as completely cut off from the outside world as though he were in Africa."
Nevertheless, one or two newspaper reporters managed to reach the island, and though Cleveland summarily rejected their interview requests, their news accounts informed the country of the president-elect's hunting activities. (Radio and television were not yet invented, so Americans got their news from newspapers.)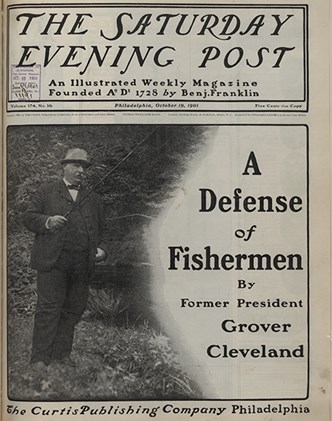 He would spend that Thanksgiving on the island—and altogether a 10-day respite on this quiet outpost teeming with waterfowl during migratory season. A contemporary news report described it: "The island is eight miles long, with a magnificent beach …  In the recesses of a pine forest, which covers a part of the island, a club-house and several cottages have been erected. Game is abundant. It is a perfect hunters' paradise."
On the first full day on this barrier island, a gale and rough water compelled him to stay indoors. The next day was less windy, though still bitter cold, but he ventured out with his guides, who took him to a bayside blind, near which some floating decoys were placed. Spending just two hours in the bitter cold, he returned, but not before he had shot four redheaded ducks and four brant geese. (His initial hunts at Hog Island used stationary blinds but his later hunts used a floating blind—a scow camouflaged with marsh grass and movable to any spot on the water.)
The iffy weather continued for several days, and Cleveland modified his hunting. Staying on land and switching to shorebirds, which were profusely present, one day he shot several flocks of snipes in about an hour, and when four black ducks flew overhead during this fusillade, he got them too. (Though snipes are small birds, the collected meat was most likely shared with his guides and employees of the clubhouse where he stayed, for he resented wasting game meat.)
Such brisk shooting brings us to his firearm. Per one news report, "He had come fully prepared to thin the duck flocks with the latest style of shotgun, unlimited quantities of ammunition and leather cartridge belts." This "latest" shotgun was most likely the Colt double-barreled 8-gauge shotgun that Cleveland owned. It's a big gun—for Cleveland was a big man, both by title and by size. The gun is unique—it's the only such gun made by Colt. This gun is now in the NRA National Sporting Arms Museum in Springfield, Mo.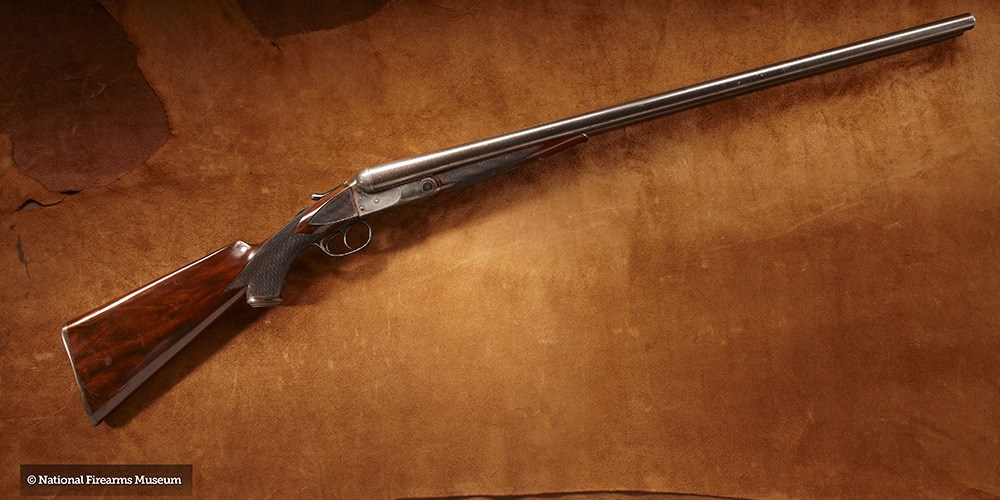 Finally, he got several days of good weather. Thus, embowered in the floating blind and moving it to various spots on the bay, he shot down many a bird. His bag on one such day was nine ducks and six brant geese. And then on the last day of his stay he bagged five ducks and nine brant. Refreshed by the outdoors and reassured by the hunting success, he was now ready to be inaugurated and head to the White House.
In fact, Cleveland was so impressed that six months later he returned to Hog Island. It was a much shorter visit, just three days, for he was no longer just president-elect—he was now the president himself, with very little time for recreation.
Today, Hog Island is desolate, with placid but windswept scenery, and devoid of the abundant game of old. Geological erosion (which had been reshaping barrier islands for millennia before mankind ever used fossil fuels and thus not necessarily caused by so-called "global warming") slowly put one home then another underwater, thus forcing the islanders to the mainland. A catastrophic hurricane in 1933 was the finishing shot. That hurricane destroyed not only the island's village but also the vegetation, notably its pine forest. Moreover, the eelgrass in the water around the island was a favorite food source of brant geese, but a wasting disease was already thinning the eelgrass when the hurricane hit and destroyed what was left. Thus, eventually, even the birds left.
Cleveland the Conservator
When Cleveland was governor of New York, Roosevelt was a young legislator in the state legislature, and though Cleveland was a Democrat and Roosevelt a Republican, they worked together on anti-corruption issues. Although they traveled similar paths to the highest office, the two men had very different personalities. Even their tenures in the White House produced different results. Whereas Roosevelt was indefatigably charismatic and turned the presidency into a bully pulpit, Cleveland was neither charismatic nor particularly persuasive as president. For instance, when a depression hit the country in the "Panic of 1893" (hundreds of bank closures, unemployment over 30 percent in some states, not to mention widespread hunger), Cleveland was not particularly effective in resolving the crisis, which bitterly disappointed even his supporters.

"I believe it may be safely said that the true hunter or fisherman is born, not made."
—Fishing and Shooting Sketches, 1906
The men were different even in their approaches to hunting. Cleveland preferred a somewhat sedentary style, sitting in blinds and waiting for game, which starkly contrasts with Roosevelt's aggressive pursuit style where he stalked game for miles over intractable terrain, especially out West. Perhaps Cleveland's sedentary preference can be explained by a physical factor: he was a bulky man, weighing nearly 300 pounds, with a reported 56-inch waist. (Nevertheless, he was not the heaviest president; that dubious distinction goes to William Taft, who weighed some 340 pounds.)
Cleveland understood the role that hunters play in conservation, declaring, "I am convinced that there can be no better conservators of the sensible and provident protection of game and fish than those who are enthusiastic in their pursuit."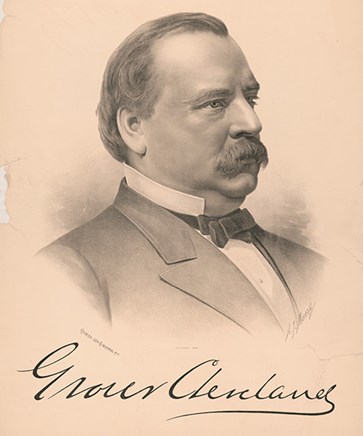 However, due to his focus on combating corruption in government, conservation took a lower priority. Nonetheless, in 1893 he gave protection to some 5 million acres in Oregon by setting aside the land as forest reserves, using presidential proclamation authority under the Forest Reserve Act of 1891. (Most of this land was first called Cascade Range Forest Reserve, but has since been split into several national forests.) He also signed into law the Yellowstone Game Protection Act of 1894, which enacted enforcement measures against hunting within Yellowstone National Park (poaching had been devastating the bison there).
Then, in 1897, just two weeks before he left office, as he reassessed unfinished actions, he set aside some 20 million acres as forest reserves to protect them from uncontrolled timbering and other abuses. Among these were areas that are now Mount Rainier and Olympic national parks, and hunting grounds such as Bitterroot National Forest (in Montana and Idaho) and Black Hills National Forest (in South Dakota and Wyoming). This action infuriated the timber industry and politicians from Western states, but he stuck to his guns. Up to that time, no American president had taken such daring action on land conservation.
If Roosevelt had not become president, then today it would probably be Cleveland that we would celebrate as the great conservationist-in-chief due to his prescient action on land conservation, a remarkable record considering that unlike Roosevelt, Cleveland had never traveled West and had not even seen the land he was conserving. Yet, thanks to Cleveland, millions of acres of Western forests were saved—which today provide good hunting grounds for many a hunter.
Cleveland the Writer
Despite the burdens of the presidency, Cleveland managed to find time for personal pleasures besides hunting. In 1886, to the surprise of his friends and the public, the lifelong bachelor took a bride 27 years his junior—becoming the only president to marry in the White House. Thus, at only 21 years of age, Frances Cleveland became the youngest First Lady in American history.
(Incidentally, in a previous episode, Cleveland allegedly fathered an illegitimate child with a widow during the 1870s. The secret surfaced years later and his political opponents sloganized it during his presidential campaigns, but he moved on, pointing out that even an honest man can make an occasional moral misjudgment.)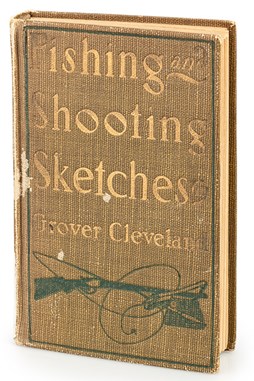 After leaving his second presidency in 1897, he continued his hunting. Retiring to New Jersey, he bought a farm near his home so he could go rabbit and quail hunting. In the winter he made regular duck-hunting trips to a friend's property in South Carolina. And, most notably, he wrote a book on hunting. Published in 1906, Fishing and Shooting Sketches sets forth his views on hunting and fishing. The book is interesting, though not exactly an easy read because most of his prose is pedantic and stodgy, but there are other passages where he is rather direct, such as when he asserts, "I believe it may be safely said that the true hunter or fisherman is born, not made."
His book never became a hit. Besides its standoffish tone, perhaps another reason is by the time Cleveland published it, the much younger Roosevelt had already written several hunting books in a very lucid style that had captivated the public. Compared to the high drama of big-game hunts in Roosevelt's books, Cleveland's book was on small game (ducks, rabbits, quail, etc.) and his writing style lacked drama or originality. Nevertheless, it is a notable resource because, after all, only two of our presidents have written books on hunting, and between them, their books covered the gamut from big game to small.
Incidentally, when Cleveland died in 1908, the president was Roosevelt, who attended the funeral. Though from the opposite party, Roosevelt respected the late hunter and elder statesman.
Although we may appreciate Cleveland because he was a fellow hunter, unfortunately, today he is forgotten by most Americans, and history books just note him for being the only president who served two non-consecutive terms. (If former president Trump runs and wins in 2024, then Cleveland would lose even that credit in American history.) If nothing else, hunters should at least remember this hunting-ethics advice Cleveland gave in his book: "It is better to go home with nothing killed than to feel the weight of a mean, unsportsmanlike act."