by
posted on July 11, 2022
Support NRA American Hunter
DONATE
These days, target shooters get to have all the fun. Whenever something out of the ordinary hits the market, invariably, it's better suited for dinging steel than it is for harvesting game, to a point that it's getting somewhat annoying. Bergara seemed to feel this way, too, so for 2022, it released a match-grade chassis rifle that is light enough to backpack with, and even shoot offhand. It accomplished this through the use of Magnesium, no less, and the gun is aptly named the MgLite.
I'm reluctant to begin the description of the XLR Magnesium stock with the phrase "at the core," as that would take away from many of the other game-changing features that make up this rifle, but as "Mg" is part of its namesake, let's go ahead and start there. Chassis rifles are all the rage, as they provide unwavering support to the barreled action that simply cannot be topped. Where pillar bedding can shift and even crack wooden or polymer stocks, an all-metal design entirely eliminates this failure point. However, this rigidity comes at the cost of weight. Conventional chassis designs went as far as they could by using aluminum in place of steel, and relieving as much extraneous material as possible. Then again, weight is a helpful characteristic for a rifle that isn't going to be slung across a shoulder, so many of these designs put little to no attention on this. In fact, some actually provide provisions to add additional weight. As magnesium is one-third lighter than aluminum, even if an existing design were cloned, we'd be looking at an extreme weight reduction. Bergara and XLR merely started here and took things further by subbing out a conventional buttstock and grip for those made from carbon fiber. The rear assembly also folds, allowing the gun to be stowed away quite easily, should you wish to carry it in a pack in lieu of a sling. Additional weight-saving measures come in the form of a skeletonized trigger guard that provides access to the adjustment screw of the included TriggerTech self-contained trigger. Even the bolt is fluted in an effort to remove as much unwanted material as possible. Lastly, more MLOK slots than you could ever possibly need are cut into the stock, which I found to be a clever way to skeletonize while simultaneously adding functionality.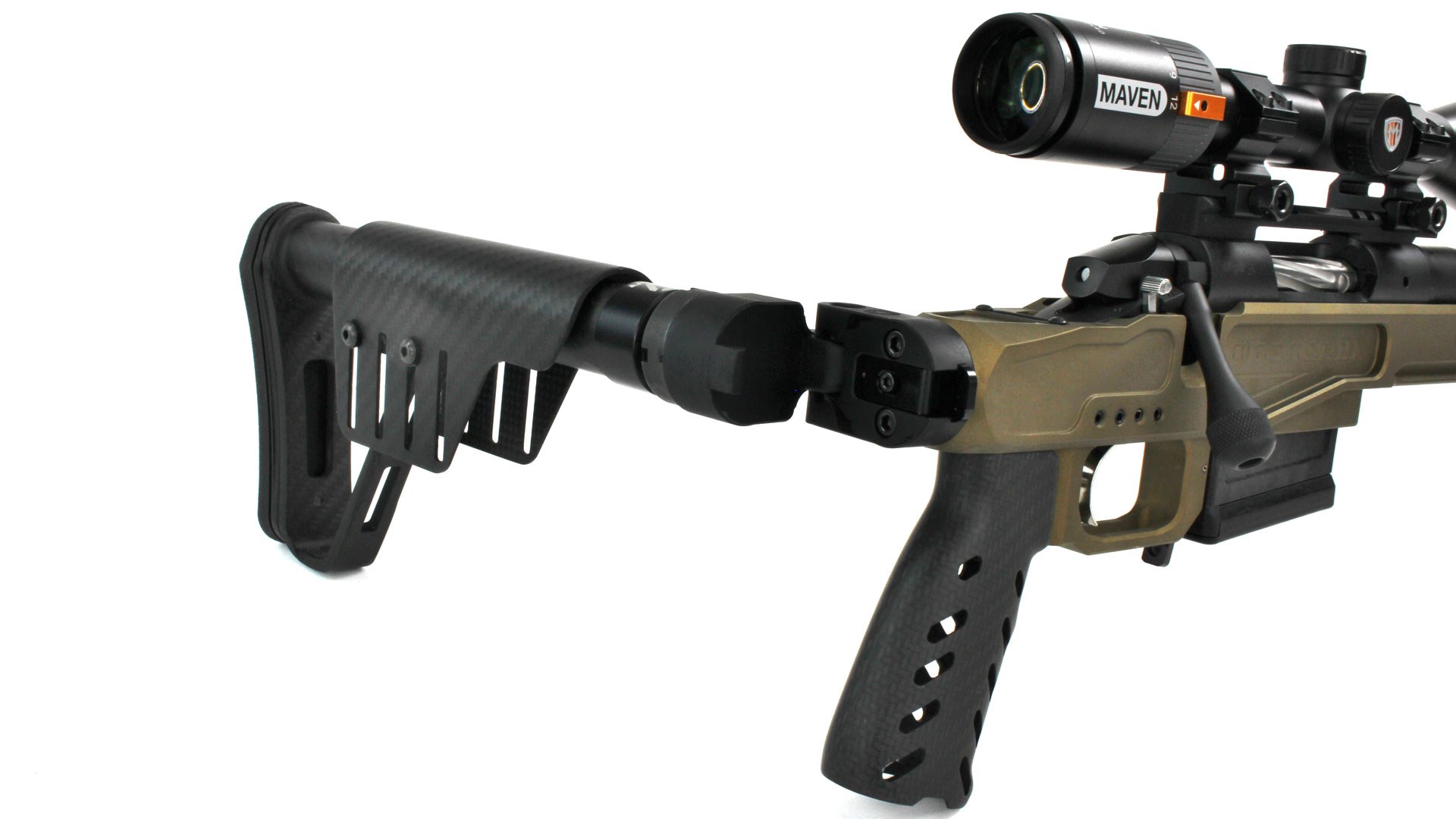 While the cradle is impressive, what it holds is pretty incredible too. All of that work would only give us a muzzle-heavy gun if the barrel weren't addressed, and as such, Bergara built the MgLite with one of its CURE barrels. These barrels feature an improved spin on carbon-fiber technology by interweaving carbon with stainless steel. This solves the cooling problem that plagues this featherweight design. Think of it as adding a heatsink to the outside of your barrel to rapidly pull away the heat generated from sustained firing. This barrel is set into the company's Premier action, which utilizes a floating bolt head to ensure repeatability. The final assembly is drilled and tapped to the Remington 700 pattern, to which I added a 20-MOA rail and a Maven CR.1 lightweight optic to in preparation for my upcoming range day. Lastly, I left the ARCA rail bare as the square forend fits lock-in-key with a shooting rest, and I figured why mess with perfection.
I packed my car with a Caldwell G2 Chronograph, a Rock rest, and 6.5 Creedmoor ammunition from Desert Tech and HSM. The HSM ammo was a relatively new load called "Tipping Point," which is built with 130-grain Sierra Game Changer bullets. These blend the best aspects of both hunting and target fodder, leaving you with one round to serve both purposes. Desert Tech's ammo featured a traditional 140-grain BTHP pill, and is built for striking steel and paper at extended ranges. My goal was to figure out what sort of accuracy I could expect from this package and then experiment with shooting from a few different field positions. From 100 yards, I began a formal accuracy test with both rounds by firing five, five-shot groups. Although accuracy is always the primary concern, I was equally concerned with the amount of velocity I would achieve out of the shortened 22-inch barrel. It turned out that neither was an issue, as the HSM ammo averaged 2749 f.p.s. with the best group of .82 inches—not bad for a "hunting" rifle. Surprisingly, these outperformed the Desert Tech match ammunition, which was only able to produce a cluster as small as 1.22-inches and an average velocity of 2523 f.p.s.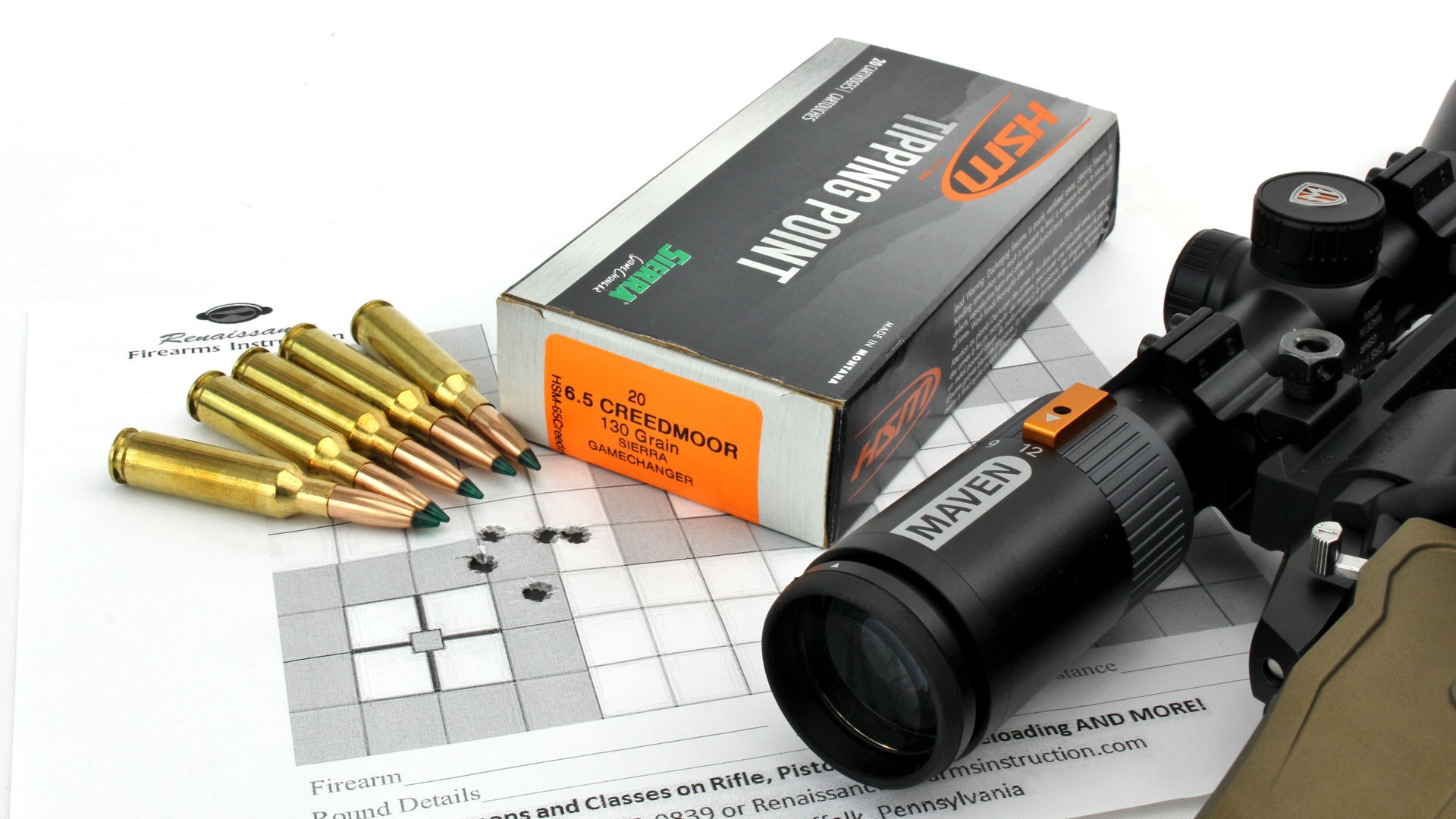 I ended my range day by shooting the MgLite from the kneeling and offhand position at various steel gongs that the club leaves permanently set up. In these positions, I appreciated the included radial brake the most, as it allowed me to spot impacts the moment they hit the target. That would be particularly helpful when taking a shot at something breathing, as I'd get to confirm a hit or a miss and see which way it ran without having to recover from the recoil first. I also liked having the level in the stock, as it's easy to miss just a few degrees of cant when propping a gun on a tree branch.
My range day ended the same way they always do, with me running out of ammo. Admittedly, if I had more, I would have kept shooting because the MgLite felt more like a target rifle than a hunting rifle. There is tremendous value in that factor as it will help you practice more and likely take home more meat. In addition to the 6.5 Creedmoor, Bergara also offers the MgLite in heavy-hitting .300 Winchester Magnum or 6.5 PRC. There is also the option of a .308 Winchester chambering for the purists out there, as its hard to argue with that round's availability. Overall, I felt this rifle was a terrific performer and can fill many different shooting roles … not to mention, magnesium makes a great fire starter if you can't find a match. For more information, visit bergara.online/us.
Specifications:
Action: Bolt
Weight: 6.7 pounds
Overall Length: 43 inches
Barrel Length: 22 inches
Magazine: AICS style detachable
Mag Capacity: 5-round magazine provided
Trigger: TriggerTech 1.5-pound – 4-pound adjustable pull
Barrel Taper: No. 6 CURE carbon fiber barrel
Muzzle: Threaded 5/8-24 TPI with Omni Muzzle Brake
Finish: Graphite Black Cerakote
Stock: XLR magnesium chassis w/ folder
MSRP: $3229