by
posted on July 7, 2023
Support NRA American Hunter
DONATE
I have been hunting and shooting predators—mostly coyotes—for decades. I say it that way because most of the coyotes I shoot are shots of opportunity. I used to only actually hunt coyotes once or twice each winter, but that has changed. Hopefully the information I am about to share will change that for you, as well.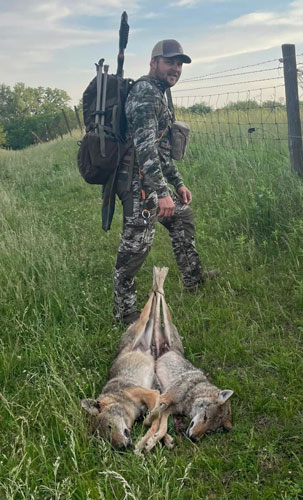 Last winter, I met Austin Alumbaugh, a coyote-hunting professional. He not only hunts several times a week on his own, but he also participates in several coyote-hunting competitions each year. I had not even known such events even existed.
I found Alumbaugh through a mutual friend. Our first time together was in February, when we were joined by Preston Spencer. Spencer is the founder of the Mid-Mo Reapers YouTube Channel. It was a very productive and very educational experience.
One of the most interesting things I learned from this young coyote-hunting pro is that summertime is, by far, his favorite time to hunt these wild canines. There are a couple of dramatic contrasts between winter and summer coyote hunting. Let's take a closer look at those differences.
The first and most obvious difference is the weather. Cold-weather predator hunting requires layer upon layer of warm clothing. I remember a February coyote hunt where I had on almost everything I owned. Sometimes you have on so many clothes that shouldering a rifle can be cumbersome. Having to don much less clothing is a major plus for warm-weather coyote shoots.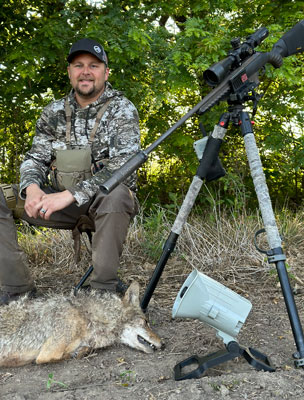 On the downside—with warm weather comes bugs. Mosquitoes, gnats and ticks are distractions I can do without. Alumbaugh always plays the wind to cut down on drifting scents from insect repellents. He also uses a Thermacell to ward off bugs. This is the most scent-free method he has found.
In addition to these things, Alumbaugh uses Scent Thief, a product which does not mask the hunter's scent, but instead physiologically prevents the coyote's epithelium glands from recognizing scent of any kind. It is thus also valuable in eliminating any worry caused by the odor of sweat. Even though the temps are at summer levels, you still have to wear full camo. Walking into your set and getting everything set up will make you sweat, who cares, if the coyotes can't smell it?
There are drastic differences in foliage between the bare, wide-open woods of winter and the near jungle conditions of summer. Summer can be a lot more challenging. The harvested and/or plowed fields of winter become standing corn and beans in the summer.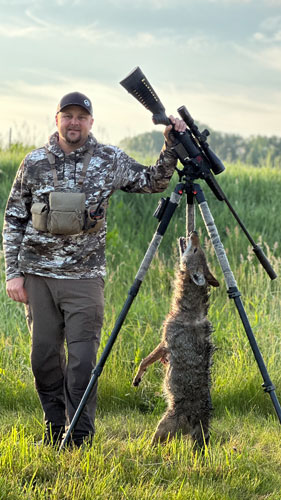 To deal with this, Alumbaugh likes to hunt hay fields and pastures in the summer. This not only gives him longer lines of sight, but these fields provide plenty of rodent meals for coyotes. Alumbaugh told me, "A freshly cut hay field is a summer coyote hunter's best friend."
Calling is also markedly different in the summer. In the winter, food is a priority for a predator. Rabbit squeals and mouse chirps work well. And in February, during mating season, howls and barks of an unknown dog will provoke a response. Summer, on the other hand, is puppy litter time. Alumbaugh uses strong canine parenting instincts to his advantage. He starts with one or two adult howls, then he goes silent. He knows those howls have the dogs listening. He then follows the howls with small puppy noises.
This, in and of itself, will probably not yet get a coyote overly interested. However, after playing the puppy sounds for a couple of minutes, he goes silent again. Animals' brains do allow them to think and reason. But when these pups they have heard go into distress, their instincts force them to come to defend the litter. It works really well.
If you enjoy coyote hunting do not put your rifle away in the spring; keep chasing them all summer. And while you do, check out Austin Alumbaugh's Predatory Instinct's page here.