by
posted on February 4, 2016
Support NRA American Hunter
DONATE
Come to an SCI Hunters' Convention and see firsthand how the show can give new meaning to "I lost it all in Vegas!" 
This year is no different as John Rigby and Co. donates a breathtaking, commemorative .275 Rigby Jim Corbett Rifle inspired by the rifle presented to Corbett in gratitude for shooting the man-eating tigress of Champawat, India, in 1907 by Sir John Hewett, then  lieutenant governor of the United Provinces. Corbett subsequently used that Rigby to end the scourge of the infamous Rudraprayag leopard, killer of more than 125 people, arguably making it one of the most famous sporting rifles in existence. The legendary rifle was on display in Rigby's booth at the SCI convention. Rigby's connection with Corbett resulted in the newly created masterpiece John Rigby London Best Corbett Commemorative Rifle, which will be the second offered in SCI's World Heritage Rifle Series, representing Asian hunting, and will be presented to the highest bidder at the SCI evening auction on Saturday, Feb. 6. Rigby lavished an entire year's work on this very special tribute, and the artistic achievement is a fitting echo of the original Corbett rifle's historical importance.
It is little-known that Rigby exported more rifles to India than Africa before the World War II so it is fitting that Rigby commemorates the bygone days of hunting in India. The rifle has a silver plaque on the buttstock to that effect.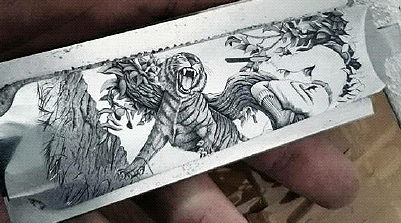 The World Heritage Rifle Series consists of five spectacular rifles, each representing the best of the gun maker's art and one of the world's five hunting continents: Africa, Asia, Europe, Oceania and the Americas. This special rifle is built on a classic single-square-bridge Mauser action, with a claw extractor and three-position, Mauser-style safety, and has a 25-inch Classic Rigby barrel.
To celebrate the Corbett rifle, Rigby has commissioned 100 sets of Jim Corbett's books, bound in Rigby blue leather with a gold logo. The first set of the 100 will come with the rifle and proceeds from the sale of the other ninety-nine will be donated to the Jim Corbett National Park, in India. As a part of the World Heritage Rifle Series, this Rigby rifle comes with an outstanding display credenza, built by Julian and Sons, that will house the books, as well.
Also included is an original oil on canvas titled the "Last Moments of the Champawat Man Eater" by wildlife artist David Southgate—valued at $75,000—featuring Jim Corbett on the point of dispatching the dreaded man-eating tigress of Champawat, which reportedly killed more than 400 people in the early 20th century. For more information, contact Marc Newton at +07951264819 or [email protected]