by
posted on March 25, 2015
Support NRA American Hunter
DONATE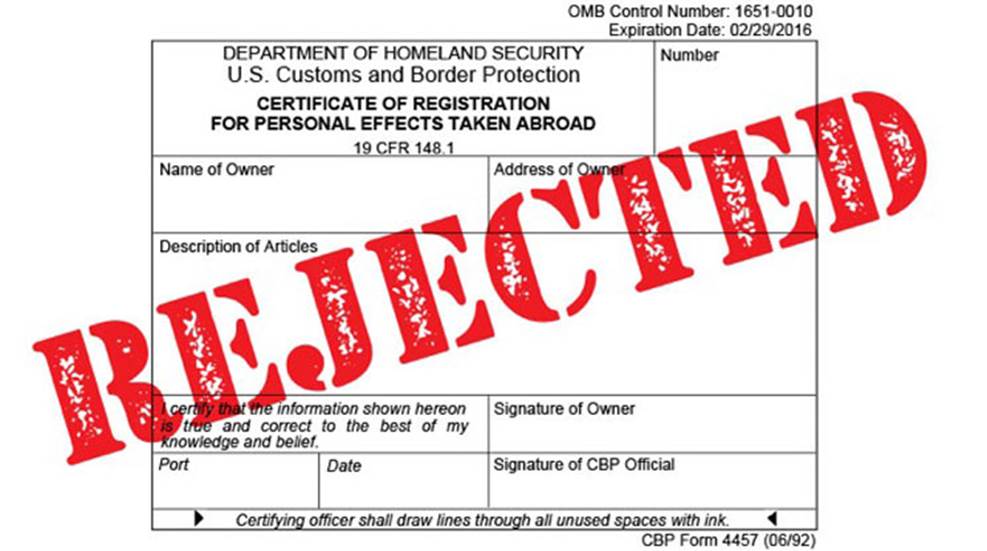 On the heels of the Bureau of Alcohol, Tobacco, Firearms and Explosives' (BATFE) now-withdrawnproposed ammo ban on March 10, 2015, comes news of an arcane rule implemented by the U.S. State Department that snares traveling American hunters in bureaucratic red tape.

According to reports from across the country, requirements for American hunters taking personal firearms and ammunition abroad have changed or will change soon. Some hunters who have contacted American Hunter say changes have already gone into effect; others say the changes go into effect April 3, 2015. Exactly why the rules are changing and how American hunters will be affected long-term is not completely understood at this time. But this much seems clear: These rule changes, along with the tabled-for-now BATFE attempt at banning green-tip .223 Remington ammo, point to an unmistakable pattern of abuse of American gun owners, say NRA-ILA personnel.
For years, the State Department's International Trafficking in Arms Regulations (ITAR) have allowed Americans to temporarily take abroad up to three non-automatic firearms and as much as 1,000 rounds of ammunition from the States, without a permit, for personal use. Until now, hunters traveling to Argentina's famous wingshooting destinations, to Europe and to Africa on safari have merely been required to obtain a U.S. Customs and Border Protection Form 4457 for each firearm. They did this by taking said firearms to a Customs office before departure; the serial numbers of the guns were verified by a Customs officer and he/she signed the form, or forms. One or more firearm could be entered on the same form, space allowing. Photographers, hunters and others have long used a CBP Form 4457 to establish ownership of property before leaving the States or to avoid paying import duties on expensive, personal items upon returning home. A 4457 is (or was) good for life.
In 2012, the State Department changed the rules, adding a new requirement: Travelers must declare rifles or handguns "upon each departure" by presenting documentation generated only through the U.S. Commerce Department's Automated Export System. Interestingly, non-"combat" shotguns are not regulated by State, so AES requirements do not apply to them. Regardless, the rule change escaped scrutiny in 2012 because it was buried in a Federal Register notice that authorized temporary export of field protective (gas) masks by government employees and contractors.
For reasons unclear to American Hunter, the rule change was never enforced. Now, however, it will be. According to the NRA-ILA, "In postings on the Immigration and Customs Enforcement (ICE) website and in internal ICE documents obtained by NRA-ILA, ICE makes clear that it has begun enforcing the rule change. Form 4457 may no longer be used for firearms, and electronic declarations will be the norm."
AES is an online reporting tool designed for business use. It is a joint venture between Customs, the Foreign Trade Division of the Census Bureau (under Commerce), the Bureau of Industry and Security (also under Commerce), the Directorate of Defense Trade Controls (under State), other federal agencies and the export trade community.
According to advice posted by Safari Club International (SCI), American hunters planning to travel abroad with their personal firearms must, at the time of departure, declare the articles to a Customs officer, present an Internal Transaction Number obtained from the submission of the Electronic Export Information in the AES and present the guns (and ammo, if any) for inspection to Customs at the port of departure. Gun owners must declare that the articles are for their exclusive use, that the guns and ammo will not be re-exported or otherwise change ownership and that it is their intent to return to the States with the articles.
Here's the catch: Individuals are currently unable to use the AES because it requires entry of an Employer Identification Number, according to internal ICE documents. Of course private U.S. citizens have no Employer Identification numbers, which are obtained only by businesses. According to the Internal Revenue Service, they should be used only for tax purposes. Clearly, say NRA-ILA personnel, law-abiding American hunters traveling abroad with personally owned firearms are not exporters "under any reasonable understanding of what that term is intended to mean."
What's more, it's not entirely clear that U.S. Customs personnel are actually prepared to implement the rule change. Perhaps that's why, for now at least, there is a work-around for traveling hunters: U.S. Customs has authorized its officers at airports to enter identifying information for each traveler and his or her firearm. This should aid travelers who are unaware of these requirements or who are unable to use the AES. But while this stopgap may avert crises during upcoming travel, it raises questions. How will the information be used, and how long will it be retained? How long will this stopgap alternative be available? And how will the new rules be enforced at other places of entry? Bear hunters returning from Canada this spring, for instance, may be in for rude awakenings.
NRA-ILA personnel, along with like-minded staff from SCI and other groups, are working toward an emergency rule change to put an end to this. If necessary, the NRA-ILA also will pursue shorter-term changes to prevent headaches for hunters traveling in the near future. And it will also consider, if necessary, a long-term solution through federal legislation.
American hunters planning to travel abroad in the near future should first consult with U.S. Customs and Border Protection, and perhaps their own legal counsel. More information regarding the new requirements can be found on the Immigration and Customs Enforcement website. Traveling hunters also may take a quiz at the ICE website to determine whether an export license or exemption applies.
In the meantime, NRA members are urged to contact their U.S. representatives and senators to voice their opposition to the State Department's shenanigans by using the NRA-ILA's "Write Your Lawmakers" tool, or by phone at 202-224-3121.