Support NRA American Hunter
DONATE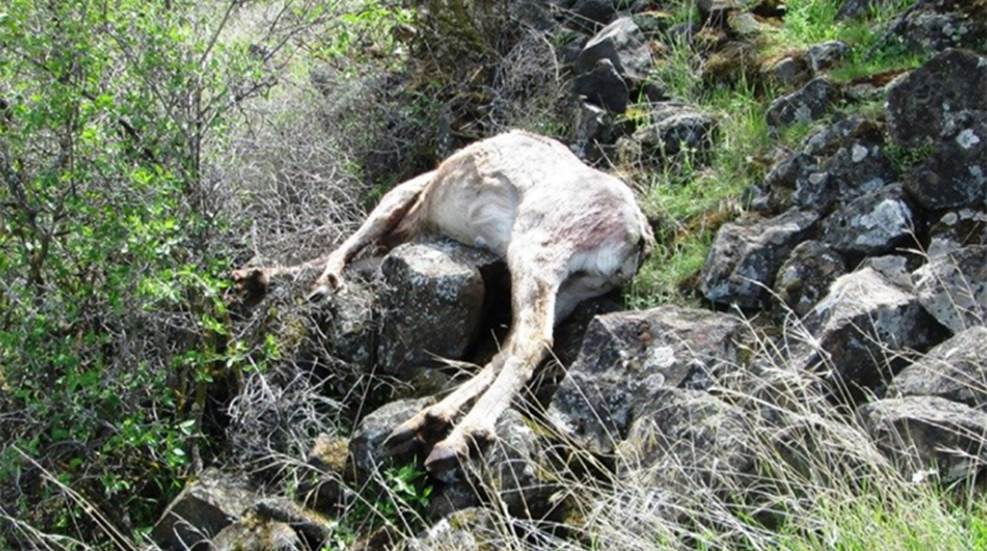 Photos Courtesy of Oregon State Police
As Phil Phillips recently noted at the AmericanHunter.org/HLF page, poaching is not hunting. Not even close. Poachers are criminals, and should be dealt with as such—their actions rob from hunters and the community at large alike. Fortunately for the rest of us, swift justice has fallen on a pair of poachers in Oregon. According to The Oregonian, two men were arrested last week after a driver on nearby Interstate 84 in Columbia River Gorge spotted a figure apparently bending over the body of a dead big game animal. Both would later be hit with poaching-related charges, after Fish and Game officials discovered the severed heads of two bighorn sheep in the vicinity.
The Oregon State Police received the report around 9:45 a.m. on April 3, and responded immediately. Given that most seasons are closed, and the area the call came from was known to be home to a bighorn sheep herd, there was more than enough room for suspicion. Responding officials found Justin Samora, of Utah, at the scene. While questioning Samora, police received tips from passing drivers that another individual seemed to be hiding in the brush nearby. While searching for this second mysterious figure, authorities located the severed heads of two sheep, as well as their carcasses—which, at that point, had not yet been gutted. Later in the day authorities would find one Cody Plagmann hiding a few miles away from the original scene. The Beaverton Valley Times reports that he was arrested and charged with taking or possessing a bighorn sheep, wasting of a game animal and hunting on another's cultivated or enclosed land. Samora would be charged with aiding in a game violation.
Bighorn sheep—and, even more so, the Rocky Mountain goat—are the rarest game mammals in Oregon. According to the Oregon Department of Fish and Wildlife, less than 100 bighorn sheep tags were distributed in 2015. The tags are "once-in-a-lifetime," and require hunters to enter a drawing.
"It's an outrage that someone would poach a bighorn sheep, when hunters can wait their whole life and still never get the opportunity to hunt this iconic species," said Jeremy Thompson, district wildlife biologist, in an official release. " This herd is also a popular viewing attraction for people driving along I-84, and has been there since 1993."
Fortunately, in this case, justice appears to have been served. Oregon, like most states, encourages the public to report poaching activity, should they witness it. The program, simply titled TIP (Turn-In-Poachers), offers awards for information that leads to an arrest. Alerting authorities to a bighorn sheep poacher is enough to earn you $500.