Support NRA American Hunter
DONATE
Since he was nominated by President Donald Trump and confirmed by the U.S. Senate, Secretary of the Interior David Bernhardt has proudly supported America's hunters, gun owners and NRA members. Just two weeks after confirmation last April, Bernhardt came to the NRA Annual Meetings in Indianapolis to deliver the keynote speech at the NRA Hunters' Leadership Forum (HLF) dinner. After thanking the NRA for everything it does to protect our collective freedoms, Bernhardt said, "Without you, we would not have lands managed by the Department of the Interior." He recalled growing up in Rifle, Colo., "where hunting, fishing and shooting took up a lot more time than chores…" and saluted the millions of like-minded Americans and their families, and promised to address issues impacting their future.
In the end, one thing was abundantly clear: The Trump administration truly embraces hunters and shooters and hears our concerns. Within a few months of taking the post, Bernhardt directed the USFWS to open 1.4 million acres to hunting and fishing, about double the amount of new federal acreage opened over the past five years combined. And that was just the start.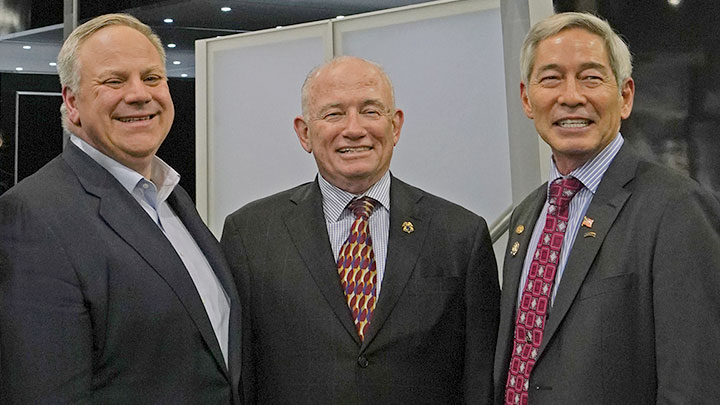 Since then, Bernhardt's actions show genuine passion for the hunter-backed North American Model of Wildlife Conservation that says wildlife is a public trust resource to be sustained for future generations. Not satisfied strictly to tackle his daunting workload from Washington, he has made himself accessible as well by attending several national outdoor shows, including the recent Shooting, Hunting, Outdoor Trade (SHOT) Show, where we sat down to talk.
---
To fund wildlife conservation, we must increase the number of American hunters. What is the Department of the Interior (DOI) doing to promote the value of and opportunities on public lands?
This is a timely question. If you look at why people don't get into, or get out of, hunting and fishing, the first reason comes down to access. I'm fortunate because when I was at Range Day during the SHOT Show, every booth I visited was just another childhood memory because I always had access to public land. If we don't make land accessible, it's hard for others to be exposed to hunting and fishing. The other reason is regulations, so we're simplifying federal regulations and have removed or revised 5,000 federal hunting and fishing regulations to more closely match state laws and make it easier to participate in hunting and fishing.
---
The NRA invested $3 million in launching America's most comprehensive, free online hunter education course. The USFWS now permits state wildlife agencies to claim a dollar value of the course as in-kind match dollars to access federal Pittman-Robertson (P-R) grant funds. Why is this new policy important?
State wildlife agencies rely on the P-R dollars administered by the USFWS' Wildlife and Sport Fish Restoration (WSFR) Division for their fish and wildlife conservation programs. We're encouraging online products to help more people become exposed to the outdoors.
---
Last year President Trump signed into law H.R. 1222, the Target Practice and Marksmanship Training Support Act. NRA-ILA helped to draft the original bill because building ranges and enhancing shooting opportunities are integral to participation in hunting and shooting sports. In amending the P-R Wildlife Restoration Act, how does the law also benefit wildlife conservation?
It provides financial incentives to state wildlife management agencies by lowering their required "matching share" from 25 to 10 percent. This facilitates the establishment of additional or expanded public target ranges in certain states. Target shooting is a factor in developing hunters, and the taxes generated from sales of hunting and shooting equipment directly benefit wildlife conservation through the P-R program.
---
President Trump is restoring President Theodore Roosevelt's "American sportsmen conservation ethic" where public lands are maintained for the benefit of the American people. Your predecessor, Ryan Zinke, signed landmark Secretarial Order (S.O.) 3356 directing those who manage federal lands to begin expanding access for hunters and anglers. How have you supported it?
The President made increasing public access a priority, and the DOI is delivering. In 2019, we opened an additional 1.4 million acres to sportsmen and women. This was the largest single effort to expand hunting and fishing in recent history. As of today, I've increased that number to 1.7 million acres just within the USFWS—and I'm going to beat that number by the end of this year. We're doing the same with BLM lands, expanding public access for important traditional outdoor sports. I'm excited. The biggest public lands package was put forward under this President's watch.
---
How has the DOI benefitted from historic economic growth under the Trump administration?
DOI activities in fiscal year 2018 alone resulted in $315 billion in economic output. This tremendous growth, in turn, supports 1.8 million jobs.
---
In August you announced changes to ESA regulations to better engage the private sector in species' recovery. Why are private landowners such critical DOI partners?
Since the ESA became law in 1973, more than 1,400 species have been listed as threatened or endangered. Nearly half of these species find 80 percent or more of their habitat on private land because 60 percent of America's land is privately owned. In the past when a species was listed, private landowners saw increased federal regulations of land use whether a species was listed as threatened or endangered. The presence of ESA-listed species became a financial liability and landowners had little incentive to actively manage their lands to recover healthy populations of fish and wildlife. The new rules keep regulations in place for the most at-risk endangered species while reducing regulations involving less imperiled, threatened species.
---
Last year President Trump signed into law S. 47, or the Dingell Act, directing the USFWS and other federal land management agencies to develop a priority list of lands that have significantly restricted or no public access where that access could be improved. Why is this law significant?
The most impactful thing is statutorily saying lands are open unless otherwise posted. The Trump administration understands the importance of having access to federal land for hunting, fishing and increased recreational opportunities and wildlife management enshrined into law. This includes the establishment of designated timeframes for taking actionable steps within each DOI office or bureau. S. 47 is a guidepost for balancing conservation and recreation priorities, and it is the first legislation to add public lands in more than a decade.
---
Can you provide background on your work with First Lady Melania Trump on the "Every Kid Outdoors" initiative?
In October, the First Lady and I joined fourth-graders on a field trip in Wyoming's Grand Teton National Park to promote Every Kid Outdoors, signed into law by President Trump last March. It encourages children to visit national parks, wildlife refuges, marine sanctuaries and forests by offering free annual passes to fourth-graders and their families to explore and learn. The program is a great way for students to be their best selves by experiencing the wonder of public lands.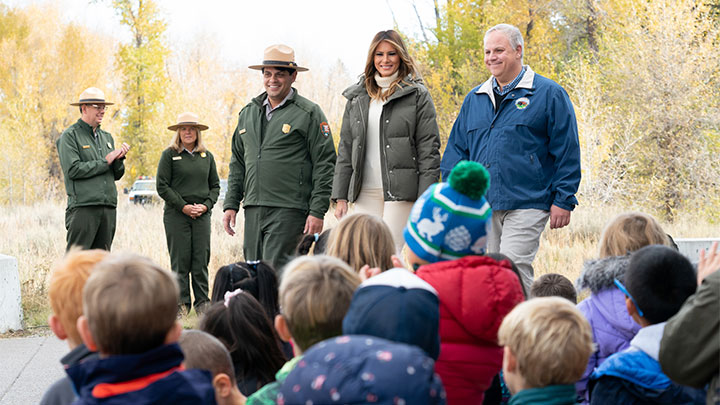 ---
What is the status of fire management efforts on public lands, which protect humans and wildlife alike?
In 2019, we treated more than 1.4 million acres, but the length of our fire season is getting longer, and fire risks are higher. We must innovate to strengthen our wildland fire and active management capability. On Feb. 10, President Trump proposed $12.8 billion for DOI programs in fiscal year 2021, including plans to invest $1 billion for a stronger DOI Wildland Fire Program to protect Americans and their communities. That budget also provides for a new $50 million initiative to build a more permanent wildland firefighting workforce to suppress active wildfires on public lands while implementing active vegetation management.
---
The Trump administration's Hunting and Shooting Sports Conservation Council advises the SOI and the Secretary of Agriculture on the implementation of policies regarding hunting, recreational shooting and wildlife and habitat conservation. Why is it essential to engage the broader community?
It is important to have a forum where folks with a range of perspectives can provide recommendations. It's a good opportunity for me to look at things and say, "Hey, we're not moving fast enough." It says a lot about the Trump administration's priorities in welcoming a diversity of opinion. Hunters never saw such support from the prior administration.
---
What is the DOI doing to address the spread of chronic wasting disease (CWD)?
CWD is growing and impacting multiple federal and state agencies. From 2001-2008, it was in 10 to 14 states. The DOI was spending $708 million a year, but when I became SOI, the budget had atrophied and there was an increase in impacted states. We needed more money from Congress, and we needed to educate ourselves more. I asked my science advisor to launch a scientific team to see how we could help in terms of research and best practices, working with the U.S. Department of Agriculture and its Animal and Plant Health Inspection Service. Our North American Model of Wildlife Conservation depends on people wanting to buy hunting licenses. Fortunately, Congress provided significant funding for more state examinations.
---
What do you say to encourage everyone to vote in November as the NRA drives home the fight for freedom?
My view is everybody should vote because our rights can be taken away, but this election really is more important than any other. You will see quite a contrast in who you're listening to. If you like President Trump's policies, the choice is clear, and our track record is good.
---
What is your favorite hunting story?
It was when I took my son goose hunting for the first time. He was so small that the goose was almost bigger than he was. I wanted nothing more than for him to have fun and to make sure he was hooked.
---
We've heard you are a great shot. Is it true that you hit the 10-ring on a target with two shots in a row at more than 1,000 yards?
No … actually, it was only 989 yards.
---
Why did you want to work for the DOI?
I love the president's vision and his belief that government should serve the people. And I love the DOI's mission and I thought I could help him with that. My job is to tell the president, "Sir, you told me to do X, Y and Z, and I did it," and to have him say, "Mission accomplished."
---
What hunts are on your bucket list for when you end your tenure as SOI—in five years?
An Alaska brown bear! It will go with my Alaska moose. Fortunately, I married the world's greatest girl who understands my love of the great outdoors as I work to protect our way of life.