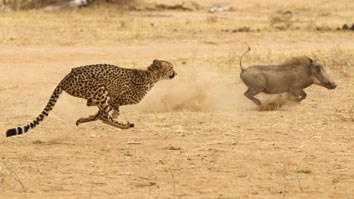 It's no secret that professional athletes (well, most of them, anyway) are pretty darn fast. Faster than this blogger, for certain. But humans, no matter how fit, have long paled in comparison to the speedsters of the animal kingdom—notably the cheetah, which we're all taught, nearly from birth, is the living embodiment of land speed.
But, being humans, we 're stubborn. And we love challenges. Oh, and some good clean fun and commercial exposure. Which is presumably why we'll soon be seeing two of the NFL's fastest players try to beat a cheetah at its own game.
According to a report from TheWrap.com, Titans running back Chris Johnson and Bears wide receiver and special teams ace Devin Hester will open Nat Geo Wild's "Big Cat Week" by racing a cheetah. Details are still sparse, but the special will be aptly titled "Man vs. Cheetah," and will pit both Johnson and Hester against the fleet-footed big cat for all the world to see.
According to the report, the special will dedicate itself to exploring the cheetah species and all of its strengths and weaknesses, before closing with the titular prizefight. No details have been revealed as to how the race is going to be handled—so we're left to speculate on things like the distance and playing field of the race (not to mention how we're keeping the big cat away from its fellow racers).
As representatives for all of mankind, Johnson and Hester are fairly respectable choices. Johnson hasn't fared well coming out of the backfield the last few years in Tennessee, but he's well known as the man that produced a mark of 4.24 in the 40-yard dash. Hester, known largely for his elusiveness during punt and kick returns, isn't quite the blazer that Johnson is, but isn't a slowpoke, either. He's arguably more elusive and agile than Johnson (much like the cheetah), but that won't help him beat it in a straight race.
On paper, the big cat is a runaway winner—there won't be any Vegas lines on this one. Cheetahs have been clocked at speeds up to (and, allegedly, over) 58 miles per hour in the field. The fastest human beings, meanwhile, are believed to top out somewhere in the mid-20s, with only the fastest among us nearing 30 mph.
Usain Bolt, he of the many Gold Medals, has been clocked in the upper 20s before. A FOX affiliate in Phoenix recently reported that Arizona Cardinals rookie Robert Gill hit 25 miles per hour—on the treadmill. That's just a wee bit short of 58.
The only thing that I could see being a problem for Team Cheetah is outright motivation. What's going to prompt the cat to give its all? I don't think telling it "You're on TV," or "You're racing Chris Johnson!" is going to do much for it. A cheetah may be willing to exert the effort it takes to reach 60 miles per hour when it's chasing dinner, but I'm not sure it's going to do the same in a controlled environment. Sure, a greyhound can be convinced to reach its top speed with little more than some fake bait—but they're trained to run around the track. We'll have to trust that Nat Geo's experts have a reliable motivating force in mind.
That all said, it should still make for some pretty entertaining television. Trust that I'll check back in on this one after the race has been run.