We landed at the small airport in Gandalf, Newfoundland, before noon, grabbed our bags and rifle cases, and were in outfitter Tony Stone's pickup truck not 15 minutes later, heading to Mt. Peyton Outfitters outside Bishop Falls on my very first woodland caribou and moose hunt. The "we" consisted of me and Linda Powell, Mossberg's media manager, who had invited me on this hunt to try out her company's bolt-action rifle, the Patriot.
At the hunting lodge, I spent 10 minutes at a makeshift rifle range making sure my Patriot was zeroed. Then I signed the various forms and licenses to make my hunt legal. It was 3 p.m.
"So, you have a choice," said Gordon Pelley, my guide for the next four-plus days. "Take it easy, dinner and early to bed," he continued as we traversed the bogs and pine forests, "or we can head out and do some hunting."
"If it's between hunting and sitting around … " I began as Gord held up a hand.
"We have maybe three hours of light, but it's 40 minutes on the quad, one way, to where we're going," he added. "So our actual hunting time's going to be short."
"This is my very first caribou and moose hunt," I said. "I'm using all the time I have. Let me throw on some camo."
"Meet you at the quad," replied Gord.
The ATV trails in this part of Newfoundland were cut into a rocky substrate that ran from smooth, pea-sized gravel to jagged, 150-pound rocks that could take out a transmission. Boulders flanked us in many places. In lower spots, the wide bogs stretched out on either side of the trails. We cut through forests of conifers, the air rich with the Christmas tree smell of the firs. More than once, the trail went through regular tunnels of tag alders, their branches clawing at my arms, trying for my face.
The trees and bogs and the broken rock seemed to go on forever, but eventually Gord cut the engine. A huge, fir-covered hill stood a half-mile before us, a scattering of more evergreens and white-barked birch trees and a bog in between. Behind us rose another hill.
"They've been moving through here," Gord said, waving a hand toward the front hill. "Let's slide down and see what's going on."
Slowly, quietly, we walked down a path through knee-high grass and around rotted tree stumps, the air heavy with the damp, earthy smell of peat bogs, pausing often to scan with our eyes and our binoculars.
And then I saw it—and for several seconds, I couldn't quite comprehend what I was seeing. A grayish body moved through waist-high grass and stubby firs. Then it stopped and looked our direction, not 100 yards away from where we stood. It was a woodland caribou doe, easily twice the size of a whitetail doe, her chest and neck a dull white, her flanks gray and light brown.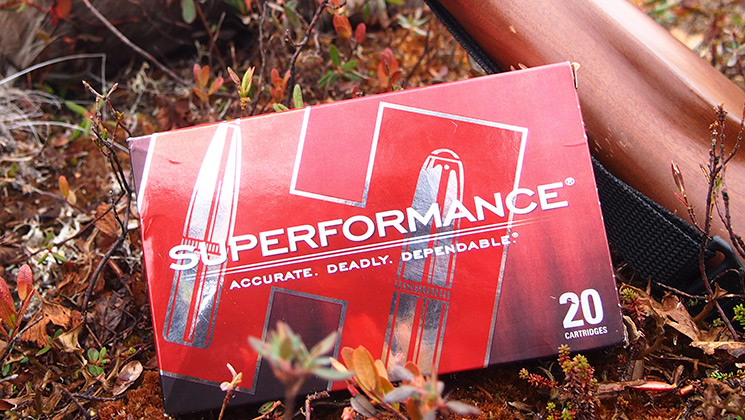 I spotted other caribou moving through the underbrush, crossing from our right to left. Two, three, now a half dozen of them, does and one pint-sized calf moving silently, almost ghostly as they drifted.
We pushed through the trees and undergrowth heading in the same direction as the caribou, careful not to step on downed branches. Gord halted all of a sudden, so fast I nearly ran up his back.
At least a dozen caribou were lying around a clump of dark green firs. The blood thumped in my ears. As my brain recreated photos I had seen of these creatures, I tried to picture their vital zones, and I tried to remember the best shots to take.
Gord and I spotted him in the same instant. Heavy shoulders and a crescent-shaped rack moved through the birches to the left of the other caribou. It was a woodland caribou stag, herding up his does. And then he was gone.
We quick-marched to the edge of the trees and saw, across the open bog, the stag pushing a dozen or more does and a few calves into a circle, getting ready to move them out.
"He's a mature stag," said Gord. "I think he's a shooter. But you just got here. You have four more days. There are bigger stags out there …. ."
"How crazy do you think I am?" I asked. "Let's try it!"
My guide looked up into the darkening sky. "We'll have to hurry," he said. "Light's going fast. You do not want to be out here in the pitch-black dark, 25 miles from the lodge. Trust me on that."
I did. But I also wanted a shot at the stag, so we moved off toward the bog and the caribou.
By the time we got to the edge of the tree line, the caribou herd was a good 300 yards into the bog and moving away. The Newfoundland bog is an amazing thing: a thick layer of green, brown and red moss that floats above pools of water and mud. With each step, your foot sinks down several inches into the wet earth and then you are buoyed up by its sponginess. (Gord told me the best way to practice for the bogs was to jog on a huge waterbed for 60 minutes a day. I think he was right.)
The herd circled back once, and Gord told me to shoot when I had a chance. I raised my rifle and snapped off the safety twice, but each time the stag moved behind birch trees before I could get my crosshairs on his shoulder.
The stag pushed his harem farther out into the open bog, a good five football fields in the distance now. Through my bino, I saw the stag milling around his does, the white of his chest and the tips of his antlers glowing in the day's last light.
We were 20 minutes from the quad, another 40 after that from the lodge, and it would be darker than dark in a quarter hour. Time to go, Gord said. I cinched up my rifle sling, tucked away my bino and took a deep breath. Close but no cookie.
"Hold it," Gord said, his voice suddenly tight. "Look at these guys."
A pair of younger stags had stepped out of the far wood line to our left and were trotting right for the stag and his harem. The big stag reacted immediately, lowering his head and antlers and moving toward the two males. We quick-stepped to a slight rise in the bog, a knee-high ridge with a few low bushes.
The stag kept coming in from our right, his does trailing; the pair of younger stags beelined it right for the herd. I dropped to one knee and felt the very cold bog water embrace my kneecap. But my knee hit that relatively solid though still buoyant spot. I swung up my rifle, the elbow of my bracing arm atop the opposite knee, forming a straight line.
Directly in front of us, less than 150 yards away, the older stag stood firm against the younger males, which by now had caught sight of the stag and didn't like what they saw. The youngsters split up, peeled back and headed off the way they'd originally come. The stag held his point for a few seconds, then stepped forward a few paces like he wanted them to know who was in charge. But those few steps took him past his does.
I fired.
The 180-grain Hornady SST hit him solidly below the shoulder, but lower than I'd wanted. The stag crumpled to the bog. His does surrounded him as he struggled to his feet and took several shaky steps. Then the does cleared away from him and I fired once more into his right shoulder, and he fell to the bog and didn't move again.
Gord quickly field-dressed the stag, and we made it back to the quad in the dark. The cooling air on my cheeks during the ride to the lodge was like a cold slap in the face. But I still felt like I was in a warm dream.
What the heck had just happened? I kept asking myself. I was on an airplane this morning, and now I'm working on a pair of bruised kidneys on a bouncing quad. In between, I've apparently killed my first woodland caribou. Huh?
Beginner's luck? Yes, but not all of it, not with quality guides like Gord and Tony Stone, who knew the area and trekked it daily in search of caribou and moose sign. Of course, some coincidence was involved with those two young males that brought the stag back into range.
But my newbie's good fortune ended with my first caribou hunt. I got a big fat beginner's fail on my first moose hunt. For four days, Gord and I slogged over bogs and hiked steep hillsides. Gord called and called. I hiked and sweated. But the closest we got was a moose cow I saw on day four crossing a trail—and me with a bull-only tag—and one brief grunt somewhere in the trees answering Gord's call.
But I loved the Newfoundland landscape. Gord was a heck of a good guide, too, a guy with brains and a good sense of humor. And I had a beautiful caribou to show for my time on this land.
"Well, they can't say we didn't try," Gord said as he drove the quad back to the lodge on our last night.
"We tried like hell," I said. "That's why it's a 'hunt,' though, not a 'shoot': Right?"
A sliver of moon hung in the night sky, and as we topped a hill the rocky trail below disappeared into shadow. A bank of dark alders and firs lined the trail to the right. But above them a line of birches stood tall, their leaves catching the last reddish glow of the day, lighting our way back to the warmth of the fireplace.