by
posted on September 15, 2022
Support NRA American Hunter
DONATE
The all-new Hyper XP 405 is built around the narrow-diameter HyperFlite arrow. Barnett says it is the first crossbow company to improve the "ammo" in the crossbow category by advancing the technology of narrow diameter arrows into the crossbow platform. HyperFlite narrow-diameter arrows provide numerous advantages: deeper penetration, less wind drift, increased durability and engineered to deliver maximum kinetic energy.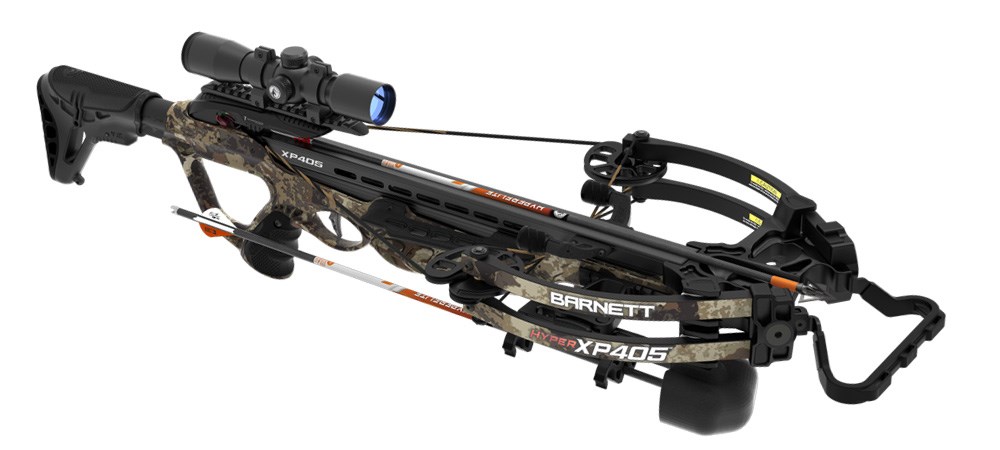 The crossbow features a narrow 10-inch axle-to-axle profile when cocked, making it extremely maneuverable in tight quarters. The short, custom composite laminated limbs provide plenty of power without added fore-end weight for a more stable shooting platform. The parallel limb configuration, combined with a track-mounted string dampener, significantly reduces recoil and noise during the shot while enhancing accuracy.
As its name implies, the Hyper XP 405 is built around Barnett's HyperFlite narrow-diameter arrow technology. Pairing the Hyper XP 405 with 22-inch, .204-diameter HyperFlite arrows provides a deadly accurate combination of blistering speed, maximum kinetic energy and deeper penetration. The increasing the arrow's 21 percent FOC and 61 percent greater ballistic coefficient reduce wind drift and improve downrange accuracy.

As a result, the Hyper XP 405 sends the small-diameter HyperFlite arrows downrange with incredible speed—up to 405 fps and delivers 138 ft.-lbs. of kinetic energy. The Hyper nock increases string-to-nock engagement by 30 percent resulting in increased accuracy, reduced string wear, and no dry fires. The arrows boast a straightness tolerance of +/- .001 inches for accuracy and consistency.
The Hyper XP 405 also features a metal-injected molded trigger and TriggerTech Frictionless Release Technology. This provides a reliable, crisp, 3-pound pull for consistent shots and improved accuracy. An Anti-Dry Fire (ADF) system and a nock sensor ensure the crossbow cannot fire unless the arrow is loaded correctly. Finger safety reminders above the generous pass-through foregrip keep fingers well out of the string path, and an adjustable buttstock allows for a perfect length-of-pull fit so the XP 405 can be fitted for youth, women and men.
The 4-5x32mm red/green illuminated scope offers precise target acquisition in a full range of ambient light conditions from twilight to high noon. In addition, the Hyper XP 405 features a simple, three-bolt assembly, one bolt to attach the riser to the rail and two screws to attach the foot stirrup.
Technical Specifications
• Length: 33"
• Width Axle-to-Axle (cocked): 10"
• Width Axle-to Axle (uncocked): 13.625"
• Weight: (w/scope): 7.55 lbs.
• Speed (380-gr.): 405 fps
• Powerstroke: 13.4"
• Kinetic Energy: 138 ft.-lbs.
• Draw Weight: 213 lbs.
• Finish: Veil Cervidae camo
• MSRP: $599.99; barnettcrossbows.com