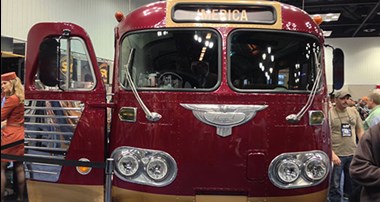 Magpul, maker of a slew of firearm accessories including the company's famous PMag magazines, sights, grips, buttstocks and rails, also is becoming known for its super-cool motor coach—at trade shows, at least.
The company realized it could use a conference room on trade show floors. But rather than merely buy or rent four walls, a table and some chairs, it went first class: It bought a motor coach. And it's not just any coach, either, it's a 1950s-era Flexible motor coach. Such units were used by baseball teams, circus acts and entertainers in the 1950s. The unit Magpul found was in good shape, but it had been used as a recreational vehicle for two. So Magpul converted it to become a rolling conference room complete with a full bar with a refrigerator and beer tap, a conference area/booth, a humidor and of course an on-board armory full of Class III firearms, including a Model 1917 machine gun. During renovation, Magpul was sure to maintain the aesthetics of the 1950s. The company's new "conference room" has all the bells and whistles of the modern era, but it looks and feels like the 1950s.
Founded in 1999, Magpul designs and builds high-performance polymer magazines and accessories for a range of firearm platforms. The company's goal is to give shooters an "unfair advantage."