by
posted on February 21, 2012
Support NRA American Hunter
DONATE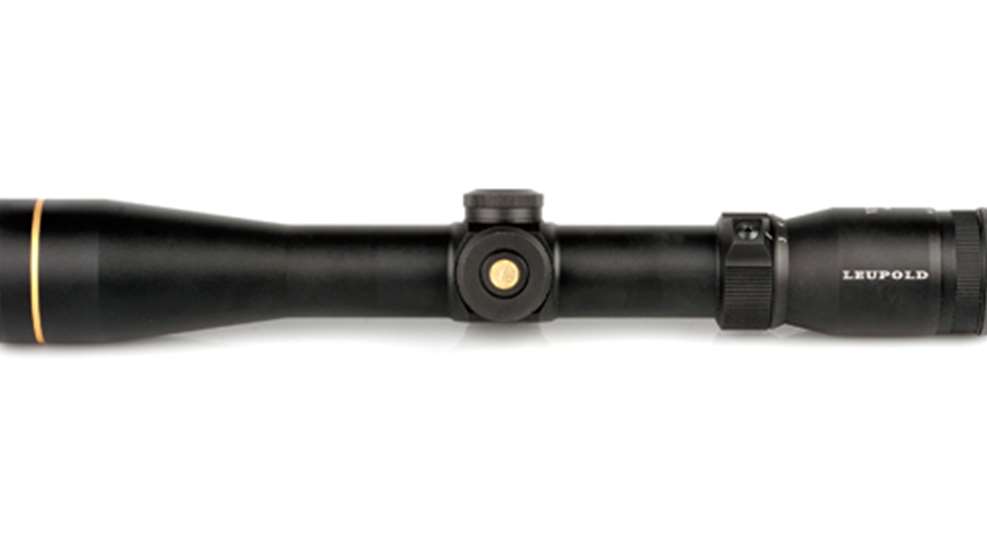 When sorting out my optical options for an Alaska black bear hunt, I kept returning to the idea of using an illuminated-reticle scope. The boat-bound adventure was scheduled for the month of May, just a few weeks short of the summer equinox, so I wasn't worried about a lack of sunlight. But the wet woods of Alaska's coastline have a way of sucking all available light from the area. Add to this the dark-as-night coat of an adult black bear, and an argument for illumination is an easy one to make. In fact, red-dot reticle riflescopes are a modern solution for many of hunting's age-old problems, from failing eyesight to game that is most active at first and last light.
Which one to choose? With the advancement of new and better lighting technology, there are a number of reputable manufacturers building clear, bright, dependable scopes that incorporate fiber-optic and LED lighting. I had recently used Swarovski's Z6i to some success on an Alberta bear hunt, and liked the European scope's user-friendly features, if not its unusual styling. Trijicon makes great, glowing stuff too. But to top the Remington XCR II in .300 Win. Mag. I would carry to Alaska, I wanted something a bit more affordable and American-made. Enter the Leupold VX-R 3X-9X-40mm and its budget-friendly, sub-$500 price tag.
The VX-R's components and assembly are just what you'd expect from Leupold, which is well-known for producing top-quality riflescopes for the hunting market. The company's VX-3 scopes are legendary among hunters for their quality and durability, and it's rumored the VX-R's lead-free, multi-coated glass is of similar quality to that used in the original VX-3 models.
While I can't confirm that with the naked eye, I can say on the range and in the field the VX-R delivered crystal-clear images and true-life color rendition in varying light conditions. To provide the high level of light transmission and image rendition, Leupold uses a proprietary Index Matched Lens System for applying each individual lens' coating according to its placement within the scope, function and level of light refraction. The exterior lenses on the ocular and objective end get the addition of DiamondCoat, a hard coating applied using an ion-assisted process (an applicator does not actually touch the lenses; rather, charged particles are attracted to it) designed to both enhance light transmission and resist scratches and wear.
The scope's optical components are wrapped inside an aluminum-alloy main tube that measures 30mm, unlike the more common 1-inch tubes found on most American-made optics. This larger diameter tube not only creates a tougher, albeit heavier, design and offers a wider range of adjustment (60 MOA), it also offers additional room inside the scope for the reticle illumination system.
Accurately speaking, that illumination system doesn't actually feature a fully lit reticle, but a fiber-optically illuminated dot at the center of the Duplex reticle instead. (Leupold also offers ballistic, circle-dot, post-style and their exclusive hog-centric "Pig Plex" illuminated reticles in the VX-R series.) Leupold claims this lighted dot within an unlit reticle design naturally centers your vision at the intersection of the wires for quicker, easier target acquisition and accurate shot placement. It also does so without obstructing the view of the target or blowing out the image in extreme low light.
The illumination system's push-button control and battery housing is located in what resembles a third turret protruding from the left side of the main tube. It is very slick. Each push of the soft-touch, rubber button cycles through one of eight illumination levels, from dim to extra bright. When you reach either end of the illumination range, the dot flashes to let you know you've reached the brightest or dimmest level. A long depress of the button turns off the scope.
When the moment of truth arrives, the last thing you need to be fumbling for is an on/off switch, even the easy-to-use one found on the VX-R. With this scope, users can switch on the reticle when they head to their stands, or ashore in my case, and set the illumination level for the light conditions expected to be encountered. There's no need to worry about running down the battery thanks to an internal motion sensor that turns off the Fire-Dot reticle after five minutes, then instantly switches it back on at the pre-selected intensity level the moment the rifle is moved.
During testing, I set the scope at its dimmest setting in the late evenings and at its uppermost at midday. The low levels delivered unobstructed sight pictures and a crisp, red dot. Some bleed-off did occur at the higher settings, particularly when they were used in lower light. However, in full sunlight even the highest setting produced a crisp, clean dot.
While the range tests determined the scope's shot-after-shot accuracy, the real proving ground was in Alaska, where tough conditions will find the weak spot in any hunter's kit. Combine that with my notorious reputation for being hard on gear, and you've got the ultimate real-world field test.
I'm happy to say the VX-R passed. Among the rough use it was subjected to was repeated exposure to salt spray from rough-water beach landings, more than a few bumps against old-growth trees, a full tidal-pool dunking and at least one drop when the scoped gun slipped from my shoulder during a Spider-Man scramble up a near-vertical rock face as I scaled from the rubber boat up to shore.
I didn't even notice the ding on the objective bell caused by that particular drop until after I shot my bear and was posing for pictures. Had I seen it before the 150-yard shot, I might not have had the confidence in my rifle to take what was basically an unsupported shot. As it was, the scope held its zero and, after factoring in a stiff on-shore breeze and my poor yardage estimate, put the 180-grain Swift A-Frame where the barrel was pointed, which luckily was in the right spot to drop a big Alaska black bear in its tracks. 
Specs:
leupold.com
Type: variable-power, illuminated-reticle riflescope
Magnification: 3X–9X
Objective Lens Diameter: 40mm
Main Tube Diameter: 30mm
Focusing Range: 1 yard-infinity
Eye Relief: 4.2"
Field of View at 100 yds: 33.6' @ 3X; 13.6' @ 9X
Coatings: fully multi-coated w/DiamondCoat on all air-to-glass surfaces
Dimensions: length 12.7"; mounting space 5.4"; weight 15.3 ozs.
Construction: aircraft aluminum main tube; argon/krypton purged waterproofing
MSRP: $480