Support NRA American Hunter
DONATE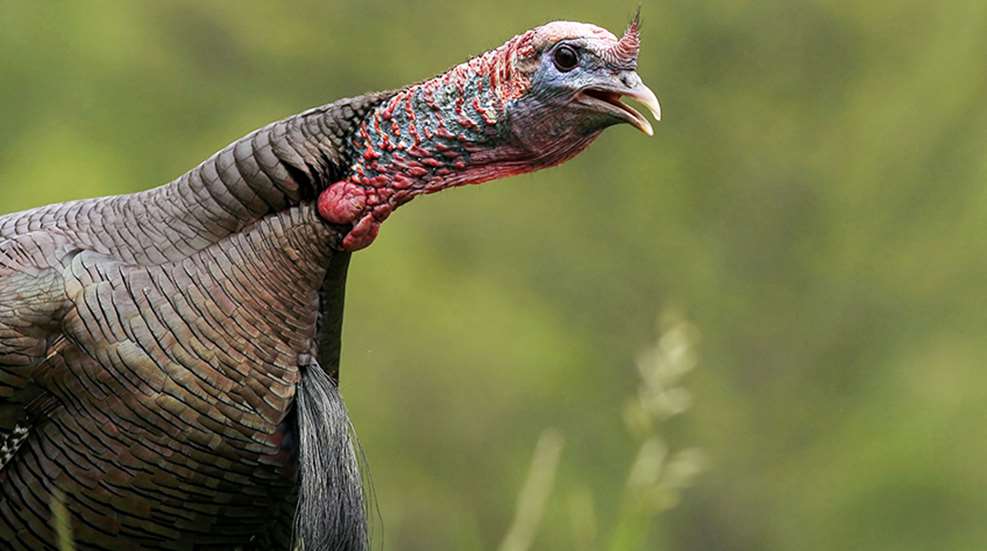 To prove a theory, biologists must isolate a variable to get a result that can be replicated, as in peer-reviewed, and there just isn't any way to do that with bird-brained gobblers. We're left with subjective field research. This, however, doesn't mean we can't gain valuable insights from studies on gobbling. Not all wildlife biologists agree on the following five statements about gobbling activity, but nonetheless, they are useful to consider when planning a hunt.
THERE ARE TWO GOBBLING PEAKS. This is disputed largely because there are too many local variables involved to make a concrete scientific claim. Still, it's generally the case. The first peak comes when gobbler flocks break up in late winter or early spring and begin to compete for hens. This peak usually comes before spring turkey season. The second peak generally comes when most of the hens have left the toms to sit on their nests. This often comes a week or more into the season. The takeaway: Don't give up. A dominant tom that has been henned-up for weeks will suddenly come to a call when his hens leave him.
TWO-YEAR-OLD TOMS GOBBLE MORE. Research by Dave Godwin, turkey project leader for the Mississippi Department of Wildlife, Fisheries & Parks, found that gobble counts go way up in years when there are a lot of 2-year-old gobblers in the woods. This is related to how productive the spring nesting season was two years before.
WINDY DAYS ARE BAD GOBBLING DAYS. Derek Colbert, graduate student at the University of Georgia, determined gobbling activity was highest when winds were about 3 mph. The toms he listened to gobbled well when wind speeds increased to 6 mph, but tapered off after that and almost stopped when winds exceeded 12 mph.
TEMPERATURE AFFECTS GOBBLING. The average daily temperature plays a role in gobbling activity, according to Colbert. His research revealed toms gobbled most when the average daily temperature was 60-69 degrees Fahrenheit. When the temperature went higher, gobbling decreased.
ATMOSPHERIC PRESSURE HAS A BIG IMPACT. Colbert determined lower pressure, as happens as rain comes in, reduces gobbling. The birds he studied were most active when the barometer read 29.9-30.2 inches Hg. When the pressure fell below 29.7 inches Hg, gobbling activity all but ceased.
■ ■ ■
Looking for more turkey hunting tips? Check out the following articles:
• How to Map a Gobbler's Routine
• Turkey Hunting: Where and How to Sit
• How to Tune a Box Call
• 10 Tips for Hunting Spring Turkeys
• How to Call Like a Turkey
• Know-How: Tips for Hunting Quiet Gobblers
• How to Use Topo Maps to Find Public-Land Gobblers
• 20 Tips for Public-Land Toms
• How to Hunt Turkeys in Any Weather
• Tips for Hunting Mountain Gobblers
• Know-How: Best Bow Shots for Turkeys
• 10 Stupid-Smart Turkey Tactics
• How to Plan a NWTF Turkey Grand Slam
• 5 Tips for Bowhunting Turkeys Without a Blind
• How to Clean a Wild Turkey
• Public-Land Turkeys: 4 Tips for Safety and Success
• How to Interpret Gobbler Speak
• 6 Tips for Windy Weather Gobblers
• How to Predict and Hunt Gobbling Peaks
• 5 Late-Season Turkey Tips