by
posted on January 29, 2014
Support NRA American Hunter
DONATE
There isn't a chef alive who could ask for a better farmer's market than the one available to hunters. The latest and growing trend of farm-to-table cooking, along with the "organic" movement, has been on the rise for many years. The irony is that we (hunters) have always been at the forefront of this movement (phenomenon). Frankly, we've always known you can't get more organic than mother nature.
As a chef, I take great pride in the field-to-table connection. It's a simple concept: great products, getting back to the basics and a respect for the ingredients.
The many great chefs I have had the pleasure of meeting all have one thing in common: a respect for and understanding of the ingredients they work with, despite differences in the types of dishes. This passion for the product from start to finish, be it a simple piece of meat grilled over an open flame in the backwoods or a five-star plated meal in the comforts of your own home, is a common thread with great chefs. The great equalizer in these scenarios is the quality of the ingredients and the techniques applied in creating a composed dish of your wild game meat. Cooking, in all aspects, is much easier if you have an understanding of the proteins you are working with and how to approach them.
Let me walk you through my approach to wild game cooking and some tips that will help spread the love for wild game to the uninitiated.
Field Care
Preparations for the plate start in the field, a simple concept that many take for granted. The quicker we can put the animal down on the ground, the better the final product on the plate will taste. So, regardless of the manner in which you choose to take your game, marksmanship is high on the list to ensure great table fare. If you tour a slaughterhouse, you will see that they go to great lengths to keep the animals calm, which is key to help prevent the meat from being pumped full of adrenaline prior to slaughter. It is imperative to take the time to practice, practice and practice some more rather than simply and lazily making sure your firearm is still holding zero from last season. We owe it to the animals we hunt, and to ourselves, to make a clean and humane kill every single time we head to the field. Your family and guests will appreciate the food even more for it.
Once your animal is on the ground, get it field-dressed and cooled down as quickly as possible. The ideal scenario involves hanging and aging the meat for a few days in a climate-controlled environment to allow the natural enzymes to break down the muscle fibers, making the meat more tender. Unfortunately, many (perhaps most) of us don't have access to a walk-in cooler or the proper climate to make this possible. If you do, aging your animal for a few days will be an added benefit to your table fare.
Proper packaging with butcher paper or a vacuum-packing machine is mandatory. If it's packaged properly, you will be left with perfect game meat throughout the year that is just as good as the day it went into the freezer.
Flavor Profiles
The No. 1 question I am asked about cooking wild game is related to eliminating the "gamey" flavor of the meat. I tell anyone who will listen that it is easier to work with and enhance the available flavor of the meat rather than trying to change the way a particular animal tastes. The fact is few realize it may be their taste buds and not the animal in question that is at issue. Why are we always looking for ways to mask the flavor of deer, elk or moose? Why not approach each animal as an individual rather than treat it as if we are cooking a fattened and heavily marbled steak?
Treating each animal as an individual allows you to create flavor profiles that work with where the animal was taken. The use of acidity, bitterness and sweetness, in conjunction with seasonal dishes, helps create a rounded meal that complements the natural flavor of venison. For example, a mule deer killed in the late season may have a heavy aroma of sage, which can be overbearing on some peoples' palates. By creating a dish utilizing a sweet yet earthy element to compound the vegetal aromatic nature of the meat, we can balance and round the flavor of the dish without losing the essence of the meal.
Wild game will taste wild (even exotic) to some. The flavor from one animal to the next can and will vary a great deal according to region as well as the time of the year. If a buck is taken during the rut it will most certainly have a stronger, more distinctive taste than a young doe taken in the early season. However, these distinctions are what make game meats so enjoyable to cook as they have the backbone to stand up to bold flavors that would overwhelm another, dare I say lesser, protein.
Check out Matthew's Venison Loin with Fig & Zinfandel Reduction Over Carrot & Acorn Squash Puree here.
When looking for flavor profiles of wild game, I find myself always looking at cultures that eat game meats as a mainstay of their diet. Italy, its northern regions specifically, is known for its wild boar dishes. Throughout the far reaches of Europe, venison of all kinds can be found on menus. Looking at the flavor profile from a global perspective allows for wider development of your combinations of flavors. There are a host of wild game cookbooks, and magazines from Charlie Trotter's Meat and Game to Cooking Wild; the use of all these resources should be a part of the creative nature of wild game cooking, while adapting and constructing flavor profiles.
Cooking Techniques
For the moment, let's focus strictly on cooking venison: moose, elk or deer. There is one golden rule that applies to all theses species, and that is achieving the proper internal cooking temperature when grilling or roasting, or using any dry-heat cooking method. Cooking your venison past the point of medium will result in a dry, tough finished product.
Cook your venison to an internal temperature of 115 degrees, and allow the meat to rest, which will take into account the process of carry-over, to yield perfect medium rare venison every time. This "carry-over" cooking is essentially the continuation of cooking after meat is removed from a direct heat source. The rise in temperature can be as high as 8-10 degrees after resting. This increase in temperature will also vary due to the size of the piece of meat you are cooking. A large, bone-in roast will maintain a higher temperature longer than a small loin or steak. I always recommend the use of a meat thermometer in conjunction with the "feel method" to check doneness. Once you learn to gauge doneness using the feel method (while still double-checking temperature with a thermometer), you will develop the confidence to leave the thermometer in the drawer and cook your venison to a perfect medium rare just by feel.
Wild Pork
No matter what part of the country you live in or what you call the swine in your region—pigs, hogs, porkers, hawgs—they all have one thing in common: They can taste fantastic. Beyond simply great table fare, they are great practice in the offseason to keep your hunting skills sharp. Keeping your freezer full is a bonus.
I believe wild pork is by far the most unforgiving wild protein you can cook when utilizing a dry cooking method. Achieving a proper degree of doneness and ensuring you raise the internal temperature high enough to destroy any traces of trichinosis is a balancing act between perfectly cooked, and over-done and dry.
Wild pork, along with all game meat, is extremely lean and can benefit from an addition of fat. Wrapping it with some form of fat can aid in maintaining a higher level of moisture in the meat, though in some instances can overwhelm the true flavor of the protein. The old saying "nothing can be bad wrapped in bacon" is true, with one caveat: In moderation, bacon can make or break a meal with its distinctive flavor. One of my favorite fats for wrapping is caul fat, a web-like membrane that surrounds the internal organs. It has a neutral flavor, so it will allow the true flavor of your dish to shine.
Click here for Matthew's Root Beer & Guava-Braised Pork recipe.
While utilizing fat will maintain moisture, remember each wild hog we kill will vary in tenderness from one animal to the next. Larger hogs in general will have a much tougher and denser backstrap (as well as other muscle groups) than that of a smaller one. So with this knowledge we are left with either utilizing a moist cooking method or creating a marinade, which will help break down the muscle fibers. The inclusion of tropical fruits such as papaya and pineapple is a great idea since these have a naturally occurring enzyme that breaks down proteins to make those dense muscles more tender.
Whatever your method of cooking your wild pork, there is an onslaught of flavor profiles that will work. From Mexico to Malaysia, almost every culture has its signature dish using pork, so don't be afraid to experiment. A recipe that may not turn out perfectly the first time is a lesson learned for the next one. Have fun with your wild proteins and enjoy the flavors and challenges of each pig that comes to your table.
Respect for game meat, along with a seasonal approach to cooking, will make for happy and well-fed guests at your table. You my even succeed in bringing non-hunters into the fold of wild game cooking through simple, elegant yet approachable food, utilizing a minimalist approach and the finest ingredients on hand.
Matthew Cosenzo's passion for food and the outdoors developed while growing up in a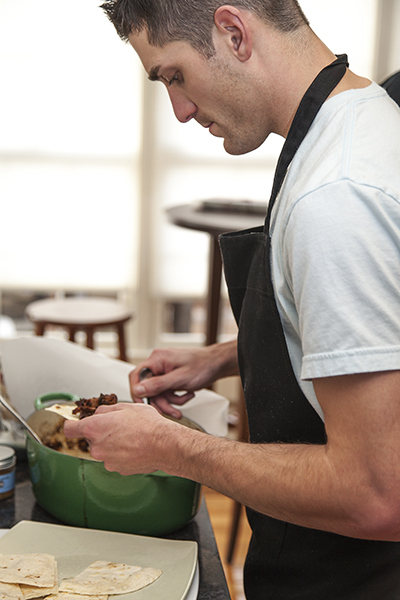 small central New Jersey town. The search for a summer job landed him in a fly-fishing pro shop where he soon taught fly-tying to his customers. His passion for fly fishing and hunting drove his desire to use his creativity, which in turn drove his pursuit in the culinary arts and eventually landed him in the nation's finest culinary school.
He was enrolled in the Culinary Institute of America (cia) in Hyde Park, N.Y. His education enabled him to travel and work in the culinary field in California and throughout New York. Graduating from the CIA with a bachelor's degree in restaurant and hotel management, Matt combined his passions to create simple, elegant and approachable meals.
Matt is a regular contributor to Cooking Wild Magazine, a publication dedicated to cooking anything you can hunt, fish or forage, and Bear Hunters Online. He is an avid bowhunter and has developed a love for big-bore revolvers. He enjoys the challenge of getting close to game.