by
posted on June 22, 2020
Support NRA American Hunter
DONATE
That moment when someone recognizes what I do—when a contractor visiting my home sees my game room, for instance—usually is followed by a question: "What do you think of … ?" We can fill in the blank with just about any make or model of firearm or just about any caliber to envision the ensuing conversation.
As NRA members, we all are uniquely qualified to advise newcomers who wish to buy a firearm. As hunters, however, we are best suited to dispense advice about buying one's first big-game rifle. But before any of us do, I think it's best to remember the acronym KISS: keep it simple, stupid.
Often, all a guy can say is, "I want to buy a deer rifle." The majority of American hunters say they are big-game hunters first and foremost, and whitetails top most big-game hunters' lists, so "deer rifles" sell well. However, there are deer rifles and there are deer rifles. Where will he hunt deer? He's likely already swooning over a lever action. The first rifle many American hunters ever purchase is a lever action. It's quintessentially American, it's fun to shoot, it's chambered mostly in cartridges that are fun to shoot and even when it's not it seems cool to many guys to say, "I've got a .45-70." Nothing wrong with that, but I don't think a lever action provides enough flexibility. Whitetails inhabit many different landscapes; maybe the guy would like to think he could hunt different states as his experience grows. A lever action does the trick in wooded Eastern hollows where shots may never stretch beyond 60 yards but it will not reach far down a Texas sendero or far across a South Carolina bean field.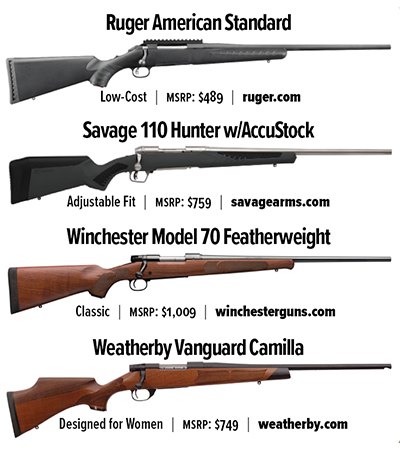 "A gun to hunt the West" is not necessarily an "elk rifle." A lot of critters inhabit the West, and most of them can be hunted with mild-shooting .24-.30 caliber rifles. A conventional elk rifle is chambered for magnum cartridges that kick a lot more than a .270 Win. Is a new hunter ready to take a beating every time he heads to the range? Will he have fun at the Dummkopf Family Schutzenfest if his shoulder grows sore after a couple of rounds? A guy may say, "I want a .300 Win. Mag.," simply because someone else convinced him this one caliber can provide the flexibility to hunt North America, and, besides, the new guy doesn't like the prospect of buying several guns—they're expensive, after all. It seems to him he could cover all the bases with one purchase.
Explain why he should think multi-purpose. This guy needs to be happy with his purchase long after he takes it home. If he buys a rifle he uses across several hunting seasons in pursuit of perhaps multiple species, he will be. If now he picks one rifle chambered in a cartridge that's also not bad on the shoulder and he becomes the master of it, he will realize it's useful and fun. Down the road, with more experience and more money, he can begin to specialize. An elk rig, a tack-driving varminter, a bear gun—any might be the next purchase.
Focus on just a handful of do-all cartridges.
It's hard to beat the good ol' .30-06, now almost 120 years old and still fully capable of hunting all of North America. It's not adequate for our biggest bears, but there's little else it can't take without incident. Other all-around calibers may include the .260 Rem., 7mm-08 Rem., .270 Win., .280 Rem. and .308 Win. Beware recommending something too small. I love the .243 Winchester. Anyone would be happy with it as his or her only gun, but it's not enough gun for much beyond deer-sized game.
Put one of these cartridges in a bolt-action rifle—not a straight-pull but a turnbolt, a style of arm American ingenuity has supremely whittled into high art. Whether it be an entry-level rifle with a black composite stock and matte metalwork or something a bit more expensive with walnut and blued steel, a turnbolt will look good in our new hunter's hands everywhere he goes. More importantly, a turnbolt is a straightforward and open design—it's simple to learn. That is, when the bolt is open, all mechanisms that control the storage, feeding, chambering, extraction and ejection of the cartridges lie in plain view. Contrast this with lever-action, pump or auto-loading designs where cartridges disappear inside the receiver and the action does its work "behind closed doors." And as simple as it is, a turnbolt also is strong. The design easily handles high-power cartridges even in conditions that would foul up other designs. It's adaptable to wear an optic. Of course, it's capable of great accuracy.
Focus on styling cues that interest the buyer. Does she like the all-weather look of a composite stock or is she attracted to blued steel metalwork sitting in a nice walnut stock? Explain what the differences mean as the seasons mount. All but the prettiest guns grow old with dignity even with scratches and dents.
Dispel notions of buying an "heirloom." Many guys say they want a pre-war Model 70 … until they see the price of one. Besides, such a rifle likely can't wear a new riflescope, limiting its use. The truth is on gun racks across America sit any number of well-built rifles that may be handed down for generations. Everybody makes a good gun.
At the lower end of the price scale, in the $500-$700 range, sit rifles like the Ruger American Rifle Standard, Weatherby Vanguard Accuguard Synthetic, Remington Model 700 ADL Synthetic, Winchester XPR Sporter, Savage 110 Apex Hunter XP and the T⁄C Compass. Spend $1,000 and the possibilities of telegraphing one's "status," if you will, grow considerably. Go traditional with a Ruger Hawkeye Hunter, Remington Model 700 CDL, Browning X-Bolt Hunter, Mossberg Patriot Hunting or Savage 110 Classic. Look like you think you'll go sheep hunting someday with a Winchester Model 70 Featherweight, Weatherby Vanguard Backcountry, Kimber Hunter or Bergara B-14 Wilderness Ridge. Like I said: Everybody makes a good gun.
First-time buyers should be aware of a few qualities that exist in the bolt-action market. Many but not all bolt actions are made for lefties. If the hunter is of small stature, he or she should know most gunmakers offer a compact bolt action. If adjustability truly is desired, take a look at Savage's AccuStock, which allows users to customize length of pull and comb height. This may be a good choice for a young man who is not done growing or an adult who may hunt Pennsylvania's cold deer season in many layers of clothing then fly south at the invitation of a friend to hunt Alabama in late January in shirt sleeves. If the purchaser is a woman be sure she sees and holds the Weatherby Vanguard Camilla, with a stock designed explicitly for women that has received rave reviews from female hunters and the hunting press—including AH, which awarded it a Golden Bullseye Award.
Lastly, don't send a first-timer buyer to a gun counter by himself. Do the world a favor and consider these guidelines the next time you're faced with "the question," then go with that person to the gun shop. Help that newcomer spend money wisely.