by
posted on June 15, 2017
Support NRA American Hunter
DONATE
Cape buffalo. No matter how bad my day is going, thinking back to being on safari, chasing those big, black bovines across whatever terrain Africa has to offer simply picks me up. The huge helmet-like bosses, the drop of curled horn, the cattle smell; it all excites a buffalo hunter beyond words. Rifle and bullet technology is always changing, and what we considered gospel 40 years ago may need to be revisited.
The law across Africa agrees upon the .375" bore as a minimum bore diameter for dangerous game—including buffalo—the caliber debate starts there, but that's a different story. There has been the double rifle vs. bolt rifle debate, which has raged on for a century, and probably isn't going to stop anytime soon. However, the cost of labor (with regard to double rifles), the increasing cost of air travel, and the cost of safari itself may make a hunter sharpen his pencil when shopping for a buffalo rifle. It would require a trust fund (which I sadly do not have) and a heck of a lot of time to test a wide variety of different buffalo rifles, but I'd like to share with you some buffalo rifles I've loved, from the rather inexpensive to the top of the line. These rifles have all proven themselves, and will give you some insight into some setups that work.
The lightest is a Winchester Model 70 Super Express, in the post-'64 push-feed configuration, chambered in .375 Holland & Holland Magnum. It's topped with a Leupold 1.5-5x20 scope, and will put three Federal Trophy Bonded Bear Claws into a sub-MOA group at 100 yards. Many folks—sometimes myself included—doubt the push-feed system, but I've put thousands of rounds though this rifle, with no issues whatsoever. It handles a multitude of plains game equally well, and for a sportsman on a budget, who wants one rifle (bigger than the '06 class) for a number of duties, this may represent the best bang for the buck.
My good friend and booking agent Dave deMoulpied is the proud owner of an American Hunting Rifles .416 Rigby. Based on a dressed-up and re-worked CZ550 action, Dave's AHR is a rock-solid, controlled round feed rifle, that'll put three 400-grain Peregrine bullets into ¾-inch groups. It is topped with a Swarovski Z6 1-6x in Talley detachable mounts, a scope that gathers all sorts of light for shooting in the dappled forests. The .416 Rigby isn't quite as versatile—across the board—as the .375 H&H, but oh! does it hammer a buffalo. The .416 Rigby's reputation is well known, and with those modern softpoints, it has gotten a definite face-lift. The iron sights, replete with a large orange front bead, are regulated for both 50 and 100 yards. Dave has had the barrel shortened to 21", with minimal loss of velocity, yet the ease of maneuvering in the think bush is a huge gain.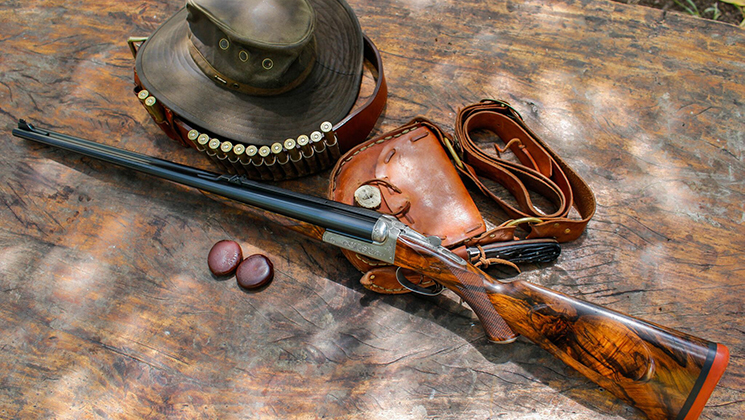 We all have our firsts, and my first buffalo was taken in Zambia with another Winchester 70, but this one is one of the last of the New Haven rifles, chambered for .416 Remington Magnum. Using a Leupold 1.5-5x20 in Leupold QR mounts, this offers the same ballistics as the .416 Rigby, with one extra cartridge in the magazine. Using the large claw-extractor that the pre-'64 Winchesters are famous for, this rifle is utterly dependable. It puts three handloaded 400-grain Swift A-Frames into one-MOA and that combination of cartridge and bullet put my first buffalo down with the first shot. The wide array of bullets—both soft and solid—available in .416" diameter makes this rifle and affordable and versatile choice.
My absolute favorite buffalo rifle is my Heym Express by Martini, a bolt gun in the classic .404 Jeffery. Stocked perfectly, this rifle fits me like a glove—an important feature for any buffalo rifle. The iron sights seem to align themselves, and when I attach the Leupold fixed 2.5x Compact scope, the balance and quick handling characteristics of this fine rifle are maintained. With handloaded 400-grain Woodleigh Hydrostatically Stabilized Solids at 2,280 fps, this rifle will handle any dangerous game, including elephant. I handed it off to my good buddy Chris Sells to shoot his buffalo at over 200 yards in the Mozambique swamps, and he dropped it where it stood. It'll print 1½-inch groups with Norma's African PH ammo, using the 450-grain Woodleigh Weldcore softs and solids. It's not a cheap rifle, but once you shoot one, you'll be spoiled for life.
My good pal Mike McNulty relies on his Ruger RSM in .458 Lott to hunt buffalo. Retrofitted with a good fiberglass stock, Mike's Lott throws 500-grain Woodleigh Weldcore bullets very well, and with both iron sights and a removable scope, it makes a fully dependable buffalo rifle. The controlled round feed bolt performs under all sorts of conditions, and the stock fit makes a normally hard-kicking rifle a pleasure to shoot.
That double vs. bolt argument? The double rifle is definitely a viable buffalo rifle, and the modern optics and projectiles have made those classic calibers even more potent. I recently used the new Heym Model 89B on a buffalo hunt in Mozambique's savannah. Chambered in .450/400 3" Nitro Express, the 89B offered a low-recoil, fast-handling double that seems as though it was made to be a buffalo rifle. While the price tag is hefty, probably 10x that of most bolt guns, among the doubles it represents a very good value. If you want to experience a classic African hunt, the double is the way to go. If, like me, iron sights tend to be a bit fuzzy with older eyes, the Heym can easily be fitted with a Trijicon RMR or Docter red dot optic. The ability to fire that second shot immediately is a wonderful insurance policy.
These are just a few of my favorites, and there are other good choices. The CZ550 makes a good platform, as does the Legendary Arms Works Big Five rifle. In the end, you need to be confident in your choice. You need a rifle that absolutely will not let you down, preferably with the option to remove the scope should you need quick access to the iron sights, in a caliber worthy of the tenacious Cape buffalo. And after all, the preparation for a safari is half the fun.