by
posted on March 27, 2021
Support NRA American Hunter
DONATE
Few better examples of how things stay the same amid change can be found than in the annals of shooting and hunting. All gun cranks and hunters who are students of history share moments of personal discovery upon reading about the exploits of James Fenimore Cooper's Natty Bumppo or Ernest Hemingway's Nick Adams. These American authors may have set in print descriptions of gun use and hunting in the 18th or 20th centuries, but the truth is physics don't ever change. The game doesn't change, either. Only the technology changes—but the truth also is our use of it usually bears strong resemblance to the same things our forebears did. Our common ground is shooting and hunting in the field, regardless in which century it takes place.
Ever since its founding in 1871, the National Rifle Association has emphasized education and training in the use of small arms for civilians and military and police personnel. To that end, its various official journals throughout the years have dispensed advice on all things guns and shooting and hunting. Today, no less than four NRA official journals covering every major segment of the shooting sports world continue the tradition. As such, we describe American Hunter as "The Authority on Hunting Arms & Adventure."
Stepping into the time capsule that is the NRA Publications library is a treat for every gun crank. Here's wishing every member could do so. Alas, the following piece of history will have to suffice to fill the void.
In 1911, we published Arms and the Man; it succeeded Shooting And Fishing and preceded The American Rifleman as the official journal. It was published weekly; subject matter included the latest news of the pistol, rifle and shotgun and of the Army, Navy and National Guard, treatises on things like "bullet penetration" and the "killing qualities of sporting rifles," and reports from hunting fields.
One such report appeared in the June 1, 1911, issue from American author Stewart Edward White (1873-1946), whose fiction and non-fiction work focused on nature and human nature. His first book, The Westerners, was published in 1901. Today, perhaps many older Americans remember him as the name behind "The Saga of Andy Burnett," a TV mini-series based on four of his books (particularly The Long Rifle). Andy Burnett, brought to life 10 years after White's death, was a famous follow-up to Davy Crockett on "The Wonderful World of Disney" in 1957-58. In all, 14 of White's stories were turned into motion pictures, 13 during his lifetime.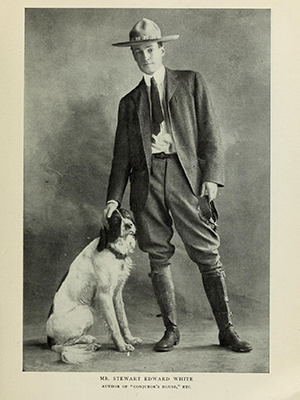 White's stories struck a chord at a time when it was acknowledged America was losing its vast wilderness. He was a prolific writer of outdoor adventure, Westerns, and hunting-and-fishing tales. His style was called pithy; he kept it short but enjoyed describing details about hunting and guns, and he incorporated history into his stories. He was often mentioned in the same breath as Jack London.
White grew up in Grand Rapids, Mich. As a young man he worked as a lumberjack before turning to writing. He was in World War I a major with the 144th Artillery. He explored German East Africa (now Tanzania) in 1913, mapped the area and earned election as a Fellow of the Royal Geographical Society.
White wrote his 1911 letter to the editor, "How My Guns Worked in Africa," from Nairobi, British East Africa.
"This is likely to be an exhaustive and exhausting letter," he wrote, "but I have accumulated a lot of good shooting dope in the last three months, and I am sure you chaps will be interested. … Three months' test in Africa is worth ten years anywhere else."
White took three guns to Africa: a Springfield with a Sheard gold bead front sight, Lyman rear aperture and folding leaf bar sight "for emergencies," a .405 Winchester and a Holland & Holland .465; he "had the trigger pulls of all three rifles made the same." He described rifle and shooter performance at great length but noted bullet performance in considerably less detail.
Likely the first thing White noticed, not unlike hunters today, was the hot African sun.
"The shooting here is, from a marksman's point of view, rather difficult," he wrote. "The light changes constantly, the heat shimmer is intense, the ranges are difficult to estimate, and a man is usually out of wind or drenched with sweat, jumpy from nerves, or all three. A man most decidedly must learn where to hold."
He couldn't resist using the Springfield early and often, beloved as it was among Americans at the time. With it White fired at 154 animals, and killed 109 of them (which he acknowledged looked like a lot but over three months "comprised 38 species and included many things such as hyena, jackal, crocodiles, etc."). Of his 289 total shots fired with the Springfield, 178 were hits from less than 100 yards to more than 400 yards. His table, he explained, represented only those shots he was "enabled to pace out." His longest killing shot with the Springfield was paced out at 563 yards.
He described the .405 Winchester as a "bully little gun for length and balance." With it he took eight heads of game including two lions and an oryx, eland, crocodile and rhino.
---
He couldn't resist using the Springfield early and often ...
---
Of the rhino: "Tried him on with hard points. At fifty yards, he facing me, put one in his throat. He dropped his horn to charge and got another in the back of the neck. This turned him, and he made off sideways, badly hurt. Gave him a third shot in the side. This was enough, although he was not down, so F— [his PH?] put a heavy bullet in him to save a possible long chase at dusk. The .405 will do the trick but has not shock enough certainly to turn a rhino charging very near."
He described the H&H .465 as "a beautifully finished and accurate rifle." He explained the heavy gun's recoil, though brutal, "does not show above the surface when you are shooting at anything you ought to shoot at with this gun."
Of the 11 heads taken with the double were no less than seven rhinos. Rhino No. 6, "Tried to walk over me and came down to one shot at 9 yards," he wrote. "There is one idea you want to get away from, and that is that these double guns deliver so paralyzing a shock that you can hit a beast anywhere and bring him down."
That was Steward Edward White, pithy as ever. His contribution to Africana was one of the first ever instances of hunting in Africa's game fields published in an American periodical—and it came in an NRA official journal.
Of course White wasn't the only one contributing to Africana. Two famous names at this time in the late Victorian era were Britain's Frederick Courteney Selous and America's Theodore Roosevelt. The latter's African Game Trails was and is world-famous. Perhaps it should come as no surprise, then, that anyone as capable as White with gun and pen also was a good friend of Roosevelt, who complimented the writer as "the best man with both pistol and rifle who ever shot" at Roosevelt's Sagamore Hill range.
Further, Roosevelt described White as "the kind of young American who is making our new literature." A contribution such as his, in the annals of our association, cannot be overstated. This is our history—it belongs to hunters and shooters, yes, but foremost it belongs to NRA members. In 1911, it represented The Authority on Hunting Arms & Adventure. Today, it still does.