by
posted on July 19, 2017
Support NRA American Hunter
DONATE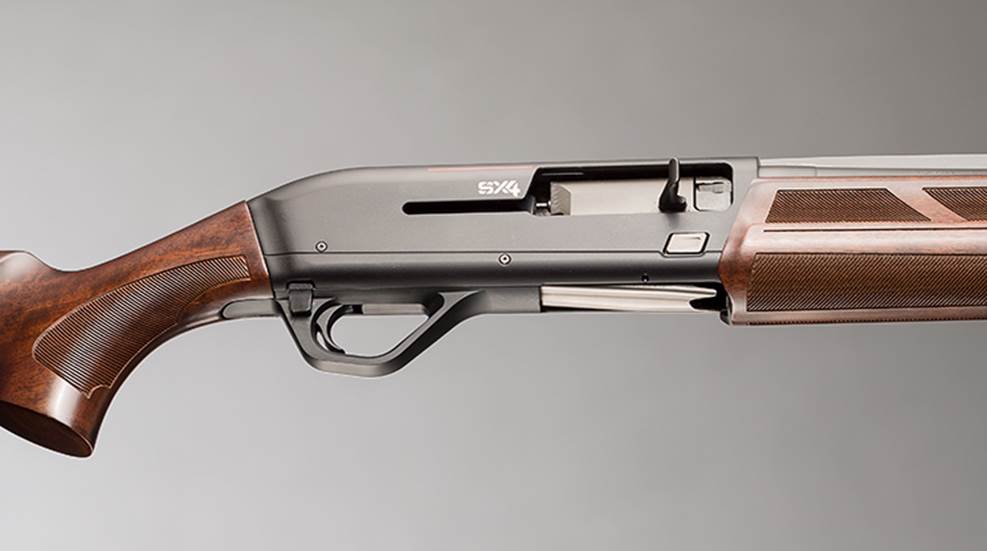 Ten years ago, the world was introduced to the Winchester Super X3 (SX3), a gas-operated semi-auto shotgun that won its merits in speed and reliability. That same year, I got to put my hands on the older SX2 in a sunbaked duck blind in the least ducky part of Virginia. At the time, holding my Remington 870 and swearing to my prowess with pump-action shotguns, I balked at the Winchester's gangly, stretched-out look and surmised it was a perfect match for its lanky owner. I think I put it to shoulder once or twice, but never fired a round, and in my youthful, quick-to-judge demeanor, I dismissed it as fast as the single green-winged teal that swung through our setup nearly unseen, let alone touched. The truth is, despite Lurch's admiration of his semi-auto, I didn't give it the time of day, snubbing my nose at those who must rely on an unassisted follow-up shot, those who couldn't hack it with a workingman's shotgun.
Today that old 870 sits alongside a few more of its kind, but that's about all they do, as even I, the self-proclaimed "fastest pump in the East," eventually learned of the tenacity and value of semi-auto shotguns. I just wish I had given the SX3 a chance when I did make the switch, rather than choosing a semi-auto that fit like my 870 but functioned like … well, it just didn't.
Now I, and many other hunters, have yet another reason to consider a Winchester semi-auto. Better late than never I suppose. While its introduction puts no damper on the SX3, as the line is far from obsolete and includes more than 10 variants from field guns to pistol-gripped turkey guns, the new Winchester Super X4 (SX4) is available on dealers' shelves in time for upland and waterfowl seasons.
Those who are already fans, have no fear; the SX4 is, by nearly all accounts, a dressed-up SX3. But sometimes it's the dress that makes the lady, and because Winchester started with a stunner in the SX3, the SX4 is high-class inside and out.
Let's begin at her feet, shall we? Winchester increased the size of the Inflex Technology Recoil Pad which, under recoil, drives the butt down and away from the shooter's face. Its increased footprint spreads the force over a greater area, ultimately reducing felt recoil. Winchester also includes two, .25-inch spacers to adjust length of pull, great for hunters wearing bulky waterfowl coats—though I don't know any wingshooters who actually take advantage of such custom fitting.
Follow the stock and a keen eye will notice the slightly slimmer curve of the pistol grip, which has been rounded for a smaller, yet surer, feel in the hand. I know sometimes looks can be deceiving; not till you get one in your hands and take it for a twirl on the dance floor can you make an educated analysis. Well, the SX4 and I danced from dawn till dusk, and from start to finish it was raise, shoulder, swing and pull, clearing the Canadian sky like we've been doing it together our entire lives. Sometimes a gun just feels right, and the SX4, with its redesigned grip and fore-end, is one of those guns.
Beyond the shapely stock, we come across the solid, milled-from-billet, aircraft-grade aluminum receiver, upon which you'll find most of the mainly cosmetic upgrades of the SX4. Winchester traded the "scratch canvas" that is the SX3's aluminum trigger guard for a lighter, stronger, less costly composite guard on the SX4 that hides blemishes well. In its group you'll also note the larger safety, still ambidextrous. It's about the easiest safety I have ever encountered. It never stiffened, even in the Canadian cold, and I found it during the mount and was sure about its position even with gloved hands. Winchester similarly increased the size and changed the shape of the charging handle as well as the bolt release, each adding to the SX4's glove-friendly design—another highlight on the waterfowler's list of pros. A sleek and corrosion-resistant nickel-Teflon coating protects the carrier, bolt handle and bolt release.
Alright, enough about the facelift, we all know it's what's inside that counts. In the case of the SX4, it's the same gas-operated engine that users have been falling in love with over the last 10 years. Why no upgrades on the action? Well, without being too cliché, that whole "if it's not broke" thing comes to mind. Not only is the Active Valve gas system in the SX3, and now SX4, not broke, but it's also one of the best systems I've ever used and is still faster than darn near anything on the market. Sure you can have the gas vs. inertia debate and find merits with each, but when it comes to pure speed (I'm talking cycle rate here), the SX4 wins. Gas is fast, and Winchester has the data to back it up. When birds are swarming like you've just upset the hive, a fast follow-up shot can end a morning hunt in time to hit Hardee's before it switches off the breakfast menu. Every waterfowl hunter can appreciate that, right?
The SX4 is available in four, 12-gauge offerings. Two are 3-inch-chambered, wood-stock variants: a Field model with a 26- or 28-inch barrel, and a Compact model with a 24-, 26- or 28-inch barrel and shorter, 13-inch length of pull. A version wearing a black synthetic stock is available with a 3- or 31/2-inch chamber, and a 26- or 28-inch barrel. The gun I danced with, the 31/2-inch Waterfowl Hunter with a 26-inch barrel, is dressed from head to toe in one of my favorite colors, Mossy Oak Shadow Grass Blades, and weighs a petite 7 pounds. Now I know 7 pounds may seem a bit light for a full-swinging waterfowl gun, but I didn't experience any of the over-pull I anticipated. Winchester got the balance right on this one; there is plenty of weight up front for a steady, controlled swing. The Waterfowl Hunter is also available with a 3-inch chamber and a 28-inch barrel.
Like those on all Winchester shotguns, the SX4's barrels are back-bored and have a non-corrosive chrome lining. These beauties ship with three Invector-Plus choke tubes: improved cylinder, modified and full.
Now for the real kicker, and this is a big one: The new Winchester SX4 is a cheaper date. It costs about $150 less, depending on the model, than the SX3. You read that correctly, the "upgraded" model carries a "downgraded" price tag. Is the SX4 cheap? At $900 to $1,000, no. Is it less quality? Heck no. With new manufacturing techniques, new materials and new sources comes the ability to produce great guns at less cost. Take advantage, and grab an SX4 before Winchester realizes it can charge a whole lot more.
Technical Specifications:
• Type: gas-operated semi-automatic shotgun
• Gauge/Chamber: 12/3", 12/31/2" (tested)
• Barrel: 24", 26" (tested), 28"; vent rib; threaded for Invector-Plus choke tubes
• Sights: TruGlo Long Bead fiber-optic front
• Magazine Capacity: 4 rnds.
• Trigger: 7.5-lb. pull weight
• Safety: cross-bolt
• Stock: oil-finished walnut; black synthetic; Mossy Oak Shadow Grass Blades synthetic (tested); adj. LOP 13.75"-14.25"; drop at comb 1.75"; drop at heel 2"
• Metal Finish: matte black; Mossy Oak Shadow Grass Blades (tested); nickel-Teflon on carrier and bolt release
• Overall Length: 47"
• Weight: 7 lbs.
• Accessories: 3 choke tubes (IC, M, F), choke-tube wrench, 2 LOP spacers
• MSRP: $799.99-$1,069.99