by
posted on April 28, 2016
Support NRA American Hunter
DONATE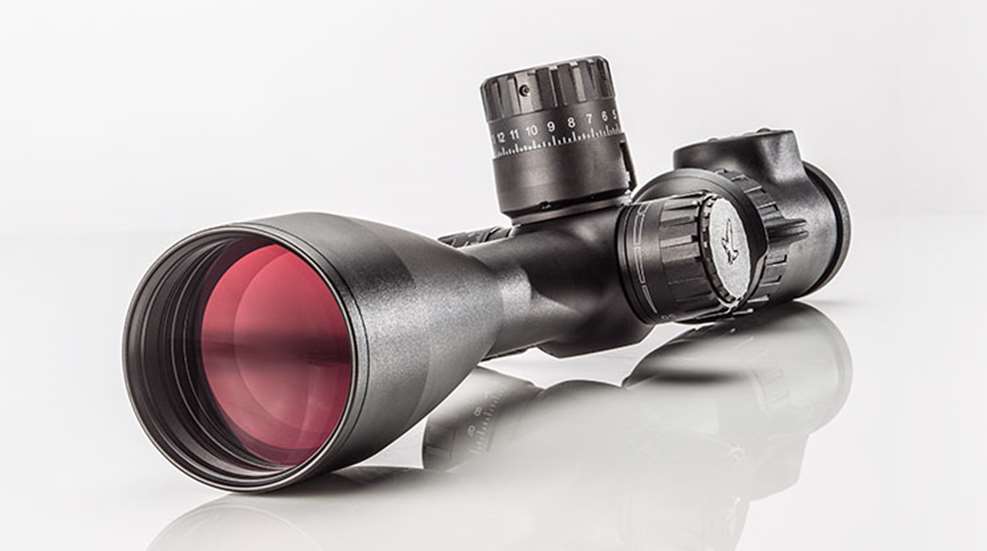 The dial-up technique for long-range shooting—where the shooter compensates for bullet drop by adjusting the elevation turret instead of by holding over—has become popular in recent years among hunters who take shots at extended ranges. With the right equipment and given enough time it's the most precise way to hit long-distance targets. The trouble is most hunting scopes are not designed for this kind of use, and it can result in a lot of problems.
Swarovski developed its line of X5(i) scopes specifically for long-range shooting with the dial-up technique. The scopes use new technology to create a precise and intuitive dial-up system, and they come in two high-magnification configurations: 3.5X-18X-50mm and 5X-25X-56mm. Four reticles, all located in the second focal plane and offered with or without illumination, are available in the X5(i). Both scopes have 1/4-MOA adjustments; the 5X-25X-56mm version is also offered with 1/8-MOA adjustments.
The X5(i) scopes represent a new design that was five years in the making. At the heart of the scopes is a completely re-engineered adjustment system. It uses machined stainless steel parts so precise that Swarovski had to find a new way to measure them, as the existing method of measurement was not exact enough. Until now, no scope parts needed this degree of accuracy in measurement. The method Swarovski settled on was developed to measure the smoothness of a surface rather than the tolerance of parts.
The new system changes the way the erector moves inside the scope when adjusting, and it eliminates some of the problems found in other long-range scopes. Thanks to the design of the X5(i) adjustment system and the high degree of smoothness to which the critical interior components are finished, the movements within the scope are extremely precise. Windage and elevation adjustments are exact, and they repeat perfectly.
That's not just marketing hype. I used both models pretty extensively, and I proved beyond a doubt in my mind this is the best dial-up system I have used.
Each full revolution of the turret provides 20 MOA of adjustment. If you go past a full revolution, there is a clear "1" or "2" marker in the turret window. It's all very intuitive. The X5(i) has a back-to-zero function so you can dial back to your base zero easily. There is even a 10-MOA sub-zero function. If the scope is set for a very long-range zero, the function lets you go past the zero stop and dial down for closer targets.
I was introduced to the X5(i) at the FTW Ranch in Barksdale, Texas. This is the best place on earth to learn about long-range shooting and the best place to try a new scope designed for it. The instructors at FTW are mostly retired Navy SEALs who have made a career out of mastering long-range shooting. The facility has a wide range of targets out to 1,800 yards and beyond. They are set in all kinds of terrain, including angles up and down and in long, deep canyons where the winds get screwy. It's a challenging place to shoot.
I used the 3.5X-18X-50mm X5(i) with the BRM-I+ reticle on a Ruger Predator FTW rifle in 6.5 Creedmoor. Ammo was Hornady 140-grain A-Max factory loads. In several days of intense shooting, the scope never failed and my intended adjustments were always spot-on when dialing from 100-1,200 yards. For example, if I dialed up for 750 yards, I hit the 750-yard target. I hit 1-MOA-size targets from 250 yards out to 1,200 yards by dialing up the adjustments, and all of those except one were first-round hits. I owned that single miss free and clear, and hit the target with my second shot.
I ran dozens of cycles where I dialed up elevation or dialed in windage, and then came back to the zero setting. Both elevation and windage returned to zero with perfection every single time. I shot some drills at FTW that required changing targets and distances with every shot, dialing all the way, and the scope's adjustments were dead-on accurate throughout these exercises.
Back home I mounted a 5X-25X-56mm X5(i) on a Ruger Precision Rifle. My home range is a bit more limited in distance, but I have shot with this scope and rifle out to 550 yards during multiple range sessions. Once I proved my dope and made the calculations, I was able to dial up and down to hit targets at every distance with boring regularity. There was never a surprise; the scope answered my adjustments exactly as expected. At the end of every shooting session I returned to zero and proved it by shooting at 100 yards.
Both X5(i) scopes I used had 1/4-MOA adjustments, and the turrets were very well marked. All I had to do was look at my range card to see how many MOA I needed to dial up and then make that change on the scope. First, though, I carefully zeroed the scope for my selected distance and then set the turret to zero using the supplied tool. That was the key step, as it set the baseline from which all the adjustments were made.
The Swarovski X5(i) has the best dial-up system of any long-range scope I have used, and without a doubt it's the easiest one to learn. Of course, the optics are brilliant; after all it's a Swarovski. It's not inexpensive, but for any serious hunter with the skills and desire to take game at long range, this is an outstanding scope.
Technical Specifications:
• Type: variable-power riflescope
• Magnification: 3.5X-15X, 5X-25X (tested)
• Objective Lens Diameter: 50mm, 56mm (tested)
• Eye Relief: 3.7"
• Exit Pupil: 9.5mm (5X), 2.3mm (25X)
• Field of View @ 100 Yds: 21' (5X), 4.5' (25X)
• Reticle: second focal plane; 4W (tested), 4WX, BRM, Plex
• Adjustments: 1/4 MOA
• Coatings: fully multi-coated; SwaroClean, SwaroTop, SwaroDur
• Dimensions: tube diameter 30mm; length 14.8"; weight 30 ozs.
• Construction: one-piece, hard-anodized aluminum tube; inert-gas-filled; waterproof, fog-proof
• Accessories: sunshade, multi-tool, lens covers
• MSRP: $3,432