by
posted on February 18, 2015
Support NRA American Hunter
DONATE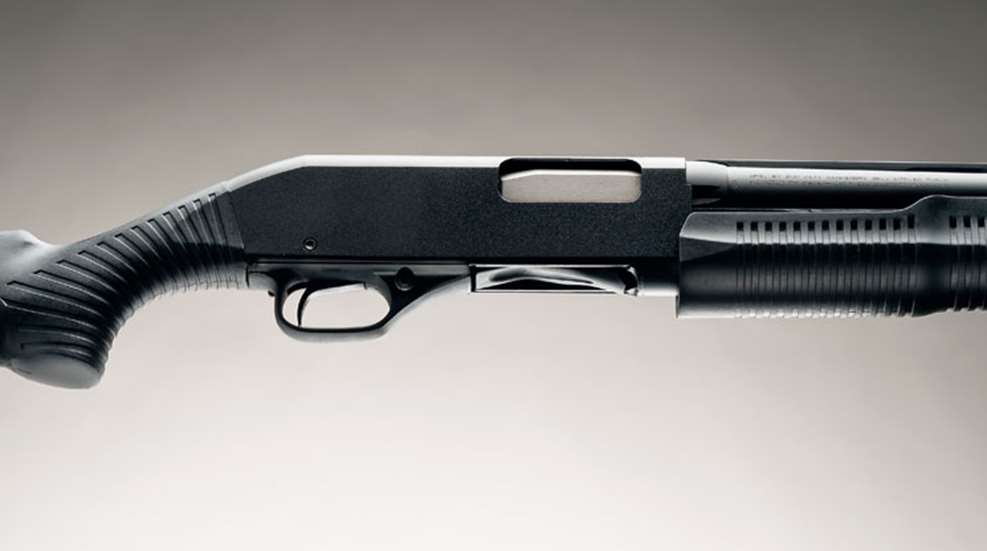 The Winchester Model 1300 was arguably the most underrated pump-action shotgun of its day. Durable, affordable and reliable, it functioned most smoothly under recoil.
Unfortunately this tendency perhaps impaired its popularity, as consumers who simply worked the action in a gun store failed to appreciate its slickness. The 1300 ceased production in 2006, joining the temporary demise of the Model 70 rifle and others. However, with its patent now expired, Savage Arms has revived the classic design with the Stevens 320 shotgun.
"The 320 is essentially a reproduction of the old Winchester, and we think it's a really good copy," says Bill Dermody, director of marketing for Savage Arms. "We kept the features and materials very similar, because we believe the design has been pretty much proven over the years."
Mechanically speaking, the 320 sports few departures from the last 1300s made. The heart of the action is a four-lug, rotating bolt head that achieves sturdy lockup when slid forward to meet the barrel extension. The fore-end utilizes dual action bars to prevent binding, and the slide release is located on the left side of the receiver just behind the trigger guard.
Even its 133/4-inch length of pull is identical to the 1300's in the final year of production. In t-shirt weather, that's an inch short for my preference, but the 320 fit quite well with my heavy duck parka and didn't snag when mounting. Such was the case when a presumably lost drake bufflehead rocketed over my decoys amidst a small Pennsylvania creek. I snapped the 320 into position, but in my hurried excitement I thumbed for the wrong safety location. The 320's cross-bolt safety lies forward of the trigger guard, an ideal place, as it allows both safety and trigger to be operated with one backward movement of the index finger. It's fast, ergonomic and simple—except in the hands of a bumbling outdoor writer. All I could do was swing the barrel ahead of the bufflehead and say "bang" as it went off in search of more appropriate habitat. A pair of mallards was soon less fortunate. 

The 320 swings fairly well, despite being too barrel-heavy for my taste. With a balance point about a quarter inch forward of the barrel extension, noticeably more weight is placed in the fore-end hand. Plenty prefer such frontward heft, but to me it fosters a sense of unwieldiness.
Aesthetically the 320 is similar to its Winchester ancestor, save the aggressive, straight-line grooves on the fore-end and grip. The texturing provides solid purchase and, I suspect, is easier to manufacture—if not less attractive—than the 1300's checkering.
Like the Winchester, the 320's action may be easily underestimated. When cycled without the assistance of recoil, it feels a tad clunky, namely because resistance varies as the action is opened. With the added inertia of recoil, however, the gun runs pretty darn smoothly. Make no mistake, this is not the slickest action on the market, but it's satisfactory. 
That's especially true when considering its rather remarkable price point of about $250—more than $100 less than the last Winchester 1300s offered and well below most comparable pump-actions. How is Stevens keeping the price so low? Dermody cites proprietary manufacturing techniques, but unlike the 1300—which was made in New Haven, Conn.—the 320 is produced in a newly constructed factory in a remote region of China. In other words, where labor comes cheaper.
"When you start talking about the prices we hit with Stevens, importing is really the key to pulling it off," Dermody explains. "We haven't yet figured out how to hit those targets domestically with a product like that."
Materials may also play a role in shaving costs. The 320's hollow, composite stock is accompanied by a rather hard, basic rubber recoil pad. When you shoot 3-inch magnums, you know it. This is a no-frills shotgun, but the price reflects that.
I am otherwise impressed with the 320's construction. The simple pump-action system is composed of robust parts that I'm convinced will hold up to rigorous use. I've thus far hunted with it in sleet, snow and freezing cold without a hiccup. Fit is better than most price-point guns, and the matte-black finish is well applied.
The best value available in the 320 line is easily the Field Grade/Security Combo. For an extra $30, you get the standard 28-inch field-grade barrel with ventilated rib, plus an 18.5-inch, fixed-cylinder barrel. By simply swapping barrels after your bird hunt, you have an adequate home-defense or even close-range predator setup.
Range testing revealed a point-of-aim impact and nice, uniform patterns with a variety of loads. With a modified choke, pheasant loads including Federal Premium Prairie Storm (23/4-inch, 11/4-ounce No. 5) and Winchester Super Pheasant (23/4-inch, 13/8-ounce No. 5) averaged 55 percent patterns in a 30-inch circle at 40 yards. Duck loads including Federal Premium Black Cloud (3-inch, 11/4-ounce No. 2) and Winchester BlindSide (3-inch, 11/4-ounce No. 2) were slightly tighter, approaching 60 percent.
In short, I'm more than satisfied with how the Stevens 320 shoots, and I'm left with a pleasant opinion of it overall. It's well-made, its action is based on one of my favorite designs, and its price is pretty tough to beat.



Technical Specifications:
Type: pump-action shotgun 
Gauge/Chamber: 1 2/3" 
Capacity: 5+1 (2¾" shells) 
Barrel: 28"; vent rib, threaded for WinChoke tubes 
Sights: brass front bead 
Safety: cross-bolt 
Trigger: 6.7-lb. pull weight 
Stock: black synthetic; LOP 13 3/4"; drop at heel 2 1/2"; drop at comb 1¾" 
Metal Finish: matte black 
Overall Length: 48.75" 
Weight: 7.45 lbs. 
Accessories: modified choke tube 
MSRP: $251