by
posted on February 17, 2020
Support NRA American Hunter
DONATE
Since the dawn of the rifle, great effort has been expended to extend its range and improve its precision. With early rifles, shooters struggled to hit a pumpkin at 100 yards, now they do it with regularity out to 1,000. For hunters, the struggle has always been trying to balance an incredibly precise shooting rifle with one that could be comfortably carried in the field. Ruger's new Hawkeye Long-Range Hunter does a good job of that.

Sturm, Ruger & Co. was founded in 1949 and, according to the ATF, it is America's largest firearm manufacturer. Founded on a .22 LR semi-automatic pistol, and then buoyed by the world's most popular semi-automatic .22 LR rifle, Ruger now manufacturers a vast array of rifles and handguns. In 1968 it introduced the Model 77, a bolt-action, centerfire rifle, which featured a Mauser-style claw extractor and two-lug bolt. In 2006 this design was upgraded with improved features and given the name of "Hawkeye." 
The term "Hawkeye" has been used to describe an exceptionally good shot since the early 1800s. This association of superb marksmanship is tied to the nickname for James Fenimore Cooper's fictional pioneer scout in his pentalogy of novels known as the Leatherstocking Tales. The most notable of these stories is The Last of the Mohicans. Hawkeye—whose real name was Natty Bumppo—was a magnificent marksman, whose prowess with a rifle was unmatched. Therefore, "Hawkeye" is a fitting name for a fine shooting rifle.
American shooters are currently fascinated by long-range shooting, and to do this successfully a particular style of rifle is needed. Typically, they're fitted with a long, heavy barrel, a heavy stock with user interface adjustments and a detachable magazine. Though not configured for hunting, hunters with designs to reach across canyons and prairies are drawn to these rifles.
Ruger wisely recognized this yearning for long-range performance in a hunting rifle. With the Hawkeye Long-Range Hunter, it's created one that will provide lots of reach while still being compatible with long walks and mountain climbs. Out of the box, the rifle weighs only 7.2 pounds. It's built on the famous Model 77/Hawkeye action, but is outfitted with several features tailored to long-range hunting.
For starters, it has the tested and respected Model 77/Hawkeye non-rotating, Mauser-type, controlled-round-feed extractor, and a blade-style, fixed ejector. This style action generally requires cartridges to be fed from a magazine box. In other words, you cannot drop a cartridge into the ejection port and close the bolt. However, it's been my experience that with Ruger rifles of this design, this is a 50-50 proposition. In fact, with the test rifle, single loading such as this worked just fine.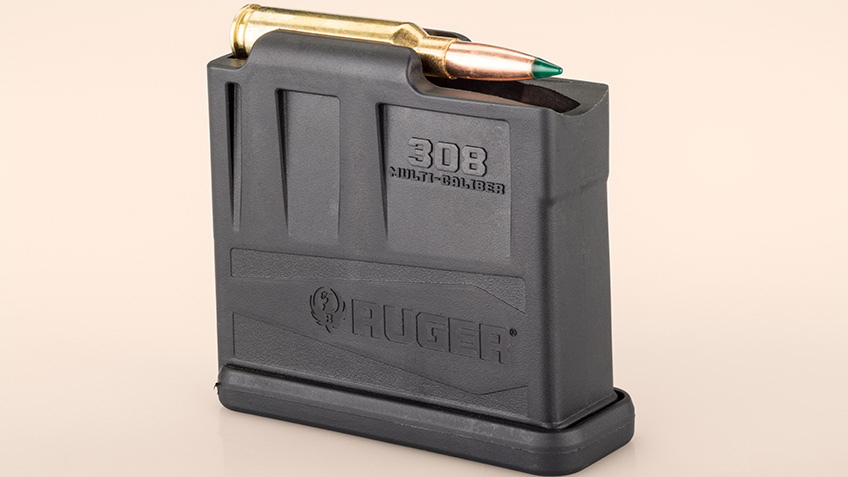 However, the Hawkeye Long-Range Hunter does have a detachable magazine box. It ships with one, five-round AI-style magazine, and the magazine release is an easy-to-actuate flat lever just forward of the trigger guard. Inside the trigger guard you'll find Ruger's LC6 trigger, which broke at a consistent 4.5 pounds. This is generally thought to be a bit heavy for precision marksmanship, but there was no creep or take-up in its action. And, as you can see by the shooting results, it did not seem to negatively impact precision. The mechanism is controlled by the traditional Ruger three-position, three-function safety. In the rear-most position, the bolt is locked, and the trigger and cocking piece are blocked. In the center position, the bolt can be manipulated, allowing you to load or unload with safety. And then, of course, the forward position is the fire position.
There are very few options with this rifle. It is available in either 6.5 Creedmoor or 6.5 PRC, both with a 1:8-inch twist. It has no sights, a 22-inch barrel, a painted laminate stock, and comes standard with sling-swivel studs and a length of pull that's adjustable from 12.75 to 14.25 inches by inserting or removing included spacers. The sling-swivel studs and bolt shroud are blued steel, while the rest of the metalwork is stainless steel with a matte finish.
In my opinion, Ruger made one very good choice—and one bad choice—with the configuration of this rifle. Out of the box it comes with a 20 MOA Picatinny rail that's attached with four No. 8-40 screws. This is a must for a rifle intended to be used at distance because the offset allows the reticle to work and be adjusted closer to the centerline of the riflescope. It also maximizes the available elevation corrections of the riflescope. This was a good choice.
The bad choice: Ruger included a radial port muzzle brake. Granted, precision shooting is enhanced by lack of recoil, and this brake works very well; the rifle is a pussycat to shoot. However, the un-braked recoil of a 6.5 Creedmoor or 6.5 PRC is substantially less than a .30-06. These cartridges do not need muzzle brakes. Guides and professional hunters hate them, as do those who hunt without hearing protection. Fortunately, the ⅝-24 muzzle threading will allow the installation of a suppressor or a muzzle cap. I think a better option would have been to supply the rifle with a capped, threaded muzzle.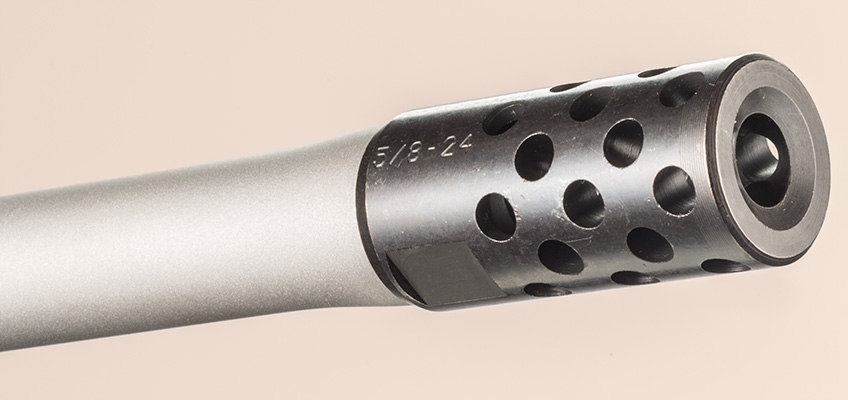 The rifle's brilliance is in its balance of precision shooting and portability. With a practical riflescope in the 4x-14x magnification range, you can hit the field at a shade over 8 pounds. And you should also be able to center-punch the kill zone of big game well beyond any distance you have any business shooting; this rifle averaged .79 inch for 15, five-shot groups with three loads. From the prone position with a bipod, I could ring an 8-inch gong every time at 500 yards, regardless of the ammunition used.
For any hunting application where the distance is expected to be extreme, the Ruger Hawkeye Long-Range Hunter is a solid contender. It will deliver all the precision you need, it's portable enough to carry on long walks, it's handy enough for close-in snap shots and it's short enough to remain manageable in compact shooting blinds.

Technical Specifications
• Type: bolt-action centerfire rifle
• Caliber: 6.5 Creedmoor (tested), 6.5 PRC
• Barrel: 22ʺ; cold-hammer forged stainless steel; 6 grooves; 1:8ʺ RH twist; ⅝ʺ-24 threaded muzzle w/radial-port muzzle brake installed
• Magazine: AI-style detachable box; 5-rnd. capacity
• Trigger: Ruger LC6; 4.5-lb. pull weight
• Sights: none, 20 MOA Picatinny Rail
• Safety: three-position swing
• Stock: painted-laminate hardwood with speckled black/brown finish; adjustable LOP 12.75"-14.25"
• Metal Finish: matte stainless
• Overall Length: 42.25ʺ-43.75ʺ
• Weight: 7.2 lbs.
• MSRP: $1,279; ruger.com