by
posted on March 14, 2017
Support NRA American Hunter
DONATE
The 10mm Automatic was introduced in 1983. It was the brainchild of several shooters, including Col. Jeff Cooper, with a goal of creating the ultimate fighting cartridge in a semi-automatic pistol. It started life with a cut-down .30 Rem. case and the 180-grain, .40-caliber bullet used in the .38-40 Win.
Norma loaded the initial ammo, and "Bren Ten" was the name of the first pistol. Sonny Crockett carried one on "Miami Vice." Though the Bren Ten didn't last long, Colt, Glock and others made guns and the cartridge stuck around.
After the infamous "Miami Shootout" of 1986, the FBI decided the 10mm was just what the agency needed. But agents soon started complaining about the recoil, so the power of the ammo was reduced with a smaller powder charge. Then somebody realized the case didn't need to be so long. So the case length was shortened and the .40 S&W was born, and the FBI switched to it. That doomed the 10mm and ended its future as a populist defensive handgun cartridge, though some companies tried to reinvent it for hunting.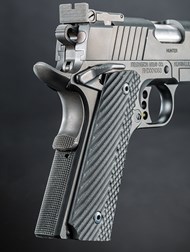 Lately, the 10mm has seen a resurgence of interest. Many promote it as a defensive cartridge for use against big bears with anger issues. Foolishness, of course, perpetuated by those who have probably never even seen a bear. They certainly don't understand bullets, terminal ballistics or just how dense the bone and muscle structure is on a bear.
That doesn't mean the 10mm does not have a home with hunters. While not the powerhouse some believe it to be, the cartridge usually generates about 500-600 ft.-lbs. of energy with currently available loads, similar to the .357 Mag. revolver. Those are not really "bear-defense" ballistics, but the 10mm is capable of taking deer-size game at handgun ranges. "Deer size" is of course a broad description encompassing hogs, javelina, antelope and the like. Other than a specialty gun like the Desert Eagle in .50 AE, the 10mm Auto. is one of the most powerful cartridges available in a semi-auto handgun.
Remington has historically been a major player in the handgun market. In its early years it was the main competition to Colt. Somewhere along the line Remington drifted from handguns, and when it dropped the XP100 in 1998, it left the market altogether. Twelve years later Remington re-entered it with the 1911 R1. That handgun has done well and has taken its place in the market as a well-respected 1911. The latest variation is the Hunter Long Slide in 10mm Auto.
The R1 10mm Hunter Long Slide has a 6-inch match-grade barrel. That's an inch longer than a full-size 1911, hence the "long slide" designation. The added length provides a longer sight radius and a little extra muzzle velocity. The gun comes with fully adjustable sights: a black, serrated rear and a post front with a red-orange fiber-optic rod.
The stainless steel gun is finished with a matte-black PVD DLC coating that makes it bulletproof against foul weather. Its ambidextrous thumb safety makes me think that just maybe the Remington team has been listening to my constant lobbying for this feature. I am a lefty so, yeah, I am biased. My point is if you just make guns for commoners, you ignore and insult 15 percent of the market. Put an ambidextrous safety on the gun and everybody is happy. Remington did and I am.
Operator II VZ premium G10 grips provide an aggressive surface that even cold, wet hands can hang on to. I know; most of my shooting with this handgun was during mid-winter in Vermont where my frozen, wet hands had no problem hanging on to the gun. A large beavertail grip safety ensures function, even when wearing gloves.
Breaking at 4 pounds 12 ounces, the trigger in the sample pistol is, in my never humble opinion, a bit on the heavy side for a hunting gun. The good news is 1911 triggers are a snap for any competent gunsmith to adjust. The flush-fit magazines hold eight rounds each, and the gun ships with two of them.
There is a rail on the bottom to add a laser or light where legal to use. Don't scoff: A laser on a hunting handgun can be a great tool. The new generation of brighter green lasers are visible even in full daylight. If you are past 45 years old and find that iron sights are getting fuzzy, a laser might be a viable alternative.
The gun had a few function problems out of the box. Minor tweaking and a bit of break-in time corrected them, and it functioned without issue for the remainder of the test. That included shooting multiple ammo products, which indicated it's not fussy about what you feed it. Accuracy, while not match-grade, was very good for a production 1911 handgun.
The issue of recoil always comes up in any conversation about the 10mm. I don't understand that. This is not a fire-breathing, wrist-smashing cartridge. By handgun hunting standards it's a pussycat. In this heavy 1911, the cartridge's recoil is relatively mild and easy to control, and is far less forceful than a .44 Mag. or other "conventional" handgun hunting cartridges.
The R1 10mm Hunter Long Slide is a good choice for hunting smaller big game. It's also a great gun for those who work outdoors and carry a handgun. This is a gun that can handle without compromise a wide range of issues: injured livestock, pest control, hunting opportunities or personal defense.