by
posted on October 24, 2017
Support NRA American Hunter
DONATE
Depending on where your hunting boots leave their prints, midweight clothing can be either an early-season garment or your all-season go-to. In milder climates, a hunter wants to choose gear that accomplishes concealment with minimal weight, minimal noise and maximum breathability. And while average temperatures can be forgiving, most hunters still appreciate a midweight option that can break an early-morning chill and continue to keep them comfortable to day's end.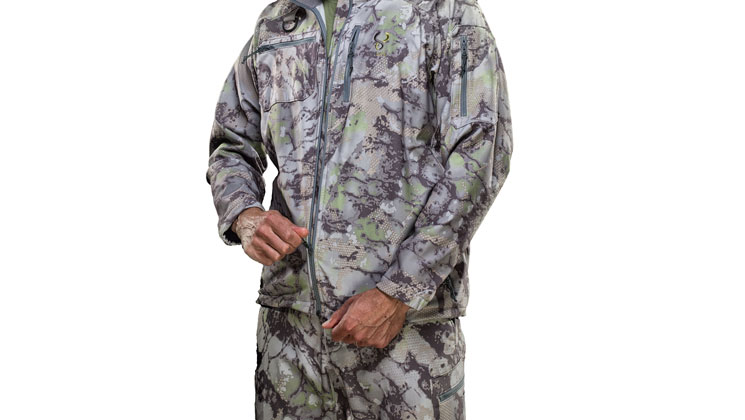 My midweight gear is used from the first signs of fall until cold winds make it all but unbearable to sit in a stand much longer. Soft-shell clothing, like the Gunnison Softshell Jacket and Pant from SixSite, has always performed well for me. Made with a soft and lightweight polyester-and-spandex blend, the Gunnison shell allows a bit of stretch—ideal for long-haul mountain stalking—while maintaining almost complete silence, a must for bowhunters looking to get close. A fleece-lined interior is enough to keep you warm in the early season, but the system isn't so form-fitting that it won't allow layering. A water-repellant finish will keep you dry in all but torrential downpours. And for concealment, SixSite's Rana pattern, based off frog skin, no less, utilizes contrasting shading and unique patterns to break up your outline and add depth. Notice the D-ring on the front shoulder of the jacket on the opposite page? It's designed to secure a rangefinder, allowing you to grab it from the adjacent pocket with minimal movement—a nice touch. Did I mention this stuff is made in America and designed by a former Navy SEAL? Enough said.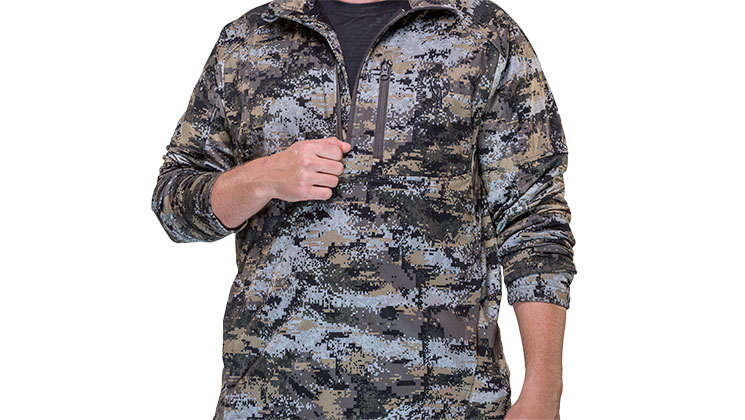 When the weatherman has promised good fortune, and if I actually have faith in such a prediction, a simple lightweight pullover may be all I need. I look toward my collection of Huntworth gear for good reason. The company's lineup is huge, with multiple garments in both light- and heavyweight options. The Soft Shell Hybrid Pullover in Huntworth's new Disruption camo pattern, is made of a soft stretch fleece that's breathable and sports a water-repellant finish, enough to shed light rain and snow. Huntworth garments won't cost you an arm and a leg, either, as an entire system can be had for a fraction of the cost of comparable garments. Don't be fooled by the price, though: Huntworth gear is durable and dependable.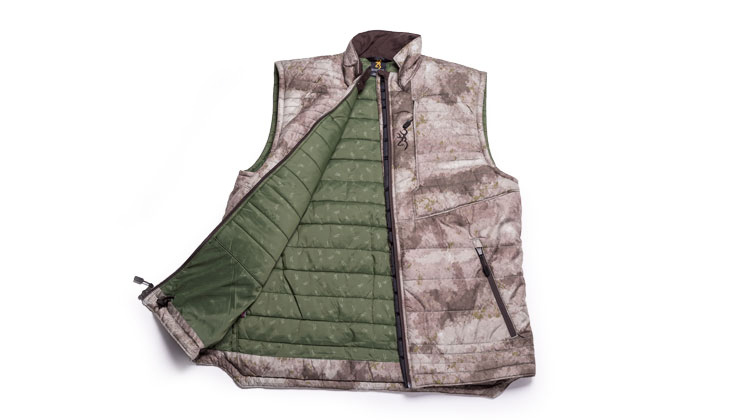 If I know a bit of chill might be in my future, but I don't want the constriction or bulk of a full jacket, I often opt for a vest. The lightweight and insulating properties of the Hell's Canyon Speed Shrike Vest from Browning make it an ideal choice. The vest's A-TACS AU and FG camo patterns aid concealment in any region. I'm looking for a garment that provides core warmth that can be packed away if necessary, and with Primaloft insulation in all the right places, the Shrike vest provides just that. It's also got a water- and wind-repellant treatment, something every outer garment should have.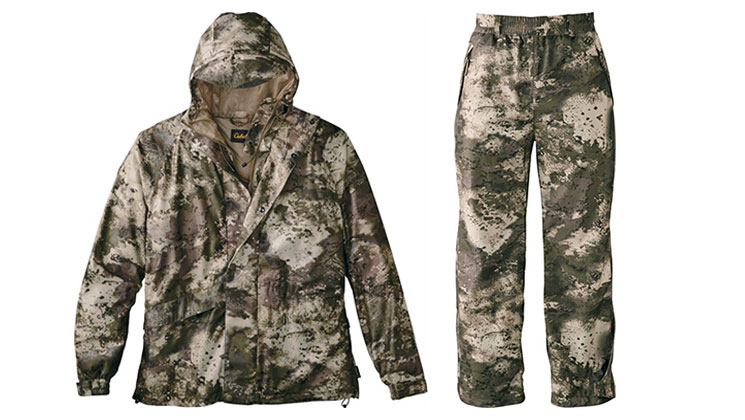 When the spout does get turned on, as it inevitably will, I reach for a full rain-blocking system. The problem I've found with most rain suits, however, is noise. Ponchos and other shell-systems are great for a pack, but their water-shedding material usually makes them so loud I might as well be a walking, crinkling bag of Doritos. When I hunt, I'm looking to maintain a certain level of stealth, rain or not, and with Cabela's MT050 Quiet Pack rain gear, I don't have to sacrifice my ninja-like sneakiness in order to stay dry. With a fan-favorite and always-trusted Gore-Tex membrane, an ultra-quiet, fleece-like outer shell with the durability of suede, and a mesh lining inside the jacket and pant, you've got superior water protection and breathability you can depend on. And while the MT050 is a packable system that stuffs into its own pocket, the garments are so comfortable they have become one of my first choices in mid-to-late season, regardless of rain. Available in Cabels's exclusive O2 Octane camo pattern, this is an any- and all-terrain must-have piece.