by
posted on December 22, 2011
Support NRA American Hunter
DONATE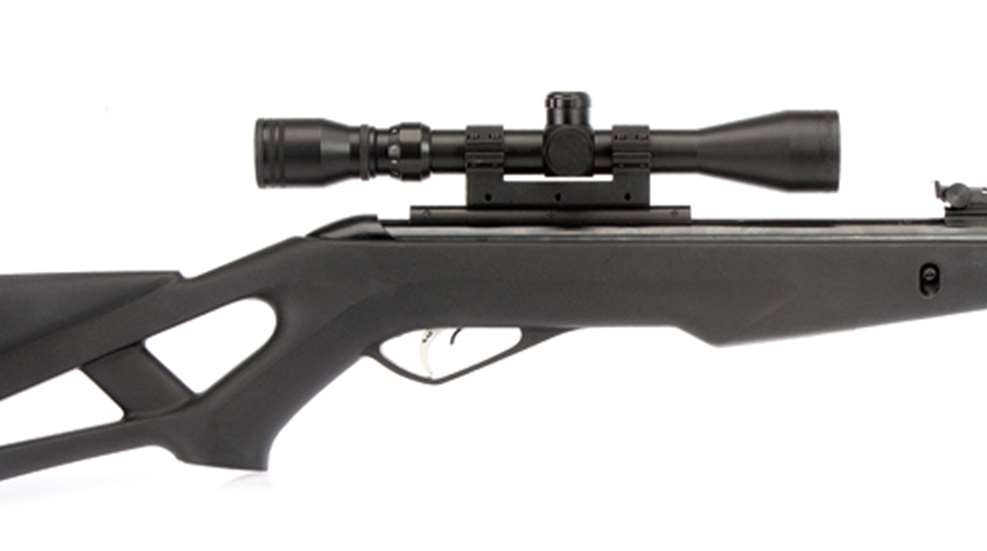 When the Greek philosopher Plato said "necessity is the mother of invention," fellow Greek Ctesibius took note. Among this physicist and inventor's creations during the 3rd century BC was the world's first firearm to use mechanically compressed air to propel a projectile, earning him recognition as the father of pneumatics.
Technology had come a long way in 1804 when Lewis and Clark toted their .36-caliber Girandoni pneumatic air rifle (currently on display in the NRA's National Firearms Museum) on their expedition of the Louisiana Purchase. A welded metal air reservoir was housed in the buttstock and was charged with air compressed by a hand pump.
Advance another 200 years to 2012. Modern airgun technology has spawned everything from inexpensive spring-piston BB and pellet guns for young shooters and adults to sophisticated, repeating, compressed-air target models for competition to high-velocity guns for small-game hunting and pest control. Helping to lead the way in both hunting airgun and pellet technology is GAMO Outdoor USA.
Innovation is a trademark of this Spanish company whose origins date to the 1880s as pellet maker Antonio Casas, S.A., in Barcelona. In the 1950s it was renamed Industrias El Gamo and began making airguns. As the largest airgun manufacturer in Europe, its air rifles and pistols are used by hunters, shooters and plinkers in more than 50 countries with U.S. operations consolidated in 2009 as GAMO Outdoor USA.
In 2011 GAMO headlined adult break-barrel airgun market news with the Silent Stalker and Silent Stalker Whisper in .177 and .22 caliber. The models feature GAMO's new Inert Gas Technology (IGT), which replaces a conventional spring system with a pneumatic inert-gas cylinder to omit spring friction. Such innovation ensures smoother cocking, less vibration, greater precision and more consistent power and durability—all while delivering muzzle velocities up to an advertised 1300 fps with GAMO's PBA Platinum pellets. Kicking it up a notch, Whisper combines IGT with an integrated noise dampener, ND52. Translation: less shot noise, muzzle blast and vibration, and greater velocity and penetration.
Considering GAMO is the largest manufacturer of airgun pellets worldwide, the .177-caliber Whisper I ordered arrived with a variety of pellets, including the 50 .177-caliber PBA Platinum pellets and a 3X-9X-40mm WR Gamo scope with rings that come standard. I noted the ventilated recoil pad, the lightweight, tactical-looking, all-weather synthetic thumbhole stock that helps with cocking; the precision-rifled, match-grade fluted steel barrel; fiber-optic sights; and the ambidextrous cheekpad—good news for lefties like me.
On the range, the Whisper passes the safety test, though the automatic safety lever forward of the trigger seems backwards as you pull it back for "safe" and push it forward to fire. Cocking is easy enough (32 pounds per GAMO), and the chamber is easily accessible for loading.
The Whisper sports a nice fiber-optic sight, which I used to pepper my first few targets. I expect much of its buzz in 2012 will focus on its innovative two-stage Smooth Action Trigger (SAT). Historically, triggers on standard airguns (unlike those used in the Olympics) have been quite heavy and require long travel. The SAT's length of pull is adjustable by rotating the screw in the trigger guard clockwise to shorten it. Another bonus is its predictable smooth pull. With the SAT, hunters and shooters can practice with a trigger comparable to those on some centerfire rifles—with minimal ammo cost and without having to go to a centerfire range.
I recalled how friend and 1992 U.S. Olympic air-rifle gold medalist Launi Meili once explained the fine plumbing of her high-end air rifle's air cylinder and valve—and how dry-firing can ruin the seals. So I checked with GAMO's Vince Abrams, director of marketing, before dry-firing the Whisper. A handful of shots were fine, he said, though GAMO puts its guns to the dry-fire test during quality control. If one fails, the entire lot is held.
So I mounted the scope and went shooting again. I compared apples to apples using three GAMO pellets: non-lead PBA Platinum, non-lead PBA Copper Varmint and lead GAMO Hunter pellets. Though I couldn't attain 1300 fps, results were consistent with what GAMO said to expect: The lightweight PBA Platinum pellet finished on top. Bottom Line: Speedy, non-lead PBA pellets feature a longer skirt and are a couple grains lighter, which results in flatter trajectory. If you use slightly heavier lead pellets, expect velocity to drop 100-200 fps.
In gauging value for the money, here's a precision air rifle that features IGT and Whisper technology, delivers serious velocity and comes with a GAMO scope and PBA Platinum pellets in the $300 range. How does GAMO do it? Abrams says that having the need to begin with is what encourages the creative efforts to address it. Yes, necessity indeed is the mother of invention. 
Type: single-shot break-barrel airgun
Caliber: .177 (tested), .22
Barrel: 18"; fluted polymer jacketed steel with ND52 technology
Trigger: SAT; second stage, adjustable; 3.3 lbs. pull
Sights: open; comes w/3X-9X-40mm WR Gamo scope, rings
Safety: two-position manual; automatic cocking safety system
Stock: molded synthetic, non-slip textured checkering on grip and forearm
Overall Length: 43"
Weight: 5 lbs., 9.5 ozs.; (6 lbs., 11.5 ozs. with scope)
Metal Finish: matte black
MSRP: $269