by
posted on January 25, 2018
Support NRA American Hunter
DONATE
It's been just over a decade since Browning launched its X-Bolt line of hunting rifles, and for 2018 the company is offering a new version known as the X-Bolt Pro Long Range. This rifle utilizes the same three-lug bolt which allows for a short 60-degree bolt lift and faster cycling found on other X-Bolt models, as well as a tang-mounted safety, a bolt unlock button (which allows the rifle to be cycled with the safety engaged), a slick rotary magazine and Browning's light, crisp Feather adjustable trigger.
In addition, the Pro Long Range model is outfitted with a true carbon-fiber stock, and the stainless steel receiver and a heavy-sporter fluted barrel are treated with a Cerakote Burnt Bronze finish—features that are as stylish as they are functional. The 26-inch barrel is threaded, and Browning's new proprietary barrel lapping process improves accuracy and reduces fouling in the bore for easier cleaning.
The rigid, lightweight carbon fiber stock comes with textured grip panels, a palm swell and is filled with noise-dampening foam. Despite its long-range profile the X-Bolt Pro Long Range weighs between 6 pounds, 1 ounce and 6 pounds, 10 ounces—so it's light enough to carry on high mountain hunts.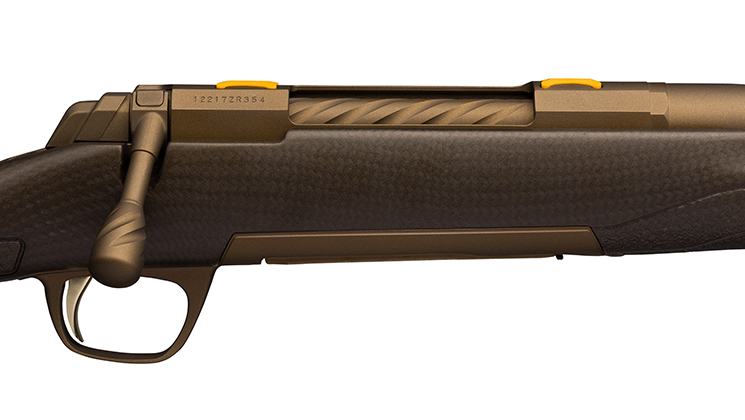 The included muzzle brake helps reduce recoil during long sight-in sessions on the range, and there's also a threaded barrel cap that can be used in place of the brake to reduce muzzle blast in the field. The oversized bolt knob and bolt body are spiral-fluted—stylish touches that back-up Browning's claim that the new X-Bolt Pro Long Range is a "semi-custom" rifle.
Available chamberings include 6mm Creedmoor, 6.5 Creedmoor, .270 WSM, .300 WSM, .26 Nosler, .28 Nosler, 7mm Rem. Mag. and .300 Win. Mag., so there are plenty offerings for everything from predator hunting to big-game like elk and moose. And, like other X-Bolt rifles, you can expect this new rifle to be extremely accurate.
Whether you're smacking steel at a half-mile or planning to hunt big-game in steep country, the versatile X-Bolt Pro Long Range fits the bill. MSRP: $2,099-$2,179.
For more information, go to browning.com.