by
posted on September 14, 2023
Support NRA American Hunter
DONATE
Barnett has updated its Explorer series of hunting crossbows with three lightweight, powerful options, each constructed with foot stirrups mounted onto diecast magnesium risers and with machined, drop-in flight tracks. Additional features include a pass-through fore-end, three composite Picatinny rails, and a three-pound TriggerTech metal-injected molded trigger. Safety features include Trigger Tech's Anti-dry fire (ADF) trigger and a Soft-Lok bristle retainer to keep arrows secure.
Each crossbow in Barnett's Explorer Line comes complete with a ready-to-hunt accessory package containing a lightweight quiver, rope-cocking device, lube wax, and two 20-inch Headhunter arrows. Measuring just 13-inches to 13.1-inches axle-to-axle cocked, these compact, accurate, and reliable crossbows offer ultimate maneuverability and performance. Barnett ensures that the performance and function of the XP line make it the ultimate hunter's crossbow package.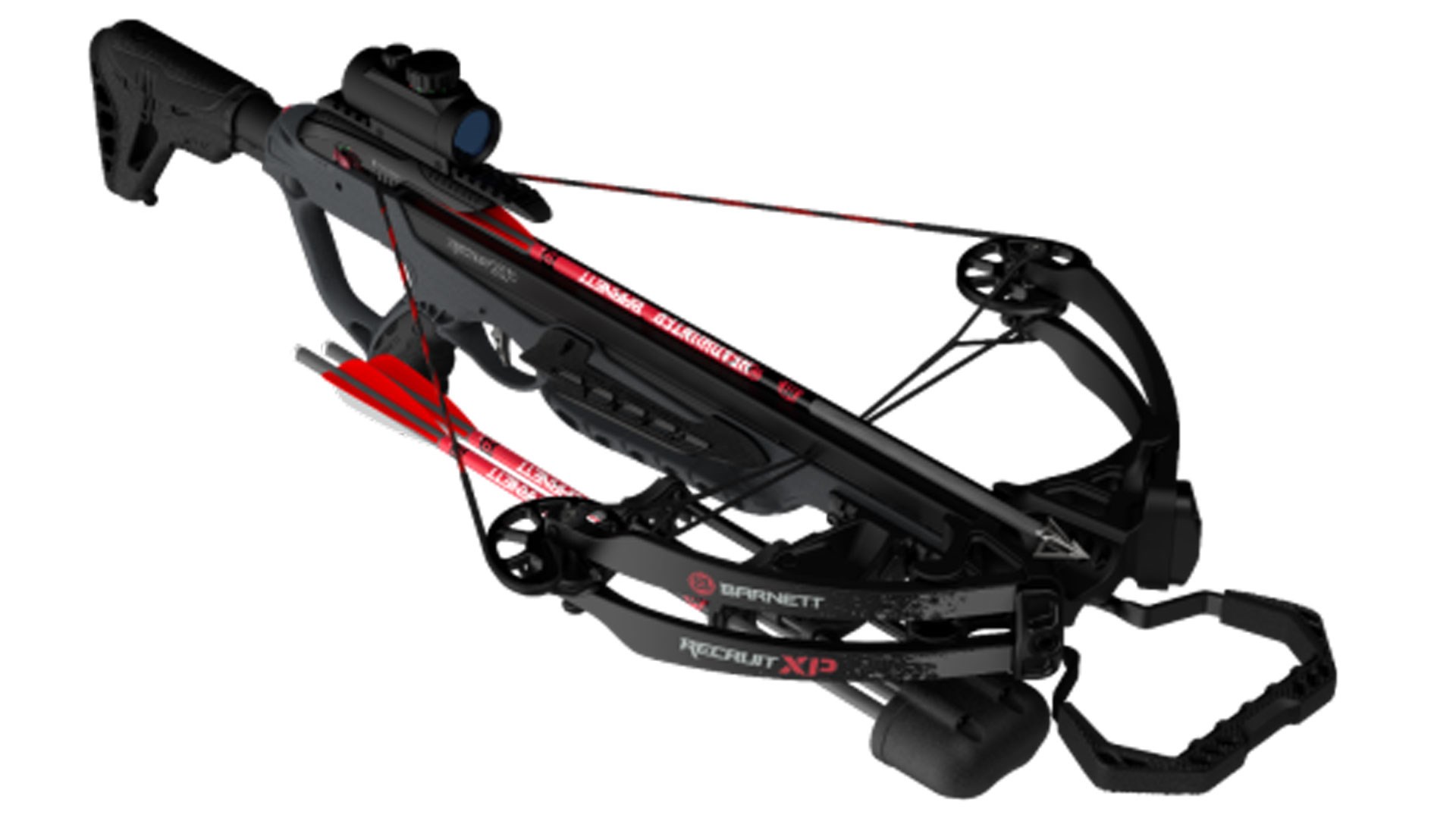 Recruit XP
Barnett Recruit XP is a perfect combination of size, weight and ease of cocking for anyone looking for a crossbow that suits youth, women and men alike. The Recruit XP is built to be both fun to shoot and lethal to hunt. With a 330 FPS rating, it sends arrows at speeds with pinpoint accuracy that rival the best top-of-the-line vertical bows. Further, the 125-pound draw weight is reduced by half when cocking with the included rope-cocking device. Additionally, the lighter draw weight extends the life of the crossbow.
Offered with Barnett's standard Explorer accessories package, including a 1X30mm three-dot, two-color illuminated scope, the Recruit XP is available with gray stock and limbs, red and black strings, and black cables.
Recruit XP Specs
330 FPS
125 pound draw weight
92 ft./lbs. of kinetic energy
13.6-inch power stroke
6-pound overall weight
13.1-inch axle-to-axle length (cocked)
MSRP $299.99

XP 385
The Explorer 385 shoots an arrow up to 385 FPS, delivering kinetic energy of 122 ft./lbs. The power stroke is 13.6 inches, and the draw weight is 185 pounds. It comes equipped with a 4x32mm multi-reticle scope and is available in Veil Cervidae camouflage finish. Weighing in at just over seven pounds (scope included), the Explorer 385 is light enough to carry into the backcountry, and powerful enough to get the job done.
XP 385 Specifications:
385 FPS
185 pound draw weight
122 ft./lbs. kinetic energy
13.8-inch power stroke
6-pounds overall weight
13-inch axle-to-axle length (cocked)
MSRP: $399.99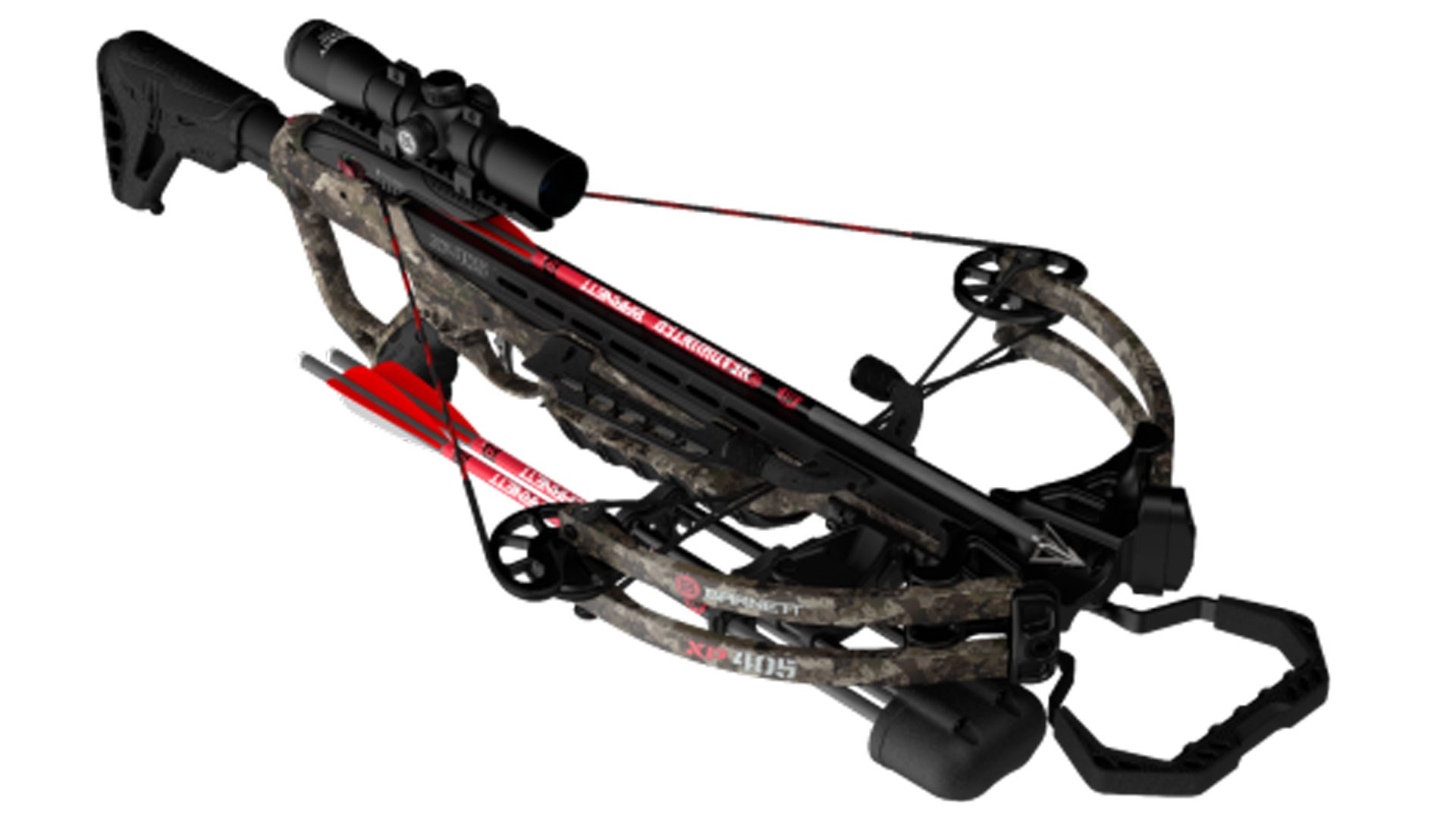 XP 405
Barnett's Explorer 405, available in Veil Stoke camouflage pattern, is a compact hunting crossbow. With a potent draw weight of 200 pounds and a power stroke of 13.6 inches, the Explorer 405 delivers a devastating 135 ft./lbs. of kinetic energy at a blistering speed of 405 FPS. It comes equipped with a 4x32mm two-color illuminated scope for precise shot placement and pre-installed string dampeners to reduce sound and vibrations.
XP 405 Specs:
405 FPS
200 pound draw weight
135 ft./lbs. of kinetic energy
13.8-inch power stroke
6.2-pound overall weight
13-inch axle-to-axle length (cocked)
MSRP: $499.99
For more information, visit barnettcrossbows.com.