by
posted on April 15, 2013
Support NRA American Hunter
DONATE
Mike McNett is living the American dream. What started as a 20-something marketing professional making four 10mm loads in his basement has blossomed into one of the premier custom ammunition companies in the United States. Though best known as the world's most prolific manufacturer of 10mm ammunition, Double Tap produces a full line of rifle and handgun cartridges for defense, hunting and target use with 360 loads available in more than 70 cartridges. After discovering the brand's performance during gelatin tests a few years back, I have used its diverse catalog of products extensively in everything from .223 match loads to big-bore revolver hunting ammo.
I have met some real experts on external and terminal ballistics over the years, but McNett takes the cake as the most enthusiastic. I thought I was a bullet nerd until I met Mike—he gets physically excited when talking about and demonstrating the performance of his creations. Each of his loads is specifically designed to perform a certain role. If you want a handgun load that shreds tissue but won't penetrate drywall, Mike loads it. If gemsbok on the Kalahari beckons and you're looking for a fast and flat load for your .375 H&H, he's got your solution. Want a deer load for your .32 H&R Magnum revolver? Check. Every load is thought-out, tested and refined for max performance, and because the company is not owned by a bullet maker, it uses whatever components work best for a particular application.
When I headed to Wyoming last year to hunt elk I did so with a loaner rifle procured at the last minute to replace a "writer gun" that never showed up. With a newborn baby at home, I didn't have much time for load development with the .300 WSM from MG Arms, so I called Mike for help. He sent some of his 180-grain Nosler Accubond loads that clocked at 2900 fps out of the Ultralight's 21-inch featherweight barrel. The ammo was both accurate and consistent: Shooting three-round cloverleaves from the bench and repeatedly hitting 8-inch steel plates out to 500 yards goes a long way to remove the stress of using an unfamiliar rifle. The load easily met the accuracy standard of three-shot, 1-inch groups at 100 yards that Mike places on his Hunter and Long Range product lines.
When I carry a gun on my hip and concealment is not an issue, that gun is either a .45 Colt or a 10mm Auto (increasingly the latter). The magazine of my Glock 20 is loaded with either the 200-grain Nosler JHP or the 155-grain Barnes TAC-XP load, depending on whether an encounter with deer, Angus bulls or bad guys is most likely. Last September, I'd barely settled into my ladder stand when I spotted a group of pigs feeding in the high grass 100 yards away. The wind was perfect and allowed me to climb down and stalk well within handgun range before placing a 200-grain JHP into the shoulder of a sow perfect for the freezer. The bullet expanded and exited, and she died without taking a step.
If there's a revolver in my hand, I'm usually after deer or feral hogs at bow range. Double Tap's .45 Colt loads vary from mild, standard-pressure loads that are safe in all serviceable firearms to +P loads designed for large-frame Rugers, T/Cs and modern lever-guns. Of those loads, my preference is Double Tap's 300-grain bonded JSP that screams out of my 51/2-inch Blackhawk and stacks holes into a target the size of a deer's heart out to 40 yards with iron sights. Despite the perception of killing power produced by heavy recoil and muzzle blast, handguns lack the terminal ballistics of rifle rounds, and there's little margin of error when it comes to bullet choice. To be sure of a clean kill, high-performance handgun ammo is a must. Double Tap's handgun ammo lineup gives you plenty of choices in just about any caliber.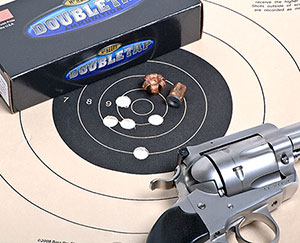 So what makes Double Tap appealing to those among us who handload and therefore could potentially make our own custom loads? Besides the obvious convenience of not having to roll your own, there are a few distinct advantages associated with being a legitimate manufacturer.
Every load Mike develops is pressure-tested to ensure compliance with SAAMI specs, which provides a margin of safety that most of us lack the equipment or resources to produce. Due to the volume of components used, Double Tap can also source custom-mixed powders as well as bullets not available to the masses. As an example, if Mike wants a handgun bullet to expand more rapidly at a given velocity, he can order a lot of bullets from Barnes with thinner walls or shorter bases to facilitate that performance. Good luck getting Hodgdon to sell you a 5-pound can of powder designed for optimum burn in a 26-inch-barreled 8mm Remington Magnum.
McNett saw an unmet need in the U.S. ammo market and took a risk. That risk has paid off for Mike, his 20 employees and those of us looking for high-quality ammo for hunting and defense. His products are not bargain-priced, but their performance is top-notch.
Technical Specifications:
Type: custom-like, factory-loaded ammo
Bullets: various; 335-grain WFNGC (.45 Colt +P tested)
Brass: proprietary
Calibers: rifle .223 Rem. to .505 Gibbs; handgun .32 H&R Mag. to .500 S&W Mag.
MSRP: $25 (per 20-round box of .45 Colt +P)