by
posted on September 24, 2014
Support NRA American Hunter
DONATE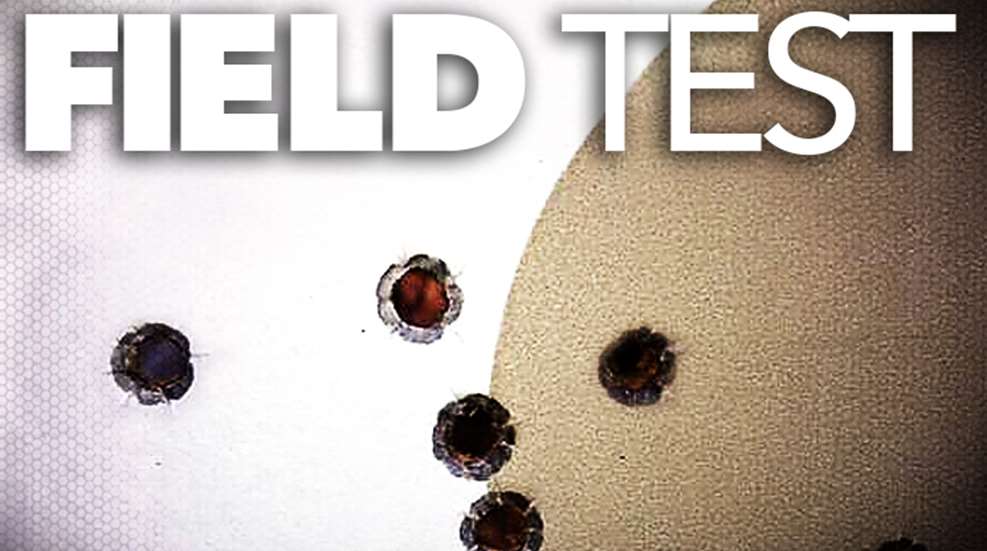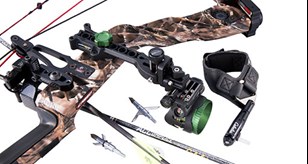 Scouring over the throngs of archery gear this summer, I came across a name that I've been hearing more and more about recently: Cabela's. The company seems to have their hands in everything nowadays, though, so I suppose it was only a matter of time before the big C found its way to archery, too. But don't think for a moment that that is a bad thing—the Cabela's gear I have tested in my lifetime, from boots to optics, has all been tough and dependable.
Which brings me to the newest line from the outdoor giant, Cabela's Instinct.
Touted as Cabela's top-quality high-end line, you can find everything from hunting clothing systems to crossbows under the Instinct name. I recently had the opportunity to test out some of the brand new archery gear and my conclusions are thus: watch out Robin of Locksley.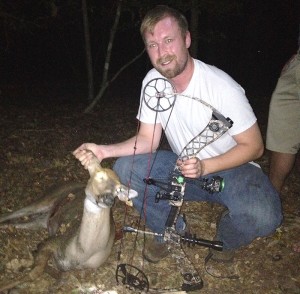 Cabela's Instinct Demon Five-Pin Sight
I'll admit right off the bat that this is the first sight I've used that had multiple dials and knobs, and it was overwhelming at first glance. I'm used to a simple up and down, left and right, allen-wrench operation, and Draper doesn't like change. So, with an extremely judgmental eye, I reluctantly replaced "old trusty" with the much larger Cabela's Instinct Demon. After taking a few minutes to become comfortable, I was pleasantly surprised with its ease of adjustability. But only a target test would prove anything. Well, after a short trip to the range, I'd say I am sold on "micro adjustments." A simple unlocking of the turret allows the user to make minuscule adjustments in elevation and windage without the use of tools. No longer do you have to settle with "close enough."
Five pins vary in diameter so that your pin doesn't cover your target at longer ranges and are illuminated with ambient light or by turning on the LED. It does come complete with a 2X magnification lens kit, but after trying it with fuzzy results I quickly removed the unnecessary contraption. Once I figured out which way to turn the dials to get the movement I wanted, I was able to move arrows in ways I've only experienced with bullets and glass.
MSRP: $149.99.
Cabela's Instinct Provider Wrist-Strap Release
I've gone through a few different releases in my days and have pretty much decided on the combination of features I prefer, despite who manufactures it. The Cabela's Instinct Provider Wrist-Strap Release has all but one of them, but also presented me with one I will be sure to add to the list. Rather than a loud and constrictive Velcro-style strap, the Instinct Provider sports a leather watch-style strap with belt-buckle closure. This is not only more comfortable, allowing the strap to move slightly around the wrist, but it's silent, too, so you can put it on and take it off in the field without spooking game. It's ultra-smooth and seems well built. The jaws, titanium coated stainless steel, are small and thin, a new feature for me but one I will seek out in the future as it makes latching on to a small string-loop that much easier. The only thing I think it's lacking in this release is the ability for the shaft to completely fold out of the way, allowing unobstructed use of your release hand without having to take it off.
MSRP: $99.99.
Cabela's Instinct ACComplice Arrows with Blazer Vanes
I've come up with a new phrase that I've been using at the range since shooting the Instinct ACComplice Arrows: "You hear that?" I ask my buddies. "That's the sound of arrows hitting arrows." While I'd like to believe it's all the shooter, I have to give credit where credit is due. And these arrows deserve it. I have never in my life shot tighter groups. Again, never in my life, with both broadheads and field points (though after shaving vanes off of most of my arrows, I learned my lesson and no longer shoot groups with broadheads).
The Instinct ACComplice arrows feature alloy-carbon construction for a lightweight, but amazingly fast arrow that penetrates deep. And the shafts, well, they are Easton AC shafts, the same shafts used to win every Olympic Gold Medal since 1996. That's right, these are the arrows of champions.
MSRP: $89.99.

Cabelas Instinct Incision Two-Blade Broadheads
I'm a fixed blade kinda guy. If you ask me to explain why, I can spout off about accuracy, durability and the like, but for me what it has always boiled down to was the "possibility of failure" I always assumed was innate to mechanical broadheads. All things equal, fixed blades can't "fail to open." Of course, I do have some experience with both, and have never experienced a failure with either. Which is why I was willing to give the Instinct Incision Two-Blades a test. And though most broadhead packaging says something referencing its "field point accuracy," I have to say that while they weren't hitting exactly where my target tips were, these braodheads came as close to "field point accurate" as anything I've tested.
A hardened trocar tip penetrates thick hide and hair, even at steep angles. The 1.75-inch cutting diameter is plenty large for creating massive wound channels, allowing blood to flow freely. My only complaint is that the screw that locks in the mechanical blades is a bit loose, enough to allow the blades to move a bit and make some rattling noise that had me re-checking their snugness. Also, as with all broadheads that utilize rubber "o-rings," you'll need more.
MSRP: $34.99.
I used this setup on my Matthews Creed bow this past week and was successful in dropping my first deer of the season here in Virginia. The arrow hit home at 25-yards, and the doe didn't go far. Though the blood trail was spotty at first, a double-lung-shot will eventually produce enough to follow, and this was no different. We found the arrow—which she kept with her—after about 20 yards and found her slumped in a small creek bed a few yards later. The broadhead evidently deployed just fine, as I knew it would.