by
posted on November 16, 2015
Support NRA American Hunter
DONATE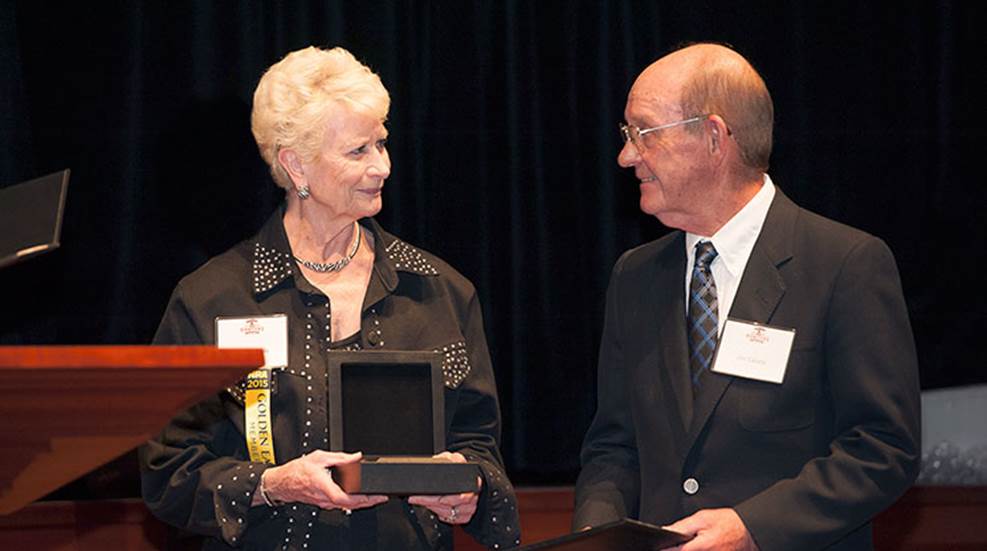 For American hunters, the name Cabela's conjures images of the ultimate "happy place"—top-notch outdoor retail stores adorned with world-class taxidermy, aisles of products at great values as far as the eye can see, and catalogs and a website that put it all at our fingertips. With vision and core values that match our own, company founders—the late Dick Cabela, survived by his wife, Mary, and brother Jim—have spent the past five decades as an economic force for preserving our cherished outdoor traditions and wildlife conservation. In recognition of their efforts, the NRA Hunters' Leadership Forum (HLF) honored the trio with its inaugural NRA Distinguished Hunters Leadership Award at the HLF's National Luncheon held during the NRA Annual Meetings and Exhibits in Nashville on April 10.
"The National Rifle Association is pleased to name Mary, her late husband, Dick, and Jim Cabela the recipients of the 2015 NRA Distinguished Hunters Leadership Award because they personify the excellence of leadership it is intended to honor," said NRA Executive Vice President Wayne LaPierre. "Their story is an extraordinary American tale of innovative leadership and achievement that has greatly impacted and benefited generations of hunters." Mary and Jim Cabela were present to accept the honor.
"We have always appreciated and supported the NRA for its leadership role in preserving our hunting and shooting heritage, so receiving this award at the Hunters' Leadership Forum makes it all the more special," said Jim Cabela. "The Forum ensures sportsmen and sportswomen have a united voice—and that is vitally important to protecting our freedoms and traditions."
Speaking from the heart, Mary said that receiving the HLF award was a wonderful and unexpected honor. "This award is very dear to us because it validates so much of what we believe, of the business we built and how we've led our lives," she said. "We didn't set out to win awards.We were only running our business, trying to fill a need for sportsmen and sportswomen. Through it all, we continued to hunt and fish because that passion started it all. We gave back whenever we could because we've always thought that important. The Distinguished Hunters Leadership Award validates Cabela's legacy. As Dick always said, 'We sell fun.'"
For some history, Dick and Mary founded Cabela's in 1961 after Dick purchased $45 of hand-tied fishing flies while on a buying trip with his father in Chicago for the family's furniture store in Chappell, Neb. Dick tried selling the flies through the mail, but his first newspaper ad generated only one sale. Then he placed an ad in Sports Afield: "FREE introductory offer!!! 5 popular Grade A, hand-tied flies. Send 25¢ for postage and handling… ." As orders arrived, Mary typed customers' contact information on recipe cards she filed in a shoebox. Seeing the potential for mail-order sales, Dick purchased more fishing gear. They designed a three-page catalog to mail with each order of free flies. By 1963, the business had grown to the point Dick asked his brother, Jim, to leave his banking job in Denver, return to Chappell and take over the day-to-day operation of the Cabela's Distributing Company. To clinch the deal, Dick would make Jim his partner. Fifty-four years and 73 stores later, we know the rest. And with Cabela's announcing plans for 16 more locations—four by year's end—the number of stores is about to hit 77!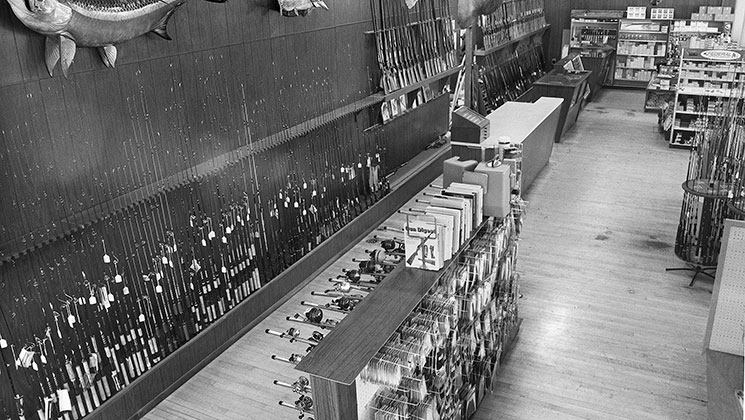 While Cabela's was not the first company to offer outdoor gear through the mail, it did so with an emphasis on value and customer service. When it comes to sheer innovation, many outdoor products exist thanks to the entrepreneurial spirit that was instilled by Dick, Jim and Mary. Now a $3.7 billion business, Cabela's has locations across North America, and catalogs and a website catering to the entire family.
In step with the NRA's mission "to promote hunter safety, and to promote and defend hunting as a shooting sport and as a viable and necessary method of fostering the propagation, growth, conservation, and wise use of our renewable wildlife resources," Dick, Mary and Jim pursued business the way they pursued their outdoor passions—sincerely and with a vision. They support conservation and advocacy groups, particularly the NRA. In addition to personal and corporate donations, the Cabela's chain hosts periodic NRA Weekends, giving discounts to NRA members; matches customer donations to the Cabela's Add-A-Buck program supporting the Cabela's/NRA Youth Hunter Education Challenge Endowment; and has given away countless $25 Cabela's gift cards to customers who join the NRA in their stores. Like the rest of the 5 million-member NRA family, their professional and volunteer efforts are making a difference.
Today Cabela's Inc. is recognized as the "World's Foremost Outfitter"—and for good reason considering it is the largest direct marketer of hunting, fishing, camping and related outdoor merchandise worldwide. Headquartered in Sidney, Neb., appropriately on One Cabela Drive, Cabela's remains one of the best-known outdoor recreation brands thanks to its ample quality outdoor products at fair prices and noted customer service. Cabela's also offers the Cabela's CLUB Visa credit card as part of its customer-loyalty rewards program. And when it comes to customer value—the benefit that we hunters and shooters receive from their products compared to their cost—it goes a step further. There is that other benefit that is tougher to quantify: the sheer enjoyment Cabela's products provide us. To go to your happy place, visit Cabelas.com.