by
posted on June 8, 2012
Support NRA American Hunter
DONATE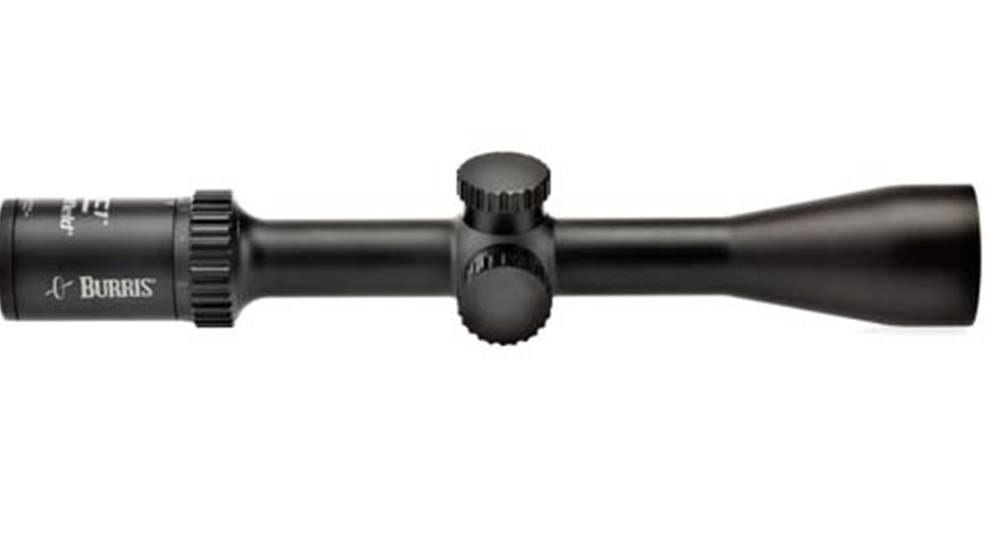 The shooting world is well supplied with scopes that see the backside of Saturn, scopes that tell you the exact distance to the target, and scopes that cost $2,000. But where are the solid, versatile hunting zooms that provide a dependable aiming point on a bright, crisp target image that don't require a mortgage to purchase? Burris has some.
Yeah, Burris has all the bells and whistles in their line, but this Colorado company has long been about a solid, dependable product at a good price—scopes an American hunter can depend on. Its bread-and-butter line is the all-American, 1-inch-tube Fullfield series. New to this line is the E1.
According to Burris advertising claims, the E1 scopes aren't so much radically new as "upgraded" with a sleek profile, gnarly turrets and "integrated power ring." I'm not sure what "integrated" means here, but I see that the new E1 magnification ring turns without the entire eyepiece turning with it, as on my old Fullfield scopes. In addition, instead of the low, finely checkered ring of the old Fullfields, the new magnification ring protrudes slightly higher with deep, longitudinal grooves. I don't find these provide any more grip than the old style but they look high-tech and gnarly. So do the new turret caps, which sport the same deep grooves. These make the turrets look as if they are adjustable. Turns out they're just caps that must be removed to access the windage/elevation adjustments beneath. My interpretation: shelf appeal. Folks want the "sniper look" and this is it.
Beneath the gaudy caps the turret knobs prove quite functional with deep friction grooves that make fingertip adjustments quick and easy.
As long-range shooters who choose to "dial-in" know, a scope must dial precisely in order to be used this way: a quarter click must equal 1/4 MOA. I didn't push my sample E1 to the far limits, but when I dialed 16 clicks down, the scope accurately put my next shot 4 inches below the former.
Then I fired rounds while the scope was set on 3X, 6X and 9X to see if any setting would slide point of aim off center. Shots at 3X and 6X entered the same hole. Shots at 9X landed an inch away. The rifle, a Savage M11 in 6.5 Creedmoor, was a 1-inch gun, so this scope did its job.
One thing absolutely new in this Fullfield is its Ballistic Plex E1 etched reticle with windage-compensation aiming dots. As with all plex reticles, the outer wires step down to thinner lines near the center, but this time with a noticeable gap at the joint. The bottom vertical wire is intersected by four short horizontal aiming points. Depending on magnification and individual bullet trajectory curve, these represent direct aiming points. With one bullet/muzzle velocity with the scope set at 9X, the third bar down might match the strike at 435 yards. With a different bullet/muzzle velocity it might represent a 375-yard point of impact. This is classic performance with a multi-reticle in a second-focal-plane scope. The second focal plane ensures that the reticle does not magnify, or get bigger, as the power ring is turned. Most shooters use such reticles at top power, since they're most likely to need those aiming lines when they simultaneously need highest magnification. Burris provides recommended charts to match trajectories of popular cartridges and bullets, but users who wish to be precise are urged to test and modify these by actually shooting at ranges out to 500 yards.
Burris has thrown in windage-compensation aiming points on either side of the sub-reticles. These unobtrusive dots represent the deflection of an average hunting bullet in a 10-mph, 90-degree-angle crosswind. Obviously, the farther down the Christmas tree of reticles, the farther to the sides these dots are placed. Burris claims they are accurate within plus or minus 1.5 inches at 400 yards. I prefer this style of multi-reticle because the widening line of dots makes it much easier to count down and differentiate sub-reticles, preventing over- and under-shooting. The only thing better are little numbers beside each sub-reticle, but Burris wanted to keep this one clean.
One unusual feature of this reticle is its "floating" nature. The crosshairs do not extend completely across the field of view. I think this is very interesting because it certainly reduces clutter. You don't need the outer fringe of crosshair. The only reason it has ever been there is because traditional crosshairs were built from spider's silk or fine wires that needed anchor points on the hub. Etched reticles don't. The downside is that the floating reticle is a challenge to level since there isn't much line to "eyeball" against external reference lines. It's best to use a double-bubble leveling system when mounting your scope.
The E1 is guaranteed dustproof, fogproof and waterproof. To test this claim I froze and dunked it, and I was surprised to see no internal fogging after the freeze dunk. This is the first scope ever that didn't have any internal fogging after this trial.
More critical to me is image quality, and I liked what I saw through this scope. It is advertised as "index-matched lenses with Hi-Lume Storm multi-coatings." That means an engineer has matched the refractive index of the various lenses within the scope for optimum performance and at least one of the lenses has multiple layers of anti-reflection coatings.
The more layers of anti-reflection coatings on each lens surface, the more light it transmits, but no company tells us how many layers it uses. Generally the term "fully multi-coated optics" means every surface gets multi-coated. Leave off the word "fully"—as the catalog lists the E1—and it can mean that only one lens gets muli-coated. Given that Burris advertises its higher-priced Black Diamond scopes as "fully multi-coated" and its lower-priced Timberline scopes as having "Hi-Lume coatings," I guessed that a few lenses in the Fullfield may have but one coating layer. But Burris' PR man assured me the E1 is fully multi-coated.
Indeed, flare was beautifully controlled in this scope. I detected virtually none when looking at the setting sun. Images in the shadows remained clear, sharp, well defined with plenty of contrast, suggesting whatever anti-reflection coatings Burris uses are doing their job.
Furthermore, all controls are firm and smooth. Even the fast-twist eyepiece focus adjustment was tight and not easily bumped off. Ideally I'd like to see re-settable turret dials on this scope. And I could do without the bulky, gnarly "eye-candy" turret caps. At 13 ounces this is a pretty light scope ideally suited to the vast majority of all-purpose rifles we American hunters like to shoot. Everything from jumped whitetails in heavy cover to coyotes on the far side of the wheat field, the E1 should handle it. Burris scopes are famous for durability and holding zero. With its double erector spring, the E1 should be no different.
Technical Specifications
Type: variable-power riflescope
Magnification: 3X-9X
Objective Lens Diameter: 40mm
Reticle: Ballistic Plex E1
Eye Relief: 4mm-5.5mm
FOV at 100 Yards: 33' @ 3X; 13' @ 9X
Coatings: fully multi-coated w/Hi-Lume
Dimensions: length 12.2"; weight 13 ozs.
MSRP: $295