Support NRA American Hunter
DONATE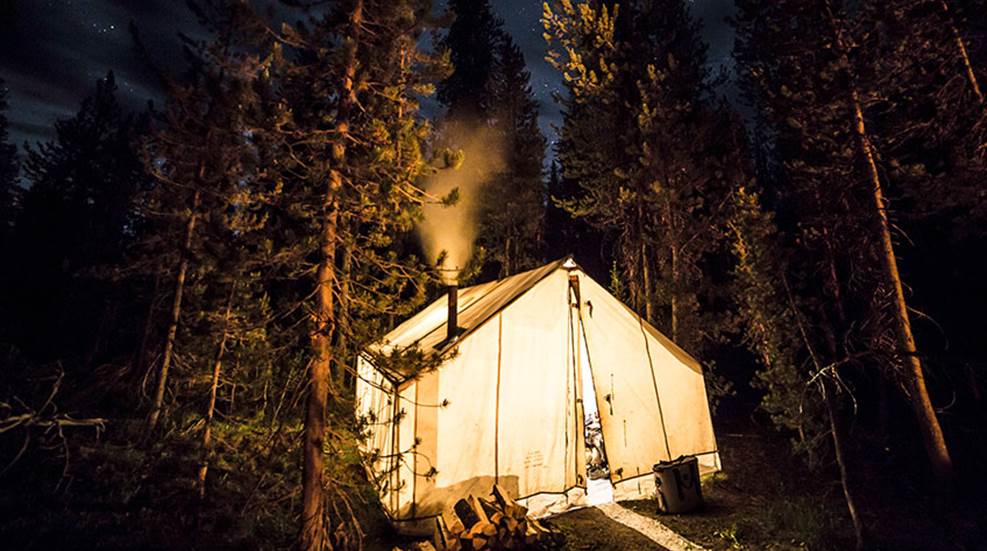 The hounds woke up before dawn, and from my sleeping bag I heard their soft, hopeful whines and yips. To me it sounded like, "Hey, you bear hunters? Let's go!"
From my warm sleeping bag, I smelled the damp canvas of our wall tent, the rich Idaho mountain soil and piney wood smoke from the campfire. I was drifting back to sleep when my second wake-up call arrived: the smell of breakfast sausage and coffee drifting into the tent.
When you get out of a warm sleeping bag, nothing quite slaps you awake like 35-degree air. Shivering, I pulled on my pants, shirt and jacket as fast as I could, slipped bare feet into my boots and made my way to the coffee, the campfire and my hunting companions.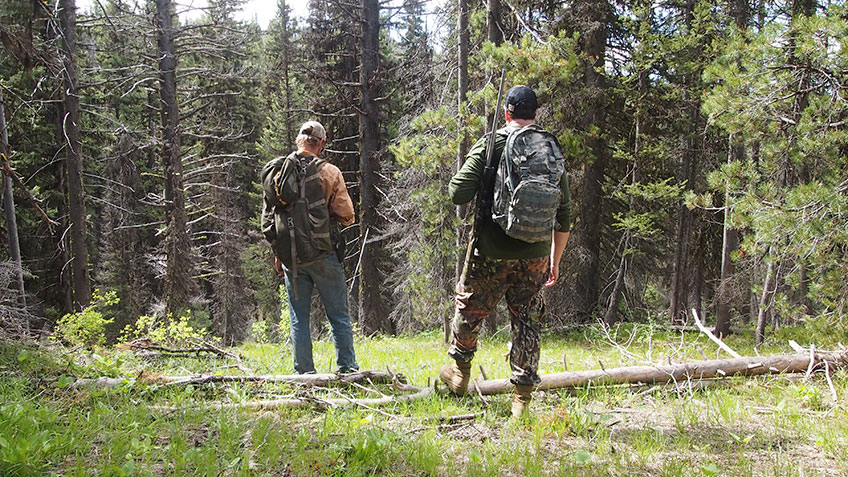 We were bear hunting in the mountains of the Boise National Forest, about a two-hour drive north of Boise, Idaho. A dozen of us sat and stood around a roaring fire of 3- and 4-foot lodgepole pine logs, drinking coffee, and eating sausage and pancakes.
"We've got time," said Scott Denny, co-owner of Table Mountain Outfitters with his wife, Angie. "No big hurry. The bears aren't going anywhere."
No one seemed to listen. We ate fast, then grabbed our rifles and backpacks and headed for the trucks. The Walker hounds were at full bark now, happy, eager and bouncing around inside their portable kennels. I felt a little lightheaded myself, a combination of the 6,000-plus feet of Idaho altitude and my own excitement at my first time hunting black bears with hounds in the Rocky Mountains.
■ ■ ■
The truest thing I learned on this mountain bear hunt: When your wiry, 27-year-old hunting guide says, "We got a bear treed and he's close; this will be an easy walk," he has just lied to you—at least about the easy walking.
Now, he didn't lie to himself. Our guide, Tyler, spent the next two hours leading us up and over very beautiful and extremely steep mountainsides, smiling and nodding the whole time. He was having a great time, and even offered to carry my rifle.
However, if you live on the flatlands like me, and are 30 years older than your guide, this "easy walk" will require several bottles of water. Every piece of your clothing will become soaked with sweat, despite the cool temps. This "easy walk" also will create an ache in your thigh muscles that will twinge for a week, and a burning inside your chest like someone has run sandpaper over the soft tissue of your lungs.
But you will keep going. And you will carry your own rifle, thanks very much.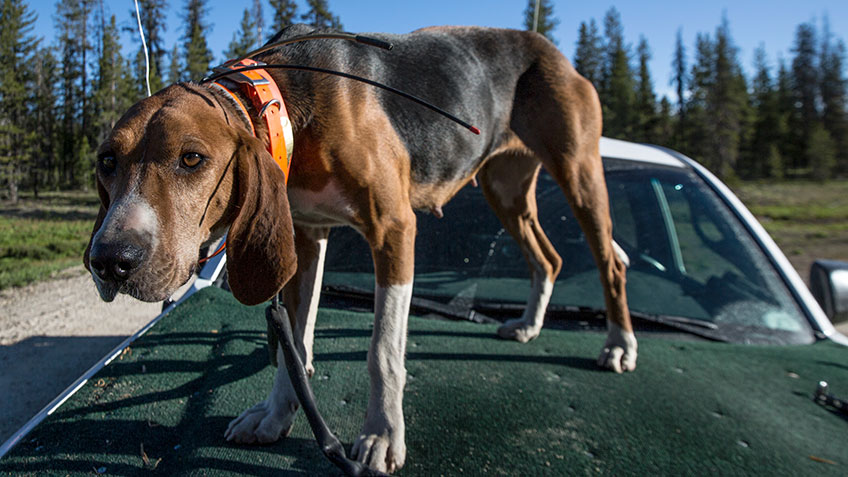 We had headed out of camp a couple of hours earlier—four pickup trucks making their way down dirt logging roads. A pair of Walkers perched atop the hood of the lead truck, noses held high, searching for the smell of a bear, hoping to "strike." Once they sniff a bear, they break loose with howls loud enough to send that bear and all its cousins sprinting for the next ridgeline.
The hounds on the lead truck had a strike within a half-hour. Scott Denny, driving that truck, released his dogs and they tore off into the underbrush. Our truck—with Tyler, me and two other hunters—headed in a different direction, and had our own strike not 10 minutes later. Tyler set loose his hounds, tracking them via Garmin Tri-Tronics collars and a handheld unit. Tyler parked the truck, and watched the Garmin closely. About 45 minutes later, he said it was time for that "easy walk."
"The dogs are stuck on one spot," Tyler said, showing me the screen on his handheld. "They have something treed."
Hard though it was, we hiked through some of God's most beautiful country, under towering lodgepole pines, over blowdowns, through rushing streams and up rock-strewn slopes. We came upon wedges of thick snow tucked into shaded hillsides, though it was June: Old Man Winter's last holdouts, I thought.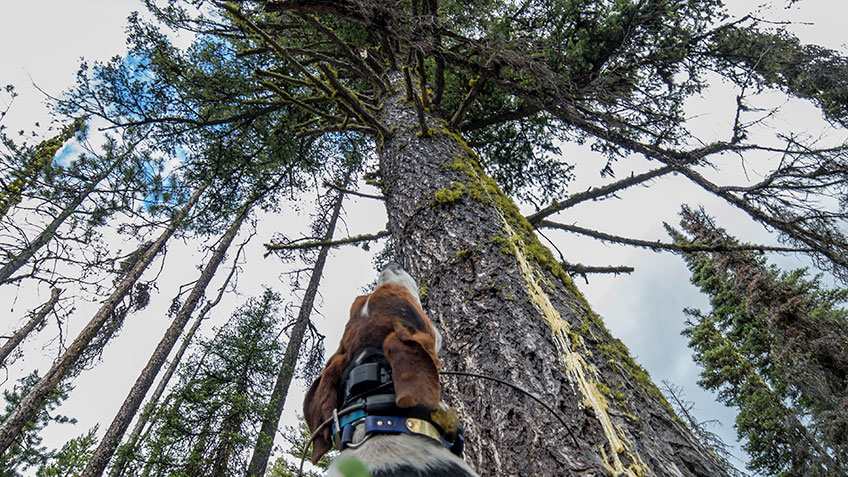 We finally reached a huge pine surrounded by the leaping, yelping hounds; many yards above us sat a reddish-brown bear. It was a boar, which was none too happy about the chaos below him. Eric, one of my fellow hunters, took this bear after Tyler secured the dogs away from the tree.
"You sure the heck don't want a bear falling on one of your dogs," Tyler told me. "That's a dead dog, for sure."
■ ■ ■
I hunted over bait that afternoon, sitting in a crisscross square of pine logs that resembled a kid's tree fort. On the other side of a brushy ravine and 100 yards ahead of me, my guide had poured a weird, neon-pink bait mixture over a log and on a few tree trunks. The bait was made of sugar, something fruity smelling and various other "secret" ingredients.
The bait site looked like someone had painted it with bubble gum. But two bears liked it. First a black bear and then a smaller reddish bear showed up an hour into my sit, and put their noses right into the pink stuff.
I was told these Idaho mountain bears were considerably smaller than the Canadian bruins I've hunted, and in my binocular they sure looked tiny. But past bear hunts have taught me day-one bears are always hard to judge. So, I pushed down my usual impatience, sat back and studied the bears until they drifted away. I have three more days of hunting, I told myself.
When the hounds woke me up the next morning, I unzipped my sleeping bag and swung my legs out over the edge of the cot—and darned near fell off. My legs and lower back were so stiff it took a couple of minutes of stretching in place before I could stand comfortably.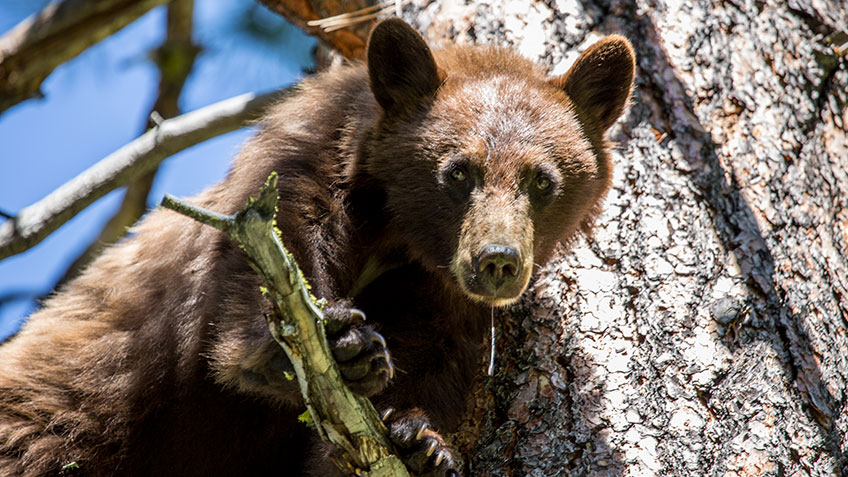 An hour later, I had the chance for even more stretching when our hounds struck a bear scent and we headed off cross-country. Now, I'd expected to be sore and winded on day one. But by day two I'd assumed I'd rebound.
Nope. Day two was even harder on me, in part because my body really hadn't adjusted to the altitude. Today, our hike started at approximately 7,000 feet above sea level. The other problem was a regular obstacle course of blowdowns—acres of them, the trunks standing anywhere from a foot high to waist high. All the toppled trees were pointed in the same direction, suggesting that one tremendous storm had ripped through the area.
It took us half the morning to reach the bear, the pack of hounds having pushed him into a ponderosa pine. But he was younger and smaller than day one's treed bear. It was a long walk for a pass.
After a rest, we headed back to the truck—uphill all the way.
■ ■ ■
I'm often in awe of the country I get to see as a writer and hunter, and this part of the world was no exception. The steep hillsides of lodgepoles and rocks, the mountain streams rushing through tumbled-down lands, the elk and mule deer at the far edges of meadows, feeding on new grasses—it was all amazing.
But paradise has its problems, too. I also saw large tracts of burned-over land, the stumps still blackened by fire, and hillsides of bare pines torched many years ago. The bare trees gave me a sudden, lonely feeling.
That afternoon, I headed back to the tree fort with Scott and Angie. Scott toted a 5-gallon pail of the bubble gum-colored bait, and he was some yards ahead of Angie and me just before the tree fort, when he stopped and waved me up: "Bear," he whispered fiercely. "Shoot it!"
I unslung my rifle but couldn't see anything in the pines.
"There! Shoot!"
I stepped around Scott slowly, carefully peering between tree trunks to the bait area a hundred yards away. Nothing. I took another step, and then a reddish blur appeared.
I shouldered my rifle and got the bear in my Bushnell scope. The cinnamon color-phase bear was on all fours and moving behind downed trees and brush.
"Hurry," Scott hissed. "It's gonna run!"
Run or not, I didn't have a good shot, plus I was still a bit shaky from the morning's mountain hike. Offhand wasn't going to work. I looked at Scott and whispered, "It's okay." He got the message and went silent.
I headed for the tree fort, keeping a tree trunk between me and the bear, stepped over the logs at the rear of the blind and dropped to my knees. I crawled to the far side, slid my rifle over the logs and eased up to get a look. No bear.
It took a few minutes, though it felt like two hours, but the bear came out from behind a thick twirl of brush then looked around before turning and presenting a broadside shot. I lined up the scope's reticle on the shoulder area, let out my breath and squeezed the trigger.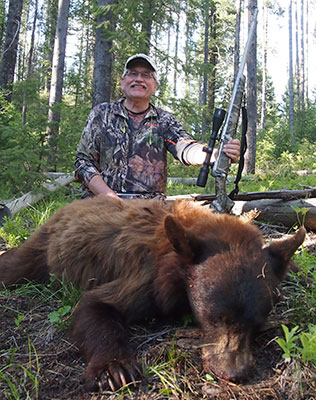 The .300 Win. Mag. recoil rocked into my shoulder. I had a glimpse of cinnamon, a sense of the bear running down the ravine. I turned and saw Angie clapping and smiling. Scott gave me the thumbs up.
We found her 60 yards from the bait site, the 200-grain Edge TLR bullet having done a through-and-through on her lung area. She was an older sow, and my first color-phase black bear.
I sat on the ground next to the bear, ran my hands through the thick, reddish-brown fur and let out a sigh. She wasn't northern Canada huge, but this bear was still a trophy to me. It'd been only two days of hunting—that was true—but it felt like I'd been at it for a week.
---
An Alliance of Conservationists
The Sportsmen's Alliance (SA) was the main sponsor for this hunt, an excursion that might not have been possible but for the group's work.
A conservation organization representing hunters and trappers launched in Ohio in 1977, SA has worked side-by-side with the NRA to fight anti-hunters. In 1996, for example, animal-rights activists qualified Initiative 2 for a ballot vote in Idaho.
"Initiative 2 would've banned the use of bait and hounds for hunting black bears," says Brian Lynn, SA's communication director. "SA helped organize interested parties to form a grassroots defense, and provided consulting, message development, media training and funding. Idaho has some of the best deer and elk hunting in the country. But without scientific wildlife management of apex predators such as mountain lions and bears, it would be a much different story."
SA stays on top of anti-hunting issues across the nation. Learn more about the organization at sportsmensalliance.org.
---
Table Mountain Outfitters
From their home in Cheyenne, Wyo., Scott and Angie Denny run hunts for black bears, elk, pronghorns, mule deer and cougars in Wyoming, Nebraska and Idaho. Visit their website at tablemountainoutfitters.com.