by
posted on March 12, 2012
Support NRA American Hunter
DONATE
While many turkey hunters prefer to stay mobile, there are times when sitting still is required, as well as the best way to hunt turkeys. However, staying still for long periods can be difficult unless you're comfortable and well-hidden, both of which can be found in a blind. But which one has the features you need?
Gallery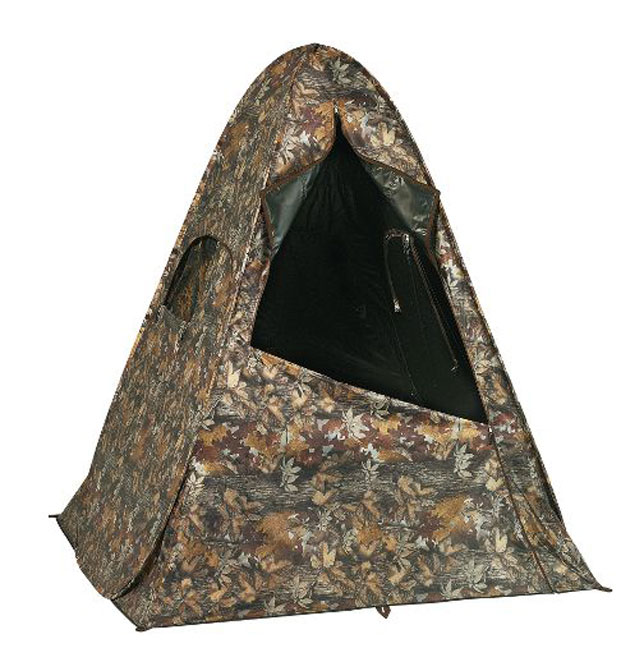 Trekker T-100 Blind
Cabela's calls its Trekker T-100 Blind the ultimate in transportable camouflage concealment and weather protection, with its 150-denier polyester shell and Autumn Leaf camo pattern. It comes with windows on each side and shoot-through screens to allow for several setup options. The T-100's dimensions are 68 inches long by 68 inches wide and 78 inches tall to fit one hunter, and it comes with a carry bag and tie down stakes for $69.99.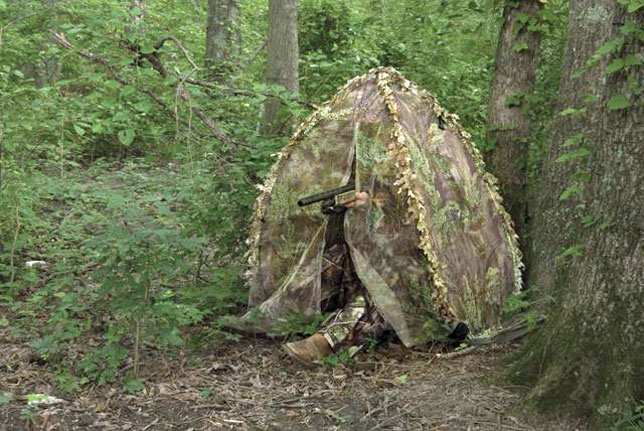 Summit Predator Blind
Summit designed its blind for predators by making it small, lightweight and easy to carry and set up with zero assembly. Regardless of the species hunted, this blind breaks the profile and conceals movement that could ruin a hunt. The Summit Predator Blind comes in Realtree MAX-1 camo, has brush loops on the side panels and leafy material to soften the profile. The blind is 44.5 inches tall, 32 inches wide and weighs 3.5 pounds. It also comes with side windows, a mesh front and a carry bag for $59.99.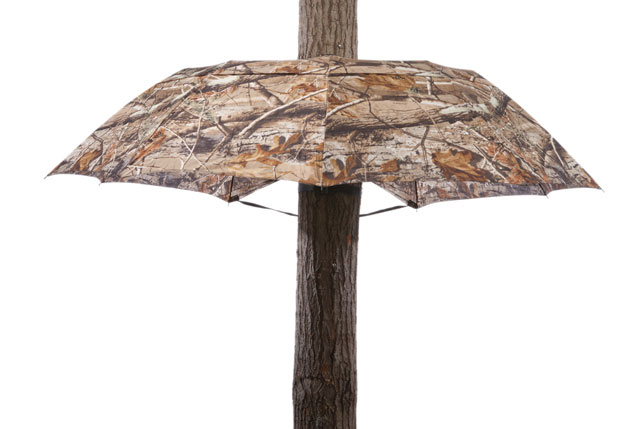 H.S. Strut Umbrella Blind
The Umbrella Blind is a two-in-one tool that can be used as a quick set up ground blind or to repel rain both in or out of a stand. The Umbrella Blind is camouflaged, folds up easy for transport and includes a bracket for attaching to a tree, a strap and a carrying case for around $30.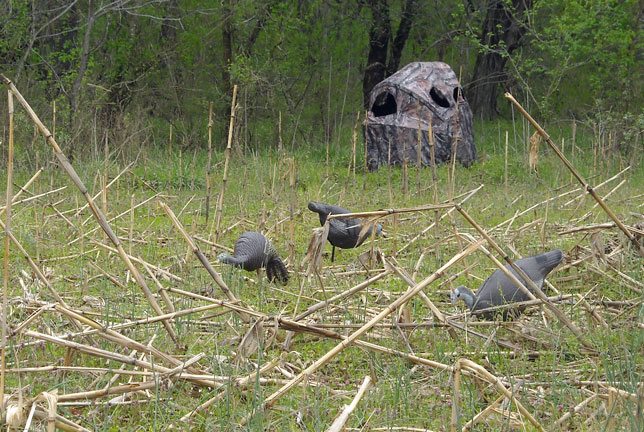 Ameristep Chair Blind
The Ameristep Chair Blind is available in both one- and two-person configurations, allowing you to hunt solo or with a partner. The Chair Blind is quick and easy to set up, because it's basically a nylon expanding chair with a flip over blind.  The blind fabric is a durable nylon material that has six windows to see in all directions, and features either Realtree AP HD or Tangle 2.0 camouflage. The whole blind weighs 15 pounds, comes with a carrying case with backpack straps and is available for $119.99. The two-man Chair Blind comes with the same features, weighs 17 pounds and is available for $159.99.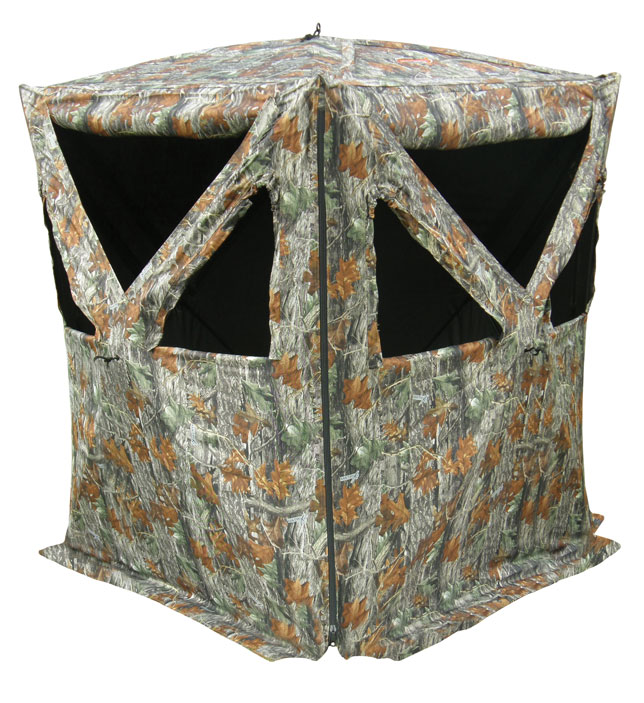 Primos Escape
The Escape features large windows for easy shooting with a gun or a bow, and requires no assembly in the field. The interior is black for added concealment, while the exterior comes in the Matrix camouflage pattern, and the entire blind is made of 600 Denier polyurethane-backed polyester that is UV coated to resist fading. The zippers are accessible from both the interior and the exterior, and the blind stands 5 feet wide and 5 feet, 1 inch tall.  The Escape weighs only 12 pounds and retails for $134.99.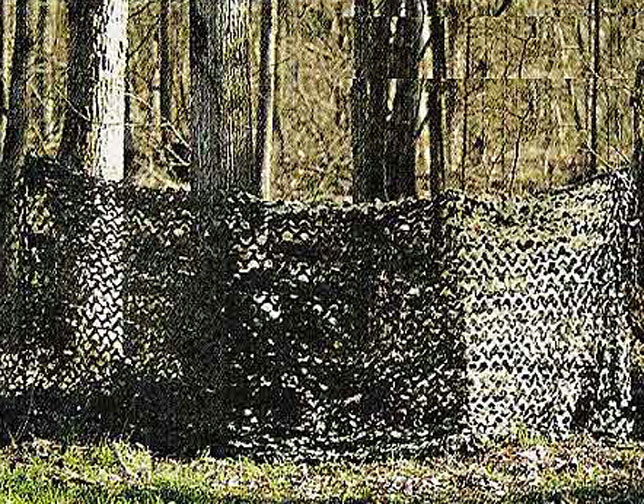 Quick-Set Ground Blind
Blinds don't have to be fully enclosed to work, as the original blinds used by hunters consisted of netting and vegetation. While we now know that we shouldn't cut vegetation, a simple net blind works as well today as it did then. The Quick-Set Ground Blind from Cheaper Than Dirt is 38 inches tall and 10 feet long, and comes with four collapsible fiberglass poles. It's made from rot- and mold-proof UV materials and utilizes woodland green/brown camouflage for $25.43.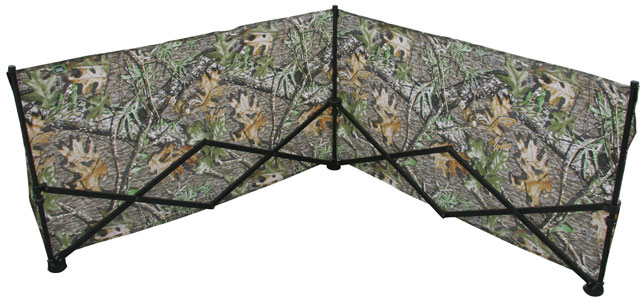 Ol' Tom Hit-N-Run
If you Run 'N' Gun and still want a blind, consider the Ol' Tom Hit-N-Run Accordian Blind. With three vertical poles and a center pivot design, this blind stands on its own. Its total length is 98 inches (48 inches per side), and the non-woven polyester fabric is rot-proof and fade-resistant. It's available in Mossy Oak and Realtree and includes a carry strap for $50.