by
posted on July 13, 2011
Support NRA American Hunter
DONATE
AR rifles continue to be the fastest selling product segment among long-gun sales. And while the popularity of the platform remains solidly entrenched among competitive shooting, casual plinking and varmint- and predator-hunting crowds, interest continues to expand among more mainstream hunters of both big and small game, especially with the introduction of these hunting-specific models.
Gallery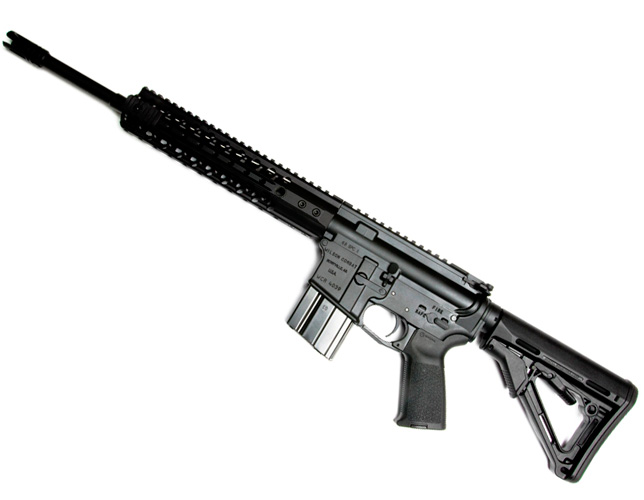 Wilson Combat Tactical Hunter Lightweight
Wilson Combat produces some truly high-end handguns and tactical rifles, and this year marks its foray into developing rifles for the 6.8 SPC, which was designed to provide better downrange lethality over the .223. The caliber is a good choice for medium to large game, and Wilson's new rifle delivers both performance and looks that a more design-conscious sportsman will appreciate. The 16-inch stainless match-grade barrel has a four-groove, 1:11-inch twist, and the rifle is cycled by a mid-length gas system. Other features include a low-profile gas block, forged 7075 upper and lower, NP3 coated bolt and carrier group, Magpul CTR buttstock, MOE pistol grip with tactical trigger guard, a single-stage tactical trigger unit with a 4-pound pull, a 15-round mag and an "Armor Tuff" polymer finish in black, green, gray or tan. The gun weighs 7 pounds.
Caliber: 6.8 SPC
MSRP: $2,350
Contact: wilsoncombat.com
(Find complete details on more than a thousand new and existing AR rifle models and tactical gun accessories in Doug Howlett's upcoming book, "Shooter's Bible Guide to AR-15s," due to hit retailers' shelves in October 2011.)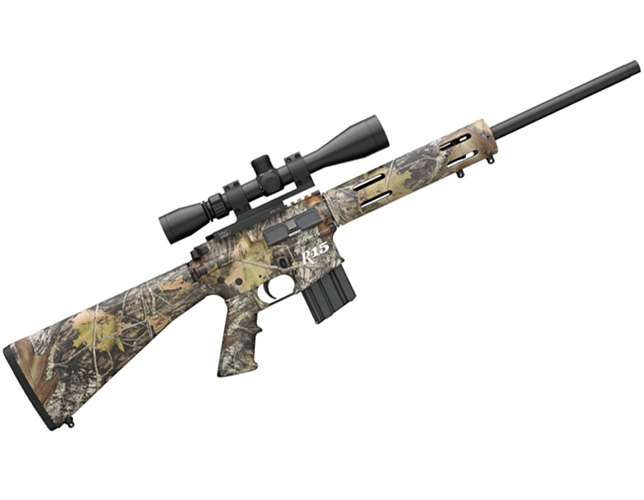 Remington R-15 450 Bushmaster
Remington was one of the first hunter-centric gun companies to make the AR cool with the introduction of its R-15 and larger R-25. Now in partnership with sister companies Bushmaster and DPMS, Remington is coming out with some new calibers (the .30 Rem. AR) and more utilitarian designs. The smaller platform R-15 configured for the big-game punishing .450 Bushmaster makes this one awesome rifle for deer, bear, hogs, elk and similar-sized game. The synthetic stock is fixed, while the barrel, available in 18- to 22-inch versions, is a free floating, button-rifled chrome-moly design with a recessed hunting crown. The gun weighs upwards of 7.75 pounds and comes with a four-round magazine, single-stage trigger, receiver length Picatinny rail and is coated in full Mossy Oak New Break-Up camo.
Caliber: .450 Bushmaster, .30 Rem. AR
MSRP: $1,276
Contact: remington.com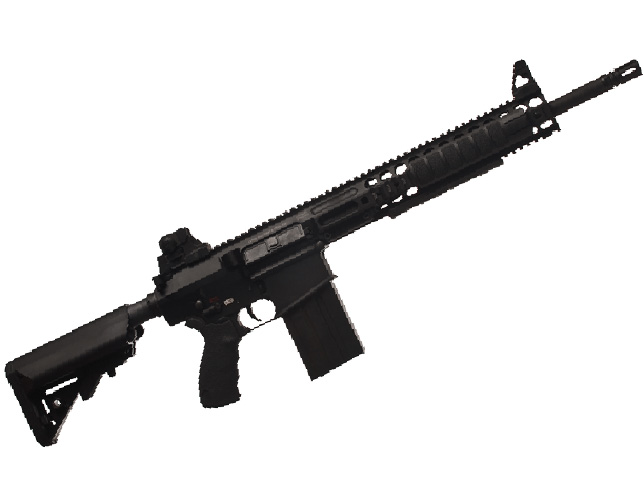 Lewis Machine and Tool .308 Modular Weapon System
LMT's latest .308 offering (also known as the LM308MWSF) delivers some great in the field big-game performance with a SOPMOD buttstock and LMT tactical adjustable rear and tactical front sights, a tactical charging handle assembly, two-stage trigger group and ambidextrous safety selectors and mag releases. The 16-inch matte black barrel is chrome-lined and comes with a 1:10-inch twist. The gun tips the scales at 9 pounds and is available in a California-legal model. 
Caliber: .308, 7.62x51 mm
MSRP: $2,827/California Legal $2,887
Contact: lewismachine.net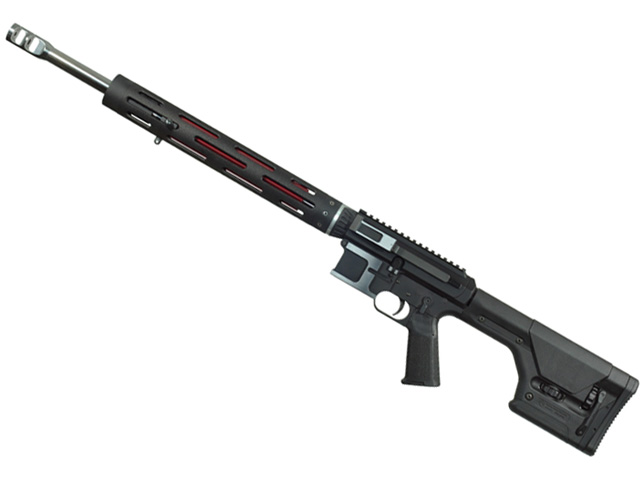 JP Enterprises SCR-11
Minnesota-based JP Enterprises has been producing some phenomenally performing AR rifles honed from company owner John Paul's experiences in competitive shooting across North America. All of this performance benefits the hunter even more. JP's new SCR-11, like all of the company's rifles, is custom made to order and is a left side-charging handle design that makes it easier for a shooter to operate the handle when needed. Barrels are available in 14-, 16-, 18-, 20- or 22-inch lengths, and are stainless steel, cryogenically stress relieved and treated. Stock options include ACE-ARFX or standard A2 designs, while the upper and lower receivers are machined from top quality billet and are finished with matte black Teflon over hard-coat anodizing. The gas system is adjustable and the JP Fire Control System trigger is too, from 3 to 4.5 pounds. A Hogue pistol grip rounds out the 8-pound package.
Caliber: .223, .204, 6.5 Grendel
MSRP: $2,799
Contact: jprifles.com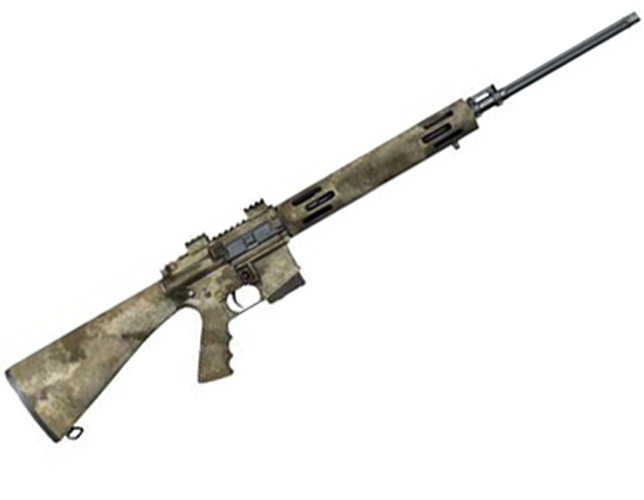 Bushmaster A-TACS Predator Rifle
Superbly camouflaged in the A-TACS digital pattern, Bushmaster's new specialized predator rifle boasts a fixed stock along with a heavy fluted 20-inch specialized Bushmaster predator barrel with a 1:8-inch twist and a competition muzzle crown. The rifle comes with a 5-round magazine, weighs 8 pounds and is 38.25 inches in length overall. Crisp, smooth firing is achieved with a two-stage competition-grade trigger.
Caliber: 5.56x45 mm, .223 Rem.
MSRP: $1,459
Contact: bushmaster.com
DPMS LBR Carbine
Designed for a shooter seeking a compact, lightweight carbine-style AR without sacrificing full-sized performance, the LBR Carbine features a 16-inch lightweight, stainless-steel barrel with a free-float handguard and six-position, fully adjustable Magpul MOE stock with recoil pad. The A3 flat-top receiver and single rail gas block are ready for attaching the shooter's choice of optics or iron sights. The LBR Carbine tips the scales at a feathery 7 pounds and comes with two 30-round mags.
Caliber: 5.56x45 mm, .223 Rem.
MSRP: $949
Contact: dpmsinc.com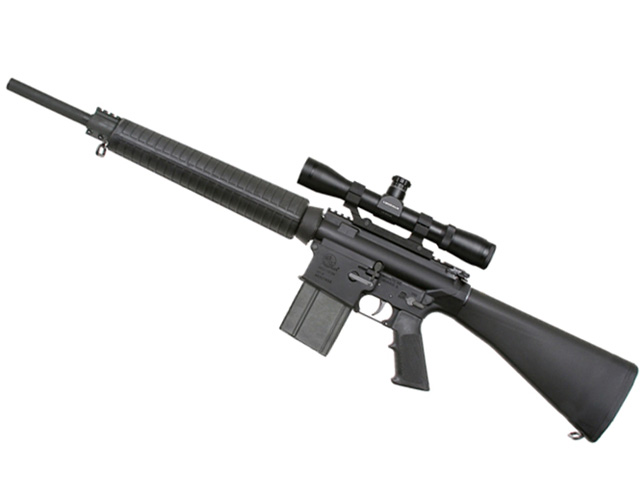 Armalite AR-10 .243 Winchester
The heavier and more deer-friendly .308 caliber of the larger AR-10 has many in the business thinking that is the next growth area in the AR market. Indeed, there are some indications that move is already underway. But now ArmaLite, the company that actually first developed the AR-10 and then the AR-15, has introduced the popular big-game AR with another beloved deer caliber—the .243. The AR-10 in .243 Win. features a fixed stock for steady aiming and a 20-inch match-grade chrome-moly barrel with a right-handed 1:10-inch rifling twist. Its Picatinny-railed gas block is offset slightly lower than the forged flat-top receiver for better optics mounting and clearance. The gun weighs 9.4 pounds, has a rail along the receiver, a forward assist and a tactical two-stage trigger. It comes with a 5- and a 10-round magazine.
Caliber: .243 Win
MSRP: $1,557
Contact: armalite.com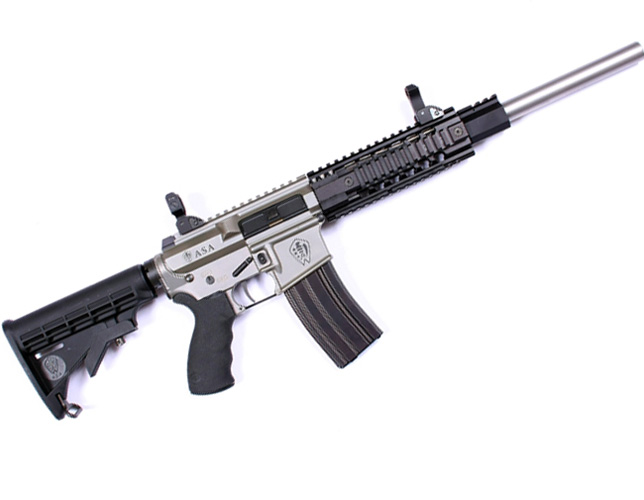 American Spirit Arms M4A3 NP3 Coated Side-Charging Carbine
Providing the ultimate in shooting versatility for the predator hunter, ASA's M4A3 Side-Charging Carbine boasts a milspec six-position M4 collapsible stock, Ergo Z-Float Quad Rail and Ambidextrous SURE-GRIP pistol grip. The 16-inch heavy stainless bull barrel has a 1:8-inch twist. Diamondhead USA flip-up front and rear sights top the rifle that weighs 7 pounds unloaded. This carbine is available with 10-round, 20-round or 30-round mags. Rather than a rear extending charging handle, which can be cumbersome to grasp when using large bell optics commonly needed for serious predator or varmint shooting, the side-charging handle doesn't get in the way and ads to the overall ergonomic performance and appearance of the rifle. The entire upper and lower are NP3 coated (NP3 is a micro-Teflon self-lubricating coating) for superior corrosion resistance and smoother performance.
Caliber: 5.56x45 mm, .223 Rem.
MSRP: $2,365
Contact: americanspiritarms.com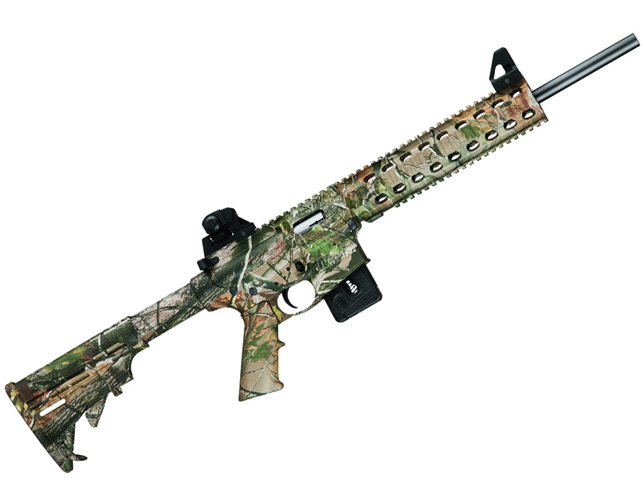 Smith & Wesson M&P15-22
Small game hunters will find a lot to love in today's rimfire AR designs and to many, Smith & Wesson leads the pack. For 2011, the company introduced a variant of the M&P15-22, which is a blow back type semi-auto that sports a six-position CAR Stock, adjustable A2 post front sight and adjustable dual aperture rear sight, a 16.5-inch carbon steel barrel with a 1:15-inch twist and comes with a 10-round magazine. The upper and lower receivers are polymer for a lightweight overall weight of only 5.5 pounds and the rifle is finished in Realtree APG camo.
Caliber: .22 LR
MSRP: $549
Contact: smith-wesson.com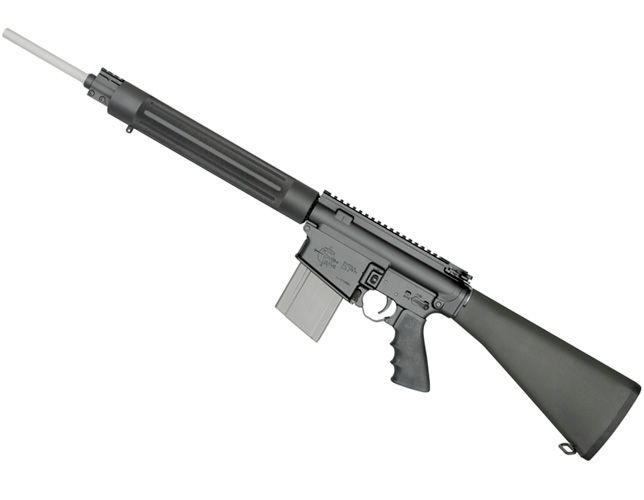 Rock River Arms Predator HP
Set up for serious predator or even some big-game applications, the Predator HP includes a 20-inch bead blasted, stainless-steel HBAR barrel, cryogenically treated and employing a 1:10-inch twist. The stock is a RRA Operator A2 style stock. Additional features include an RRA Winter Trigger Guard for easy use with gloves in cold weather, a two-stage trigger, an aluminum free float tube, Hogue rubber pistol grip and one 10-round mag. The gun weighs 8.6 pounds and has an A4 flat-top receiver with rail and a gas block sight base for ready optics or sight attachment. 
Caliber: .308/7.62 mm, 7 mm-08 and .243
MSRP: $1,535 - $1,585
Contact: rockriverarms.com