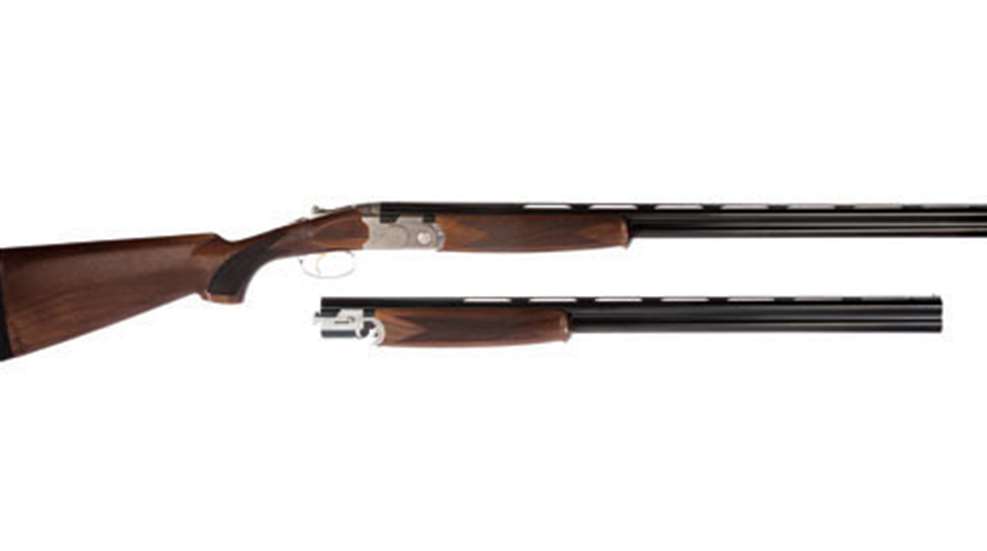 10/24/2012
The Beretta 686 over/under shotgun is one of those baseline products that defines its market category. (For firearms analogies, think Winchester Model 70 in bolt-action hunting rifles and Colt M1911 in combat pistols.) A Beretta mainstay since it supplanted the BL line a few decades back, the 686 now serves as a template for how a field over/under should look, handle and function.
The gun is based on a distinctive boxlock action that forms the basis for a broad selection of hunting and competition model variants that Beretta calls its 680 series. The action's chief feature is an extremely low-slung receiver that solves a fundamental problem inherent to the over/under platform. Under recoil, the typical, vertical over/under receiver and barrels tend to snap upward, thereby causing the stock to strike the shooter's cheek. Beretta shortens the profile by pivoting the barrels around opposing trunnions (projections) mounted on the receiver walls, thus eliminating the need for bulky underhooks to form a hinge. As a result of this more compact arrangement, the recoil is directed rearward to the shooter's shoulder and torso where it is more tolerable and less disruptive to firing a second shot.
In addition to the trunnions, lockup is achieved by a modified Boss system wherein circular lugs spring from the breech face to engage studs flanking the top barrel. Despite the absence of thick lugs, the lockup is quite strong. In the event of heavy wear, the action can be retooled by replacing the trunnions and lugs. That may never happen on a shotgun used mostly for hunting, but veteran clays shooters can "shoot" their guns loose after many thousands of rounds through the bores. Purportedly this maintenance can be done by owners with nothing more than a screwdriver and a little gunsmithing savvy, but I suggest having an experienced hand demonstrate the job before attempting it yourself.
For testing I received a Model 686 Silver Pigeon I Combo complete with 20- and 28-gauge barrels in a fitted polymer case. The dark-stained Turkish walnut was handsome even if not especially figured. The wood contrasted nicely with the satin-nickel receiver engraved in neatly done scrollwork. Also bearing light scroll were the top lever and trigger guard. The gun's trigger is gold, and a further practical embellishment is the top rib's fine checkering, which deadens reflections in bright sun.
The test gun arrived just in time for the dove season opener, and while the flights were spotty, I managed to shoot a handful (and missed a few, too). In short order it was de'ja vu', because the 686 20-gauge is an old friend. Ten years ago I borrowed one for a quail hunt in central Georgia, and behind stoic setters we found and hammered birds under the tall pines. That loaner gun sported what Beretta called an X-Tra Wood stock (no longer offered on U.S. models ), essentially a protective finish that makes the wood appear to have more figure than it really does. It's an acquired taste, I suppose, but how many of us think ill of Miranda Lambert because she wears makeup? I appreciated that gun so much I bought it, and eventually sprung for a 28-gauge barrel set. By far it is my costliest shotgun, the one I bring out when I want to show off a bit.
Stock lines of 686 field models sport an open-radius pistol grip along with a Monte Carlo cheekpiece that slopes slightly toward the receiver. The shooter is encouraged to adopt a "heads-up" posture, and so those accustomed to burying their cheek in a straight-line stock may find the Beretta a bit awkward at first. That hasn't been a problem for me, and since the recoil management is so effective, I feel this stock style helps me to get a better look at the birds and focus my attention on them.
But the reason for the 686's market acceptance isn't sleek lines, showy stockwork, consistent wood-to-metal fit or other aesthetic embellishments, though 686s typically possess some, if not all, of those good-looks features. And it's not because these guns shoulder easily and seem to have a natural balance and smooth swing, though those handling traits get us closer to the reason. What makes the Beretta a favorite is purely and simply that it breaks clays and drops gamebirds. At a list price exceeding $3,500, the two-gauge combo is a darn good value—quality over/unders don't come cheap—but obviously that's a pretty serious investment for most of us. Given the 686's proven performance and the fact these guns hold their value, I think most hunters will find it worthwhile.
Technical Specifications:
- Type: over/under shotgun
- Gauge: 12; 20 (tested); 28 (tested); .410-bore
- Barrel: 26", 28" (tested), 30"
- Trigger: single, selective barrel
- Sights: single bead
- Safety: tang-mounted
- Stock: walnut; length of pull 14.5"; drop at heel 2.36"; drop at comb 1.5"
- Overall Length: 45.75"
- Weight: 6.35 lbs. (20-gauge)
- Metal Finish: blued
- Accessories: case; choke tubes; wrench
- MSRP: $3,675