by
posted on January 7, 2011
Support NRA American Hunter
DONATE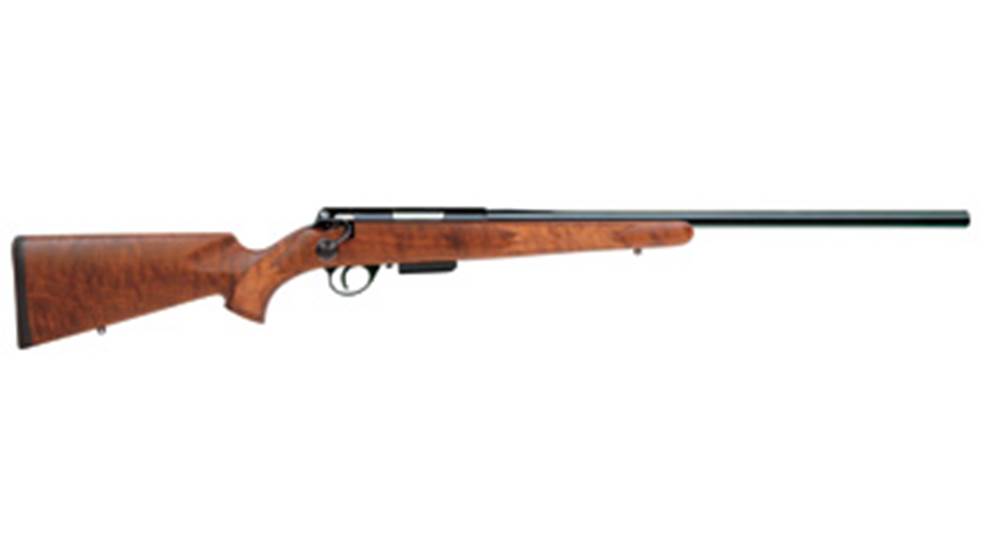 Take a look down the line of an Olympic smallbore rifle shooting event or any world-class biathlon competition and chances are most of the competitors' rifles will be Anschütz. Fact is, during the past four decades more than 85 percent of Olympic medal winners and 95 percent of biathlon winners shot Anschütz rifles. This 154-year-old company has earned a well-deserved reputation for producing some of the most accurate and sophisticated air and rimfire competition rifles ever produced. And they're not just for competition shooters; Anschütz also produces small-game hunting guns such as its Model 54 and 64 Sporter rimfires that were introduced in the 1960s.
Over the years Anschütz has dabbled in the centerfire hunting market with examples in .22 Hornet and a few .222 Remingtons, but late last year I was privy to the introduction of the company's first hunting rifle in .223 Remington, the Model 1770. The Model 1770 is the first newly designed centerfire rifle from Anschütz in more than 30 years, and, not surprisingly, it is beautifully made and super-accurate.
The design, while new to Anschütz, is a refinement of existing concepts. Within the tubular receiver rides a six-lug bolt with a 60-degree lift. Rather than an interrupted thread, the six lugs appear to be three lugs split circumferentially, each having an angle machined into its leading edge to provide the camming leverage to seat a cartridge. A single port is drilled between the front and rear set of lugs to vent gases in the event of a ruptured primer, and another port on the right side of the receiver in the locking lug area allows those gases to escape. The main part of the bolt body is tapered to provide a secondary diversion path—almost a seal—to keep gases away from the shooter. Just forward of the taper is a music wire spring that provides tension for the extractor. A spring-loaded plunger provides ejection force. The bolt handle is screwed to a retainer within the bolt and has an oversized knob so it can be worked with a gloved hand.
A lever system in the rear of the magazine box protrudes from the bottom to release the single-column, three-shot magazine. A separate recoil lug inletted into the stock with a corresponding slot at the barrel/receiver junction keeps the metalwork from moving around in the wood. The 22-inch medium-weight target barrel is secured to the receiver with a roll pin. Anschütz's time-proven 5094D adjustable match trigger set at 2.5 pounds provides fire control. It is crisp, with negligible creep but with some over-travel.
Befitting a high-end rifle, the Anschütz Meister Grade 1770 is dressed in a select grade of oil-finished European walnut. Two stock styles are available: a classic model with a straight comb, round fore-end and 22-line-per-inch checkering; and a Monte Carlo stock with a rollover cheekpiece, Schnabel-tipped fore-end and skip checkering. The machine inletting is sharp and precise, though there is considerable space between the fore-end and the 100 percent, free-floated barrel. Altogether the package weighs 7.5 pounds.
My introduction to this new rifle was on a prairie dog hunt near Glenrock, Wyo., last fall. Normally prairie dog "hunting" is more like prairie dog shooting, but in this case it was actually spot-and-stalk hunting afoot. The hunt was part of a three-day friendly competition called the "Prairie Pentathlon." Competitors were scored on the number of hits within a three-hour time period. The only auxiliary rest allowed was a set of shooting sticks, so I restrained myself from my normal penchant to take shots "as far away as I could see 'em."
After a quick sight-in with Winchester 45-grain JHP Varmint ammo, my teammate, Jonathan, and I headed into the field. We agreed to hold our shots to no farther than 150 yards. A small prairie dog town in a coulee about 300 yards from the truck caught our attention, and we used the edge of the coulee to cover our approach. Though it may sound strange given the quarry was prairie dogs, we had to crawl our way to the top and set up the sticks. My first 10 shots were all kills, though ranges were rather modest—30 to 110 yards.
We ended up with a score of 28 kills out of 36 shots. Toward the end of our hunt I began to stretch the range limitation a bit, which accounted for most of the misses. It may not have been a great score, but we won this leg of the competition.
I was very satisfied with the handling and performance of the Anschütz. For a walking varminter its weight of 8.5 pounds with a scope isn't a burden, but that weight is a blessing when it comes time to shoot. When I returned home from the Prairie Pentathlon I took it to my range with a variety of ammo, and the same Winchester load turned in the best groups, averaging a bit more than .5 inch. All the loads I tested dropped easily into less than an inch.
Things I particularly liked about the 1770 are its close fit of the metalwork and its superb finish. Its accuracy should satisfy anyone. The oversized bolt handle made operating the action foolproof. On the other hand, I could find just a couple of things that did not thrill me, though they are a function of personal taste. The Classic stock design (shown here) makes for a quicker-handling rifle in my hands, and I just like its looks better than the Monte Carlo. And while the generous relief in the barrel channel ensures the barrel will remain free-floated and helps it cool, a rifle of this quality would look better if there wasn't such a gap.
With an MSRP of $2,499 the Anschütz 1770 isn't going to be for everyone. But for those who demand superb accuracy and appreciate precision German engineering and manufacturing, this rifle certainly delivers. Those willing to tote the note for this rifle will surely have an heirloom to pass on to future generations.
Specs:
205-655-8299 www.merkel-usa.com
Type: bolt-action, centerfire rifle
Caliber: .223 Rem.
Barrel: 22"; 1:10" twist
Trigger: single-stage; 2.5 lbs.
Safety: firing pin and sear locking
Stock: oil-finished European walnut
MSRP: $2,499