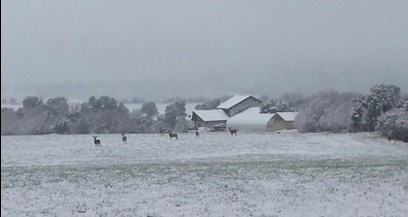 Put another log on the fire, cook me up some bacon and some beans." Do you know that old song? My husband, Phil, just got back to our house in Colorado where it's snowing nonstop and texted me this photo. I almost feel guilty that I'm heading home to our place in Virginia after work to pick up my bow and go shooting … almost.
One of the things I'll focus on is aiming small. From personal experience, the old "Aim small, hit small" shooting tip is worth mentioning because it helps to improve your accuracy. You'll also be better prepared for the tougher shot scenarios and shot angles this fall, which we know can pop up even at super-close range. If you make a habit of thinking "Aim small, hit small," once that big buck steps into view this fall, you'll be used to visualizing the smallest bullseye as you settle your pin.
By the way, as for the critters in this photo, they may look like Delta MacKenzie 3-D targets, but they're mule deer. I told Phil, "Good thing I applied for a Colorado archery tag for this fall!"