by
posted on January 14, 2010
Support NRA American Hunter
DONATE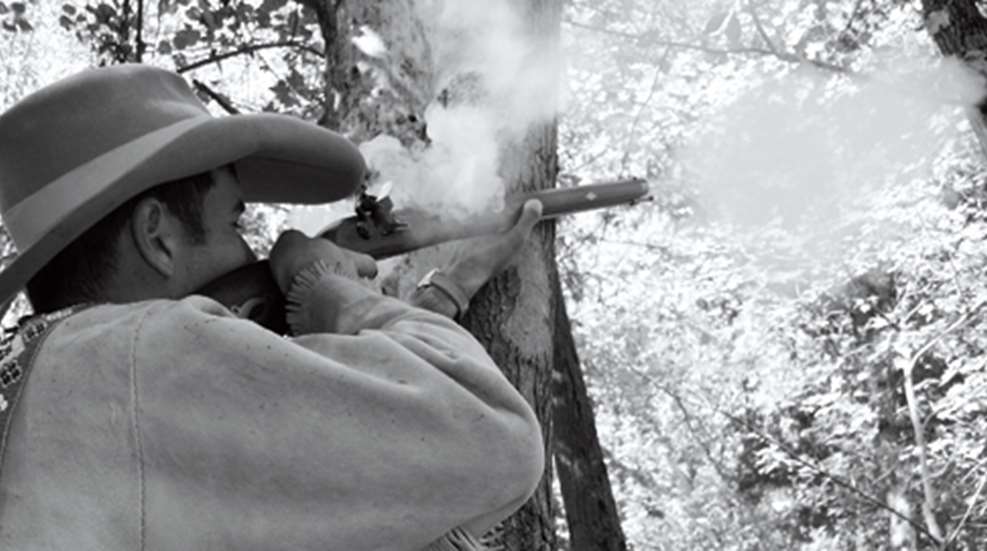 I was given a squirrel call back when such things made me happy. I only used it once, but I remember it fondly. It was a wooden hand call, a Lohman I believe, with rubber billows on one end that you smash with a palm to create the barking noise that a squirrel makes when it's riled. The package said it'd cause squirrels to reveal themselves by barking back at it. To me the prospect of this was fantastic, and even if it proved to be a gimmick it was worth the excuse to get in the woods. My father happily encouraged me, and one hot afternoon even before the late-September season began he drove me to Morgan's ranch.
I slipped down to the base of a patriarchal oak tree that stood like a door to my secret hardwood hollow, and I broke out the call. I waited to let the forest chatter resume then gave a few chirps. Immediately I was cut off by a raspy bark in the limbs above me. Instead of hiding, a squirrel came toward me, hardly making itself small. It was a huge fox squirrel, the second-biggest I've ever seen, and it suddenly became evident that this hollow was not mine alone. I palmed the call again, more aggressively, and the rascal ran down the tree trunk toward me and hopped to a low-hanging limb that terminated near my hat brim. With wavering boldness I gave another bark, at which time it whipped its tail from its haunches and berated me with incessant squabble. I took a step backward, and it loosed another tirade. Then it came, with a terrifying sound of claws scraping tree bark, on a direct course for my fresh face. I'm not sure if that devil actually jumped to the ground and chased me or if it was a bluff-I wouldn't know because I turned and ran full-speed to Morgan's house without looking back. They made pretty good sport of me after I calmed down enough to tell the story.
A week later I returned with my grandfather's Winchester 61, and I saw that squirrel again, but only for a moment. He ran into his hole, thereby letting me enter his hollow, and I left this friend alone. I took scores of squirrels from that secret spot over the years, but more importantly I learned about nature, about habitat, about respect, about woodcraft, marksmanship, time, patience, consequence, joy, death-indeed, about life. I learned that part of life is learning to part with that which you love. For this reason I do not take that call when I hunt; I lost it that day while running back to Morgan's. But my passion for the outdoors, a passion that hunting squirrels fostered in me, does not go away. It just needs to be rekindled-and remembered-from time to time with the promise of something new.
Gunmaker Ted Hatfield once told me his favorite hunt, other than quail, is antelope with a flintlock rifle. He only got an antelope after many reloads, or maybe he got none at all, but he said it was more fun to chase them around the countryside and tell stories later with friends than merely killing one with a .270 then going home. Basically, he doesn't believe in being so damn serious all the time, and his argument is very convincing.
Hunting squirrels with a patched round-ball was just the thing I was looking for, because frankly, in my suburban world it's tough to deal with a dozen dead rodents. If I kill them I have to eat them, and they don't launder themselves. Nobody will even touch a squirrel without screaming anymore except two of my barbarian friends, and the only way I can get someone to taste one is by trickery. I don't dare invite the neighbors for squirrel-and-dumplings lest they deem me mad. And to offer their curious little boy a freshly salted squirrel tail to tie to his hat would likely be misinterpreted as something more sinister than a simple, good gesture. I believe luxury has made us awfully picky, because I doubt it is the squirrels that have changed.
So it was reassuring to know I wasn't the only weirdo struggling with this age-old question of changing lifestyles, tastes and values when a trusted friend contacted me in early September. Adam emailed not to ask a favor, but to encourage me to do what I should do without encouragement. He said he'd acquired a couple classically styled smallbore muzzleloaders and that nothing would satisfy him more than to take them out in the woods before the deer and holiday seasons began so we could remember how to have fun. A simple squirrel hunt sounded just fine to me.
Turns out Hatfield was right; I don't think a better handicapping tool for hunters has ever been invented than the smallbore muzzleloading rifle. I'm hardly calling the tool that promulgated America's freedom a gimmick, mind you, but sometimes a fresh new feather on an old hat can inspire motivation for action when the status quo is sitting on a comfortable couch. The front-stuffer is just the medicine; it's accurate enough to make a few headshots if you're good, and just unreliable enough to make a salty hunter feel like I did that time when I couldn't hit a squirrel because I couldn't control the shake of my own young hands. That is the good stuff, and I remember it well. And so is a long-arm made of wood and iron that harkens back to the days when just getting the old rifle off the mantel to study it more closely evoked a feeling of grandeur.
I smiled in the oak grove at the first glint of light, not at Morgan's but in a Shenandoah forest lousy with squirrels. The light green leaves were yet unglued, and provided a veritable fortress for my quarry in the canopy above. I slipped from tree to tree with moccasin feet, moving with the wind for cover, straining my neck, focusing my eyes, intermittently staring broadly for movement and scanning for the silhouette of an ear or a nose. I watched my step and between each one I listened for cuttings of acorns as they bounced off leaves with a telltale pop. I held the long rifle in the crook of my arm, hiding its metallic lock from filtered beams of sun, and I carefully camouflaged my shadow within others. I learned early that I can appear half as obvious by simply minding my shadow.
I found a good spot with some fresh mast and I sat down, the shoulder of my buckskin shirt against bark, and I waited and I watched. As I did I was reminded that we are not a patient people anymore. A squirrel generally forgets a threat after the threat has subsided for about seven minutes, but that is longer than many new-aged people can stand stone-still in one place and look up at seemingly nothing.
Then, rather noisily, a whitetail doe approached from upwind. It nosed through the leaves and began munching on acorns. In older times than mine I might've taken her with the .32-caliber ball, but these days it's illegal, and on this day she was safe anyway. I continued watching her, voyeur-like, when a squirrel barked from somewhere close. The deer looked up toward the sound of the noisemaker, glanced around, satisfied herself, then resumed eating. I didn't see the squirrel, but if I ever wanted to I didn't dare move.
My patience paid off again when the doe meandered elsewhere and the squirrel pulled a trapeze act to the tall oak ahead of me. As it scratched down the trunk and into the fork of a limb 25 yards away, I eased the rifle's hammer back and slightly depressed the trigger at the same time to cock the rifle without betrayal. I pushed the barrel ahead and used my fore-end hand to steady it against the side of an oak. But before I could bury the front bead, the squirrel scampered and leapt to another impossibly thin limb. A finer athlete cannot be found on NFL Sunday.
When it stopped again I realized I wouldn't have time to rest my rifle if I wanted a shot. I aimed with all my power at the gray squirrel's head, concentrated on the follow-through and pulled the trigger. When the echo of the report, the white-blue smoke and my mind cleared, I realized I was standing in the woods, mere yards from my buddy's neighbor's house, wearing a costume from some frontier era and clutching a real replica longrifle loaded with 40 grains of triple F and a patched round ball. The squirrel wasn't anywhere to be found, but the reasons why I love hunting became as lucid as such things can possibly become.
A man whom I admire often talks about his love of catching bluegills. I've seen pictures of him when his hair was thick, sitting on a lake with his wonderful blue-eyed old man, catching scores of big Mississippi bluegills on cheap flyrods. They didn't care that they were cheap and they didn't question why everyone in the world didn't extract their pleasure and their food from a rich-smelling, blooming bluegill bed in the summertime. It was their secret.
I haven't seen him fish for bluegills in 20 years, but the thought of catching them, and the thought of the innocence and the purity and the anticipation of the cork going under and the time with his father and mainly the true belief that he is a simple bluegill fisherman brings him joy. And so I am a squirrel hunter. And I am satisfied with that thought. If I don't hunt but once a year with a classic rifle to heighten the experience, or maybe not at all, so be it. It doesn't mean I'm not one.
After a morning of chasing my old friend the squirrel around the woods-hiding, sneaking, listening, laughing to myself, firing many shots and connecting on many less-I finally felt the fantastic warmth and weight of two gray squirrels as they hung perfectly from my belt. I thanked them and cleaned them in the Mississippi style I was taught, and I fried them and ate them mainly because that's how it all comes full circle. To me, that's how it all makes some sense.
I don't know if I'll go squirrel hunting again this year, because deer season has me wrapped tightly around high-scoring antlers and the ego-pumping glory that they bring to those like me who are concerned with such things.
As insurance however, I gave a squirrel call to my nephew, Hank, just so I'll have to take him out when the breeze begins loosening the leaves in September. He'll be at that enviable age when such simple things can bring a person-and those who happily encourage him-such rare intangibles that can have no price nor measured shelf life. And then perhaps he'll be passionate about something, and we'll have something in common-a good thing, I think-later in life amid the big winter when the world subtly begins changing much faster than it did. In these times I can turn to the things that remain the same-the falling leaves, the squirrels, the guns and a memory of all that I know to be pure and good. And that makes me happy.