by
posted on July 21, 2016
Support NRA American Hunter
DONATE
Last year, Savage Arms hit a home run with its A17 rifle. The little rimfire became one of the first semi-automatic production rifles to reliably cycle .17 HMR, and was an instant hit among hunters. Heck, we even awarded it our Golden Bullseye for Rifle of the Year.
For 2016, Savage has gone a step further, and is applying its revolutionary delayed-blowback action to the new—but very similar—A22 Magnum. Here are five things you need to know.
1. Yes, it's a bit of a clone of the A17.
Like I said, the A17 has been a massive success for Savage Arms, so it's not surprising that the company has doubled down on new semi-automatic rimfire rifles. The A22 Magnum is, predictably, visually identical to the A17. It's just built to fire .22 WMR. The A22 Magnum features the same delayed-blowback action, the same 10-round rotary magazine and the same rugged, composite stock. It's all there.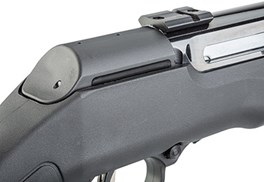 2. Yep, it's got the delayed-blowback action.
Some rimfire cartridges, like the .17 HMR, have been, at times, considered "too hot" for semi-automatic actions. Given that the .17 HMR is largely a necked down .22 WMR, you shouldn't be surprised that the latter cartridge has similar issues. Like the A17, the A22 Magnum features a unique, delayed-blowback action. An interrupter lug locks down the rifle's bolt until peak pressure has passed when a round heads downrange—which prevents the bolt from opening prematurely, eliminating fears of ruptured cases. The system also serves as a firing pin block.
3. It's got its own ammunition line.
When Savage launched the A17 rifle, partner company CCI rolled out a new line of .17 HMR ammunition, christening it simply as "A17." History's repeating itself with the A22 Magnum. CCI has already released its A22 Magnum ammo, which we covered here.
4. It shoots!
I'm not going to spoil the entirety of the impending American Hunter review of the A22 Magnum, which is being penned by Bryce Towsley, but I can't resist throwing at least one nugget out there. Bryce calls the A22 Magnum the most accurate .22 Mag. rifle he's ever handled. That's very, very high praise.
5. It's relatively affordable.
As you might have noticed, there aren't that many semi-automatic rifles chambered in .22 WMR available today. They exist, yes, but they're not nearly as common as their bolt-action cousins. And with an MSRP of $473, the Savage A22 Magnum comes in firmly at the lower end of the semi-auto price spectrum. Yeah, you can get a bolt gun for significantly less than that—but you're not reading this article because you're looking for a new bolt-action.
Want to know more? Never fear. The A22 Magnum is due for a full review in the September print edition of American Hunter. Stay tuned.