by
posted on October 2, 2015
Support NRA American Hunter
DONATE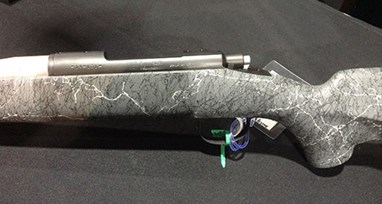 Since the introduction of the rifle, the rifle stock has been little more than a means to hold on to the barreled action. Not knowing what else to do with rifle stocks, early builders began using fancy woods, carvings and inlays to spice them up. Still, the rifle stock remained little more than a handle. In the early 1980's a savvy hillbilly from West Virginia figured that, as long as a rifle had to have a stock, that stock should not only enhance the performance of the rifle, it should refine the interface between the rifle and its operator.
Melvin Forbes was working on building the lightest bolt-action hunting rifle ever constructed. He knew the rifle's stock had to be light, but he also knew it had to be strong. And if possible, it had to help the hunter shoot better. Up until that time and even now, synthetic rifle stock manufacturing has been rooted in the technology driving the fiberglass boat industry. Though they had the appearance of strength, they were actually flimsy shells.
As a deer hunter, Melvin knew how to shape a stock so it would enhance user interface and improve field shooting. But, he needed help making a lightweight, rigid rifle handle. After much experimentation, he contacted some friends who worked at the U.S. Navy's Allegany Ballistics Laboratory in Short Gap, West Virginia and asked for help. They shared their rocket building knowledge with Forbes and, in short order, he had a carbon and Kevlar fiber rifle stock that was amazingly rigid and light. Unsuspectingly, this stock was special in another way.
Melvin found that even though his rifle barrels were pencil thin, they shot like bench rest rifles. He also was amazed that the point of impact at 100 yards did not vary between different bullet weights and loads. Unable to completely understand this phenomenon, he walked over to West Virginia University and asked some physics experts, "What the heck is going on here?" What they discovered had never before been seen with a rifle of any kind.
Melvin was full-length bedding his rifle stock; the barreled action was in contact with the stock from its tang to the tip of the forend. The smart guys at WVU discovered his stock was so stiff and the bedding so precise, it was dampening barrel vibrations. In fact, all barrel vibrations cease by the time they reach the tip of the stock. In simple terms, the stock Melvin created was making the rifle's barrel think it was about an inch in diameter.
In 1985 Melvin Forbes/Ultra Light Arms introduced their first rifles and they've been building them ever since. The company, now named New Ultra Light Arms, offers a variety of action lengths capable of handling any cartridge from .17 to .416 Remington. The action is a miniaturized copulation of the two-lug Remington and a Sako, with a blind box magazine. However, unlike conventional rifles that use the same steel for the action and the bolt, Melvin uses a bolt that's about 30 percent harder than the action to prevent galling.
A Douglas barrel and a Timney trigger, with a two position, three-function safety, round out the package. A .308 Winchester with a 22-inch barrel will weigh a scant 4.75 pounds. Eleven ounces of that weight is the recoil pad, bedding material and paint on the stock. Out of the mold the stock weighs an incredible eight ounces and, unbelievably, it's stiffer than the barrel! Just as importantly, when you shoulder the rifle, it fits. With a high heel, tapered comb and full size cheek piece, its shaped to reduce felt recoil and the balance is impeccable.
Just amazing as the rifle that Melvin creates is the fact that more than 70 percent of his customers own more than one of them. Multiple companies, jealous of the level of performance these rifles offer, have tried to copy Melvin's stock. They've all failed. Several companies have tried to sell mass-produced versions of Melvin's rifles, but have been met with little success. The reason is twofold. Only one man really knows how to make those rifle stocks and the full custom service and knowledge he shares with his customers cannot be duplicated.
Melvin Forbes is approaching his golden years; he won't be building these one of a kind rifles forever. For 2015 he is offering a 30th Anniversary version that includes his signature on the action and the customers initials in the serial number. It will be built just for you, in any cartridge and color combination you want. When you get it, just like the majority of others who have bought one, you'll want another one. They are that wonderful.
Technical Specifications:
• Model: Model 20 Ultimate Mountain Rifle
• Action: Bolt-action with three inch magazine
• Capacity: Varies with cartridge (4+1 in .308 Winchester)
• Barrel: 22", custom lengths available
• Trigger: Timney with two-position, three-function safety
• Sights: None standard, options exist
• Length: Varies with custom length of pull
• Weight: 4.75 lbs. (.308 Winchester with 22 inch barrel.)
• Accessories: Talley one-piece scopes rings and a hard case.
• MSRP: $3,500