Support NRA American Hunter
DONATE
Now in its 27th year, the Traveler's Guide to the Firearm Laws of the Fifty States has come to be viewed by many gun owners as must-have. In short, if you travel with firearms, you need this guide.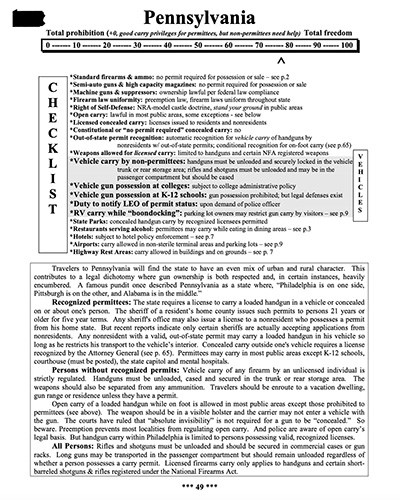 Every year, J. Scott Kappas, the attorney who researches, writes and publishes the guide, makes note of state laws regarding carry of firearms in a motor vehicle; concealed carry reciprocity; preemptive local gun regulation; concealed carry in state and national parks, and in restaurants serving alcohol; state laws on handguns, long guns and Class III guns; open carry without a permit; vehicle carry and possession on college campuses; how to handle a traffic stop; suppressor ownership; high-capacity magazine restrictions; and so much more.
The 2023 edition is 68 pages and includes more than 100 updates to the 2022 edition. New page formatting makes for easier reading and includes new online updates for conditional reciprocity states; new coverage of firearm carry on select Native American lands; a new full-page interactive reciprocity map; and 50 new subheadings in each state's traveler's checklist detailing gun carry at highway rest areas and RV carry and possession while boondocking.​
The Traveler's Guide to the Firearm Laws of the Fifty States has an MSRP of $15.95. To order your copy, visit gunlawguide.com.