by
posted on January 12, 2011
Support NRA American Hunter
DONATE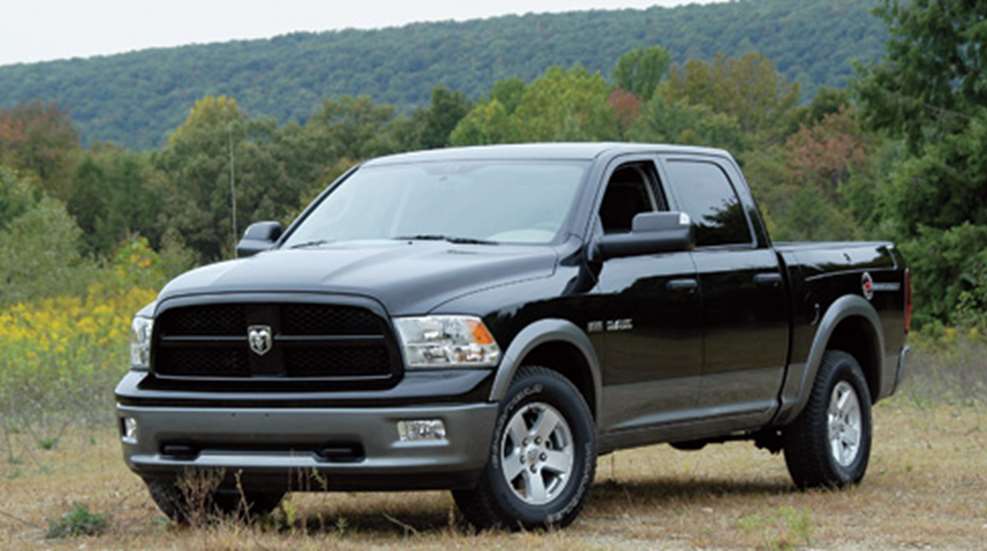 It's probably the most innovative idea yet on pickups. Other truck makers are probably saying, "Why didn't we think of that?" Or they just didn't care about the many sportsmen who use pickups. But Dodge did, and now it's capitalizing on the unique RamBox Management System, the main feature on the 2011 Ram Outdoorsman.
This half-ton pickup with optional RamBox Holsters ($1,895) designed into the cargo bed fenders is a natural for stowing four shotguns or rifles. And when fishing becomes the seasonal pursuit, the gun mounts, with grooved, U-shaped rubber finger-type holders, can be rotated to the rod holders that hold up to six fishing rods. The only drawback to the rod holders is that only two-piece rods will fit within the box. The mounts can be positioned at four different lengths within the 513/4-inch-long RamBox. Most long guns, except a lengthy Pennsylvania rifle, fit nicely and are secured in place by two pairs of specially cut rubber bands. The combination of rubber holders and bands cushions harsh bumps and rugged terrain. And when the two lockable, lighted and sealed boxes are not used for guns and gear, the mounts can be removed and the boxes filled with ice to keep drinks cold while tailgating. There are, incidentally, small holes in the bottom of each box to allow water drainage.
As for the truck itself, the Outdoorsman is offered in 1500, 2500 and 3500 models, and in Regular, Quad and Crew Cab models. However, the RamBox Holsters are available only on the 1500. With the optional ($1,310) 5.7-Liter Hemi V8 engine (13 mpg city, 18 highway), there's certainly no want for power. Producing 390 hp and 407 lb.-ft. of torque at 4,000 rpm, the Hemi-powered 4WD Outdoorsman Crew Cab I tested had a maximum trailer towing capacity of 10,000 pounds, a payload of 1,500 pounds and a GVW rating of 6,800 pounds.
Although many features are optional, the Outdoorsman was appropriately outfitted with lots of heavy-duty (HD) features. My tester was shod with 17-inch OWL all-terrain light truck tires, extra HD shocks, HD front axle and HD transmission oil cooler/engine cooling systems. Skid plates protecting the transfer case and front suspension, electronic stability control, four- and seven-pin trailer connectors in the rear step bumper, tow hooks on the front bumper, tire-pressure monitoring and more make up the must-haves.
The cargo bed has a 36.5-inch load height, a Mopar sprayed-on liner ($450), adjustable top rail tie-downs and a locking tailgate. Included was a lightweight composite tailgate extender that doubles as a cargo separator. It snaps easily into one of 12 bed wall positions.
Cabin step-in on the Crew Cab was a 24-inch stretch, but assist handles over all four doors make ingress easier. Snuggled between the cloth front seats is a huge, two-tier console box with enough capacity to hide numerous boxes of ammo, optics, game calls and myriad other small hunting essentials. The rear seats split 60/40 and fold up against the bulkhead for added secure storage space. When folded down, three adults can be accommodated as there is ample leg and headroom.
A man-sized console-mounted shifter selects gearing for the five-speed automatic transmission, which has a self-shifting gate—a nice feature to have when downshifting on steep descents. On the dash, a 3-by-5-inch LCD screen services the GPS navigation (included in the $1,565 Media Center), the audio and rearview camera systems. The 4WD system consists of the customary 2H, 4H and 4L, all selectable via a dash-mounted rotary switch. An optional ($230) Trailer Brake Controller was also dash-mounted and simple to use.
As for ride, the Outdoorsman rode better than some sedans I've tested. Put a load in the bed and the ride gets even smoother and more solid. Handling was typical of a pickup. Because I had the longer Crew Cab, parking was not as easy as a regular cab. (There are some trade-offs.) Opt for four doors for passenger considerations, or two for better maneuverability.
Overall, I liked the truck, and I loved the RamBox Holsters. But I was disappointed there was not more "Outdoorsman" identity other than the decals on the rear fenders. Ram designers should have added the "Outdoorsman" logo to the seatbacks and floor mats to promote the theme. The seats in particular could have been covered in washable and water-shedding neoprene like that in the Jeep Wrangler Islander. And perhaps the gear shifter could sport an embossed, or etched, logo emblem.
Then there's the price. If you're on a tight budget, forego some of the extra features and the bottom line of $44,655 (including $900 delivery) could come closer to the base price of $34,240. But in retrospect, and at its nicely equipped price, this vehicle can do what no comparably priced sedan or SUV can do. 
Specs:
Drivetrain: 5.7L Hemi V8 engine w/390 hp, 407 lb.-ft. torque @ 4,000 rpm; 5-speed automatic transmission; 4WD
Brakes: 4-wheel anti-lock disc
Suspension: multi-link coils, front and rear
Capacities: towing, 10,000 lbs.; payload, 1,500 lbs.; GVW, 6,800 lbs.; fuel, 32 gals.
Price: $34,240 base ($44,655 as tested)