by
posted on September 23, 2020
Support NRA American Hunter
DONATE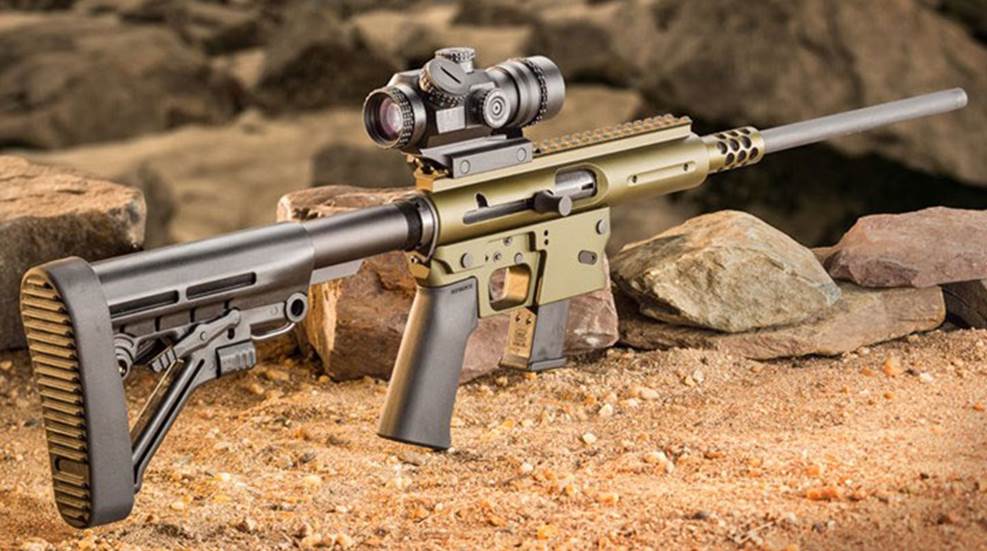 The 10mm Auto has earned a top spot among my favorite pistol cartridges because of its flexibility. Due to a revival in popularity over the last few years, there's a wide variety of loads available for it these days. It can be loaded down to .40 S&W levels of felt recoil for target shooting and self-defense, or ramped up to .41 Remington Magnum potency for handgun hunting. With pistols like the Glock G40 shown here, the 10mm Auto provides magnum-revolver levels of power for harvesting medium game and hogs, with the magazine capacity and easy reloading that semi-auto pistols offer.


But what some folks don't know about the 10mm Auto cartridge is how well it performs when fired from a pistol-caliber carbine. Much like the .357 Magnum, .44 Magnum and .454 Casull, a longer barrel gives 10mm Auto cartridges more of a bullet-energy boost than one might expect. The effective hunting range stretches out nicely as well. However, there's not nearly as much rifle performance data available for the 10mm Auto as there is for handguns. This is because only a few companies have carbines in their catalogs. The wide range of cartridge pressure levels can be challenging to manage. Light loads may not cycle reliably while hot loads can generate too much pressure for some rifle designs.
Thankfully, the American manufacturing company TNW Firearms chambered their Aero Survival Rifle (ASR) in 10mm Auto a few years ago. The ASR would be a solid little field carbine just for its accuracy, reliability and handling characteristics. But TNW took the design to the next level by making it a caliber-convertible take-down rifle that incorporates modular AR-15-compatible components.

The ASR was first introduced in 2012. This pistol-caliber carbine was originally designed as an emergency survival rifle for downed bush pilots. The slim-profile barrel can be removed from the upper receiver by manually twisting the barrel nut. No tools are required, and there are no small parts to keep track of. This makes it easy to stow and simple to reassemble. Over the years, the caliber options and caliber conversion kits have grown to include .22 LR, 9mm Luger, .357 Sig., .40 S&W and .45 ACP as well as 10 mm Auto. The rifle's lower receiver, which houses the magazine well, is designed to accept Glock pistol magazines, which are both affordable and easy to find. This means that if you already own a Glock pistol chambered in the same caliber as the ASR, then your carbine and pistol can share magazines as well as ammunition. 
The tubular receiver of this blowback-operated semi-automatic is reminiscent of the World War II era M3 Grease Gun. Like the M3, the ASR offers a simple, rugged design which is reliable in harsh environments. But that's where the similarities end. The one-piece tubular upper receiver is milled from aircraft-grade 6160 aluminum and treated to a hard-anodized finish in various colors, including Black, Dark Earth, OD Green and the Aero Gray option shown here. The other aluminum components, including the lower receiver and barrel nut, are anodized to match.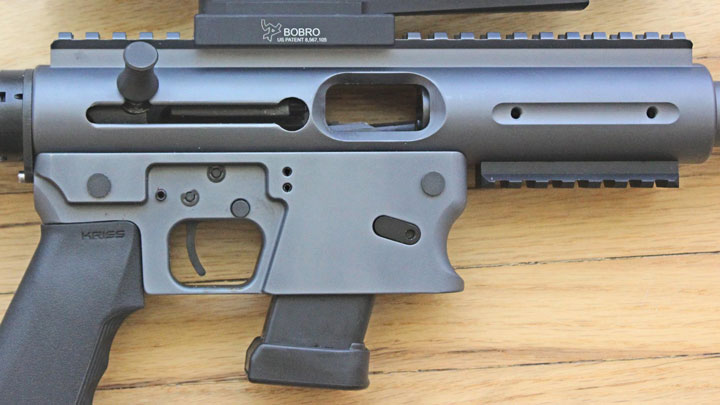 The front end of the receiver is threaded and notched to support the removable and interchangeable, 16.25-inch-long Parkerized 4140 steel barrel. The aluminum barrel nut is vented for reduced weight and to make it easier to twist in and out. The barrel's rifling twist rate will vary depending on the caliber selected. This particular barrel is threaded at the muzzle for accessories and ships with a smooth thread protector.  
Just behind the barrel the receiver is drilled and tapped at the 3, 6, and 9 o'clock positions to accept the 3-inch-long 7-slot M1913 Picatinny accessory rail provided with the rifle. It's an ideal option for mounting lights or bipods. The top of the upper receiver sports a 9.5-inch long integral M1913 Picatinny optics rail that will support AR-compatible red-dot or magnified optics like the Vortex Viper PST shown here. The rear of this receiver is configured to accept AR-15 buffer tubes. This rifle shipped with a six-position tube and an adjustable lightweight polymer shoulder stock.


An AR-type buffer spring supports the blow-back bolt. The bolt face does not rotate or lock into the receiver. Instead, it relies on its 1-lb. mass and the spring tension to hold it in place. The reciprocating charging handle is mounted directly to the bolt assembly on the right side of the receiver. The bolt does not lock open when the last shot is fired, but the bolt can be locked open by pulling the handle back and pressing it up into a notch milled into the receiver, MP5 style. 
The aluminum lower-receiver assembly, which houses the removable AR-15 pistol grip, trigger group and magazine well, is secured to the upper by two removable pins. Like the barrel, the lower is interchangeable. This rifle arrived with the Glock large-frame magazine well, which accepts 10mm Auto and .45 ACP magazines. The company also offers small-frame and rimfire lowers as well. With this gun, all that's needed to convert it from 10mm Auto to .45 ACP is a barrel and a bolt face from TNW, along with a Glock magazine. All magazine sizes in a given caliber are compatible, including sub compact, compact, standard and extended sizes.
The lower controls are steel, including the smooth-faced trigger, the left-side magazine release button and the cross-bolt safety. The trigger pull is best described as single-stage, but it has a unique feel to it. Although it's relatively smooth, the take-up is bit mushy. This trigger weighed in at 5-lbs. 10-ozs.  and traveled 0.30-inches before stopping against the interior of the trigger guard.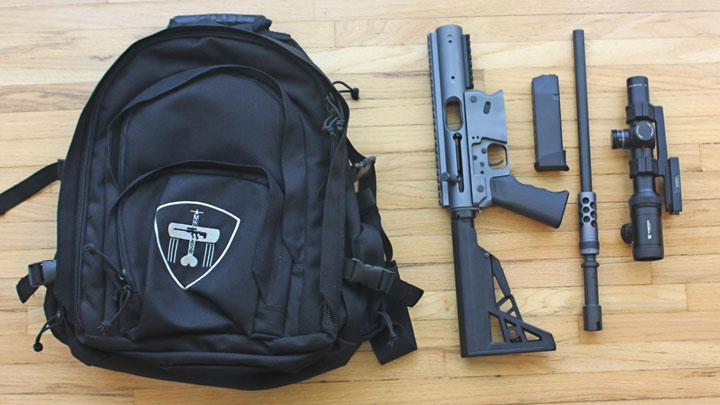 I've been working with the ASR platform for several years now, and seen it perform reliably in a variety of calibers. Because most of this carbine's weight is located in the bolt and receiver assembly, it handles and swings beautifully. There's just no sense of muzzle heaviness. The 10mm Auto version is particularly enjoyable to work with because the gun's 6-lb. weight soaks up the levels of felt recoil that would feel stout in a handgun. The company does install a fairly heavy recoil spring for this cartridge, so cycling the bolt manually takes a bit more oomph than with other calibers.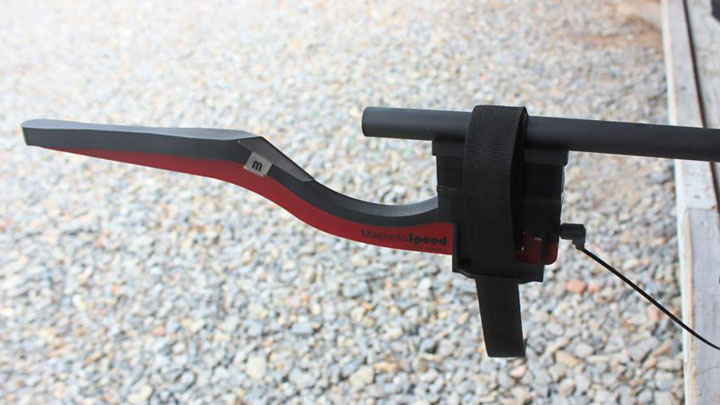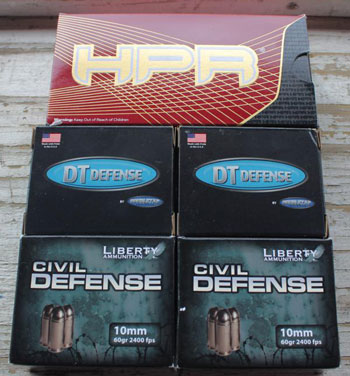 Using five 5-shot group bench rested accuracy testing, these rifles have proven to be accurate as well. Using a magnified optic, I was able to keep group averages to right around 2.25-inches at 100-yards. I would expect to see groups between 3-inches to 3.5-inches in size when firing the same ammunition through a pistol at 25-yards. That brings us to the bullet velocity boost the ASR's 16.25-inches barrel provides, with more potent pistol cartridges. Test loads included a relatively light practice load, a standard-weight hollow point and the fastest, lightest bullet I could find. Muzzle velocity was measured for 10 shots using a MagnetoSpeed V.3 chronograph which employs a barrel mounted sensor. The results are shown in the following table: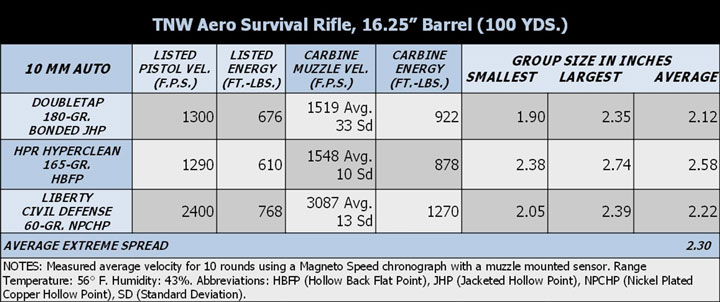 Despite its survival-gun origins, TNW's ASR series has steadily gained a following among outdoor enthusiasts looking for rugged, reliable multi-purpose carbines. Chambered in 10mm Auto, this easy-packing take-down rifle is an ideal option for the close-range harvesting of medium game, as a camp carbine or an emergency survival tool. The company offers a full feature 3-Day pack that comfortably holds one complete rifle and a caliber-conversion kit, along with plenty of pockets for other items you'll need in the field. If you are looking for an even more compact configuration, take a look at TNW's braced 10.5-inch barrel Aero Survival Pistols. 
Specifications:
Manufacturer: TNW Firearms, Inc.
Model: Aero Survival Rifle (ASR)
Action: Blowback Operated Semi-Automatic
Caliber: 10mm Auto
Upper and Lower Receivers: 6160 Aircraft-Grade Aluminum
Receiver Finish: Hard Anodized Aero Grey
Scope Mount: Integral 9.5" M1913 Picatinny Optics Rail
Bolt Assembly: Caliber Convertible
Barrel: 16.25" Parkerized 4140 Chromoly Steel, Removable
Muzzle Thread: 9/16-24 TPI, Thread Protector Provided
Barrel Nut: Vented 6160 Aircraft-Grade Aluminum
Trigger: Single Stage
Trigger Pull: 5-lbs. 10-ozs.
Buffer Tube: AR-15
Shoulder Stock: AR Type 6-Position Adjustable with QD Sling Port
Pistol Grip: Removable Kriss Defiance AR-15, Black
Magazine: Glock 10 mm Compatible Pistol Magazines
Overall Length: 29.75" to 33.50"
Length of Pull (LOP): 9.50" to 13.50"
Weight: 6.00 lbs. with Empty Magazine
Capacity: 10+1 Rounds
Twist: 1:16" RH
Rifle Grooves: Six 
Accessories: One Magazine, One 3" Accessory Rail, Muzzle Thread Protector, Owner's Manual
Rifle MSRP: $699
.45 ACP Caliber Conversion Kit (Barrel & Bolt Only): $199