by
posted on March 12, 2020
Support NRA American Hunter
DONATE
You've been pulling your tired legs out of bed at 4 a.m. for the past two months. Your wife, well, she's still your wife, thankfully, but the likelihood of her putting up with this nonsense for another year gets slimmer every time she sees your waders still piled up near the garage door. The season is over, and while she'd prefer you to be thinking about organizing "your" area, I say hold off, patch and pack your waders, grab your passport and a few of your buddies, and head south for a vacation worthy of the hustle. Head to Obregón, Mexico, and hire a tour guide named Ramsey Russell to plan your trip. Rumor is, Ramsey's hunted a few ducks in his day and has a keen eye for scrounging up a wing shoot just about anywhere he goes. Heck, bring the wife along with you, as long as she's willing to shoulder a gun, that is, because with Ramsey running the show, finding time for anything else can be difficult.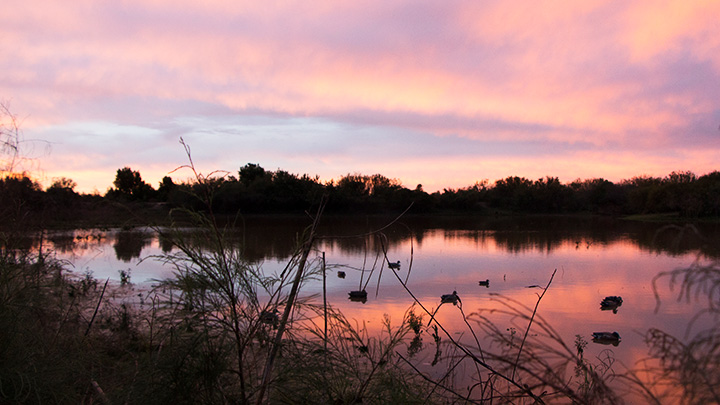 Day 1
You meet Ramsey at the airport and immediately notice that, like you, he sports the uniform of a master hunter—marsh-camo shirt and cargo shorts. He tells you as you pile into the waiting pickup truck with a "Gabino's Outdoor Adventures" logo plastered on the side that the ducks have been thick for the past week and the brant are just arriving. It's a good thing Ramsey talked you into packing your waterfowl gear, because things are about to get good, and when a man who likes shooting ducks as much as humans like breathing tells you the shooting should be good, well, you should be prepared.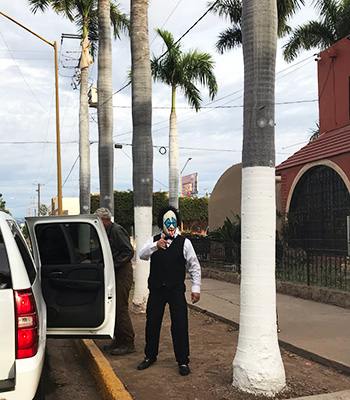 But you came to rejuvenate, as well, and a cold Pacifico is thrust into your outstretched hand before your brain can fathom the fact that this is Mexico, and taking the time to enjoy a cerveza in the Hermosillo Airport parking lot is all part of the process. 
The drive to Ciudad Obregón takes about three hours. Upon arrival at the "lodge," you are met by the head butler and resident funny man, Hammer; he's wearing a pressed black formal uniform and a Kiss mask. If his presence tells you one thing it's that this hunt offers as much life as it does luxury. Inside, Hammer has more cold beer and his own house-blended margaritas dripping perspiration waiting on a small table just beyond the door. Beyond that is the buffet, stocked with freshly prepared dove breasts and, of course, chips and salsa.
While you won't be hunting tonight, you experience no lack of entertainment and relaxation as you melt into vacation mode surrounded by good food, cold drinks, Hammer's jokes and all the trimmings that come from conversation with like-minded folks. Anticipation sings you to sleep.
Day 2
Despite the late night, your feet hit your bedroom floor without skipping a beat. Like a commercial dad, the aroma of morning coffee guides you down the stairs of the lavish hacienda, the family home of Gabino's owner, Frank "Gabino" Ruiz. Passing through a menagerie of taxidermy from nearly every continent, you park yourself at the dining table where Frank sits at the head as he instructs you to place your order for eggs, any way you like them. Within minutes, the huevos rancheros has been delivered and devoured. You almost forget about the hunt to unfold, but Ramsey, like his Lab, Cooper, is getting antsy, making circles near the door. Follow his que and get with it.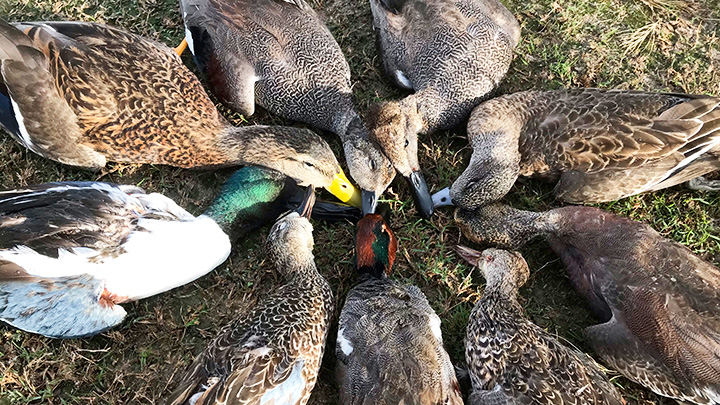 After a quick ride to the outskirts of Obregón, you'll jump on one of Frank's custom airboats where guides cruise the still-dark tidal estuaries of the central Sonoran coastal region before dropping you off at a simple yet invisible hard-bottom blind tucked in the thick marsh on the bank. You've been told that ducks of a variety of species are possible here, 16 in all, but that teal have been known to fly this little slough most recently. This could be it—your first chance at cinnamon teal. You'd be happy with anything, but the cinnamon is on the top of your Sonoran wish list. Frank knows it, too, and placed you here for that very reason. Hunker down and get ready.
You spot them on the far side of the marsh, low and fast. The teal are balled up like a swarm of anchovies as they flash left, then right through the surreal back-lit haze of a warm Sonoran sunrise. Cruising just over the reeds at the far edge of the blocks, tail feathers fan out and wings tip back to halt the forward momentum in a controlled descent that looks so very far from controlled. You burst forth from your dark hole sending the coordinated dance team into a frenzy of spastic escape as the shots ring out. At the end of the barrage, three ducks lay quiet, barely visible in a half-moon around the blind; a fourth, known only by a faint splashing of water, is soon silent as it floats into view on a tidal current like an apparition through the thick river fog. Like the gift it is, your first cinnamon teal is delivered to shore within arm's reach.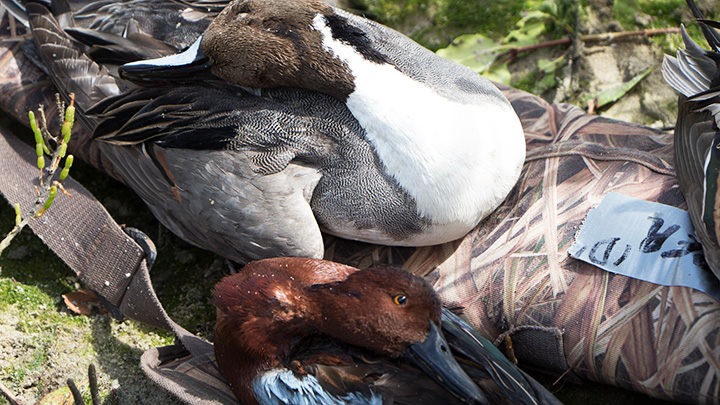 Shells are plentiful and cheap in this part of the world, and despite your average, as the rest of Mexico wakes, your duck pile slowly builds. Steady, but not heavy, the birds filter in—green, blue and a few more cinnamon—and your gang takes turns flopping singles into the increasingly fast-moving tidal flat. By morning's end you've covered a U.S. limit and then some. But this is Mexico, and you've been instructed to keep shooting until the airboat, heard long before it's seen, comes into view.
It's only 11 a.m., and your day has just begun.
Lunch and a nap aren't declined, though the nap is short-lived. Ramsey has promised some action with white-winged doves; Obregón's surrounding agriculture provides an end-of-migration smorgasbord for the quick little devils.
At your pre-scouted position, you suss-out potential flight paths in your little corner of this world as your bird boy cracks the ammo can and passes you your first box of shells. Your lack of urgency is quickly found faulty as you spot your first bird. It's in range, and you've already begun to hear the shots ring out from your companions not far away. By the time you've loaded your gun, four more have made the crossing, the last you'll allow to fly this route unscathed.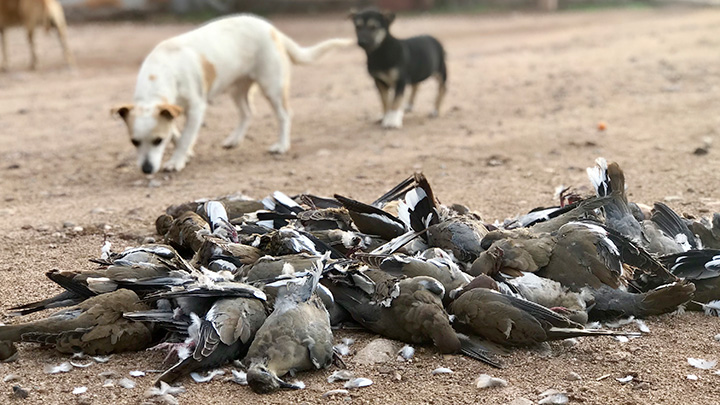 By evening's too-soon arrival, surrounded by hulls, multiple empty shell boxes and a pile of birds, you are humbled. Utterly pleased, but humbled. It's easy to forget fundamentals when the birds fly this good.
Day 3
It's day three in Obregón, and Frank has options. You know what Ramsey will be doing, and shooting ducks with him is far from a stale idea. But for those wishing to add a little fin to the feathered fun, Frank happens to enjoy bass fishing and takes pride in besting his local buddies, pulling large-mouth giants that bend the scales a 10 pounds or more from nearby Lake Oviachic. And there's room on his boat.
Opting for some new scenery, you decide that spending a morning away from the ducks, while painful, is all part of the adventure. And after catching 23 of the monster fish, you've had that and then some. By morning's end, thumbs bloodied by fish lips are itching to pump 12-gauge shells into a mag tube once more.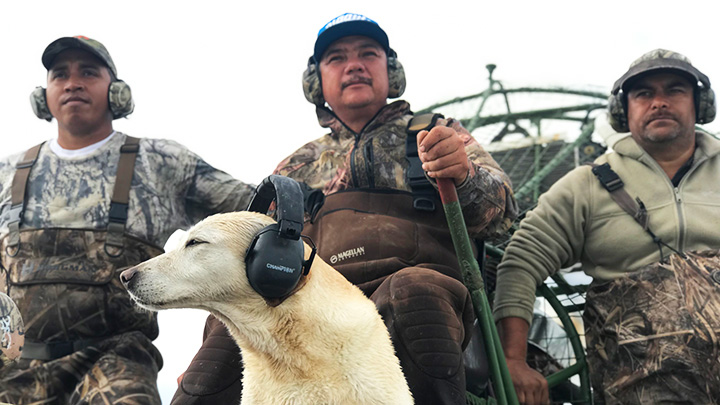 Joining up with Ramsey and the gang, this time in well-irrigated farmland, the target is the resident Mexican mallards, and it's a target-rich environment. Looking similar to the American black duck found on the central East Coast, the Mexican mallard spends its entire life in this area, never migrating farther north than southern Arizona. More than a few won't make it that far after today. They're a staple of the region, and like any fat mallard, a ton of fun to shoot as they decoy effectively in the flooded canal system that twists and turns across the fertile landscape.
Day 4
Ramsey is eager this morning. There's no hiding it, not that he's trying to do so, but when he starts to describe honey holes full of Mexican mallard, wigeon and pintail—all the things that make this part of Mexico a destination for waterfowl hunters—the gleam in his eye transfers easily.
It's a classic puddle shoot over well-placed blocks, and as the fog clears across the 2-acre pond out front, you start to put the pieces together. Water, food and weather brought these birds here, and the Yaqui Valley is brimming with an abundance of all three. Not an inch of this marshy water's surface is without seed or insect, and as the first bird sets, a hen mallard just out of range, you hear Ramsey's voice beckon, "Shoot 'em," and all but two of the dozen teal you didn't see appear and vanish faster than last night's gourmet meal.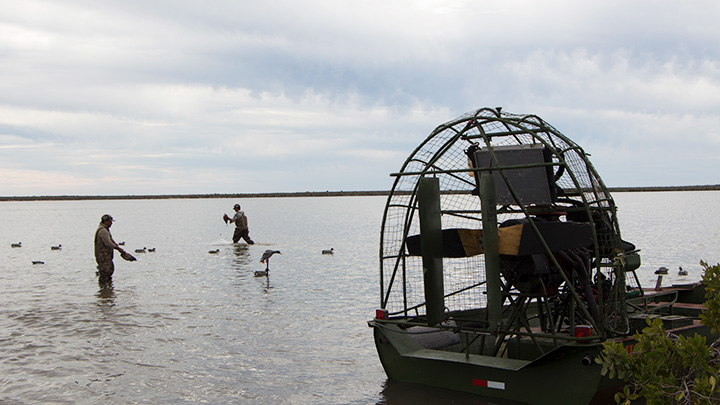 On your game now, the honey hole proves to deliver a mixed bag of Obregón's finest, though Ramsey can't ignore the echoing booms of distant gunfire telling an even better tale, a tale not far from you. So after a quick boxed lunch, Ramsey decides it's time to discover the source of the commotion.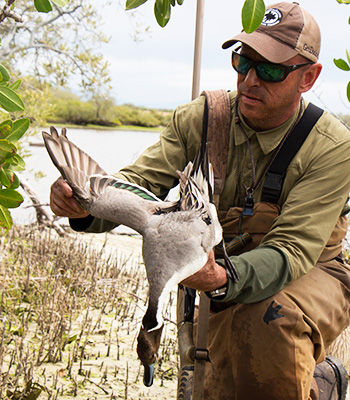 Stepping off the airboat onto the sandy shore, you're inclined to look for a beach chair rather than a seat in the mangrove bush at the center of the small peninsula jutting into the brackish flats. Being without a bathing suit, you retire to the semi-shade of the blind and load up as distant wings glisten in large numbers in the clear-blue sky overhead. At a mile up, you've nothing to do but stare, but as Ramsey identifies "pintails" and begins his hi-whistle tune, the distant flicker begins to turn and descend. Still astonished at Ramsey's ability to pull birds on a string from stratospheric heights, you raise your gun and crumple the best-dressed mature sprig you have ever seen.
It's midday, the sun hot overhead, and the birds keep coming. Pintails pour freely into the small decoy spread like Hammer pouring tequila, and you indulge. Soon enough, widgeon and even the cinnamon teal take a few close loops around the island, searching for an afternoon loafing spot. They, too, join your bag among a barrage of steel and jubilation.
The airboat swings wide and signals from afar, and just as you think this epic hour is over, Ramsey waves them off and says, "This is just too good to leave." Another half-hour turns barrels hot and straps heavy before you've had your fill.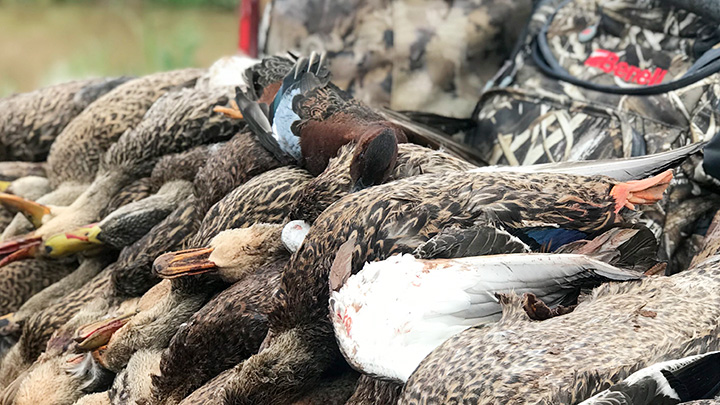 This was a special day, and a special evening awaits you at the boat launch. The crumbling concrete remains of an old fishing village set the backdrop for a picturesque seaside sunset. As the beer is guzzled and the birds gathered for photos, Ramsey wants to know just how many different species were shot today, adding a sample of each to a single strap that looks as though it's about to split at the seams. The result far outshoots your wildest dreams as he counts off nine different species, all in their finest February plumage, taken from the Sonoran skies.
Day 5
It's your final morning in this waterfowl paradise, and the scouting reports come back positive: The Pacific black brant have made it to this little slice of heaven. From their breeding grounds in the far north of Alaska, the Yukon, the Northwest Territories and even Russia, the brant have traveled thousands of miles to meet you, and Ramsey and Frank couldn't be more eager to facilitate your introduction to this exclusive visitor.

Reaching your shallow, open-water "X," two guides make short work of assembling the makeshift blind as two dozen brant decoys are strewn about in the almost-mud flat. As the tide slowly rises and brings decoys to life, a dark line appears in the shimmering distance. They reach identifiable range in short order, and the jagged string of 25 brant sailing 10 feet above the waterline locks onto the decoys. Larger than a mallard, yet smaller than any goose, the brant seem like easy targets as they close the distance. Eyes low, you wait for the moment as their high-pitched rolling vocalizations hit your eardrums. The staggered line of birds begins to tighten, and nearly balls up into one pulsating mass of wings as they set their feet and flare their wings for a landing. Wondering how you'll ever avoid flock-shooting, the shot is called and the quickest hunters raise to meet them. The birds split in all directions as you pick out extremely shootable singles and drop two into the blue water. The action ends as the chatter of brant fades. When distant lines cease to draw your way Ramsey signals it's time to head back.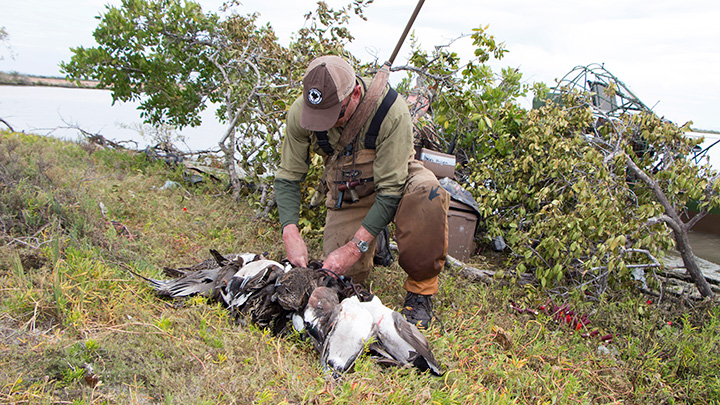 Your last night in Obregón is bittersweet. Ducks all wrapped for the taxidermist, Hammer makes sure no one goes without libation. As Frank has pre-prepped your customs paperwork with diligence, you need no more than his assurance that your trophy birds will make it stateside. His attention to this and every other need you might have had over the past five days is unparalleled, and he insists you celebrate the bounty of this trip rather than mourn its inevitable end.
Soul filled to the brim during Frank's last-night fireside feast, surrounded by friends new and old, you ponder if life's journey will ever be this good again. You'll eventually drift to sleep, though tonight it doesn't come easy. Filled with thoughts of home, you inevitably fast-forward to the next season, where once again you'll be chasing birds stateside, relying on weather, wind and unpredictable migrations to bring a duck your way. After a trip like this, the idea of playing this game back home just doesn't seem fair. It's a good thing you've now got a friend like Ramsey to help even the score.
---
GET DUCKS, ANYWHERE YOU TRAVEL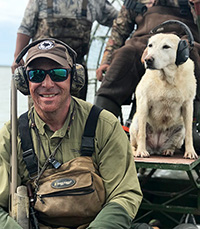 If you haven't figured it out yet, Ramsey Russell is one hell of a travel salesman. Aside from being a true, Southern good ol' boy from Mississippi, he's made a life traveling to some of the farthest reaches of the globe, all in search of cupped wings and heavy straps, and he's willing to set you up with his favorites. Be it Mexico, South Africa, Argentina, Canada, Sweden, New Zealand, Australia, the Netherlands or even as far as Mongolia, Russia and Azerbaijan (in the Middle East), Ramsey has a knack for finding amazing waterfowl and eclectic waterfowlers in places other outfitters wouldn't think to look. To book the hunt of a lifetime, visit getducks.com.
---
BENELLI SUPER BLACK EAGLE 3


Hunting in Mexico, you'll want a shotgun that won't pull your attention away from the skies, and there's perhaps no other shotgun with a reputation of reliability among duck hunters north and south than the Benelli Super Black Eagle 3. The most recent iteration of the famed SBE line, the SBE3 sports an inertia-operated action that reduces felt recoil, doesn't fowl-up, and chews through 3 and 3½-inch duck loads with an indiscriminate hunger rarely found after days of high-volume shooting. Its synthetic stock is near impervious to weather and houses Benelli's soft Combtech cheek comb pad for a pleasant face weld, as well as an upgraded version of the company's recoil curtailing chevron system, Comfort Tech 3. Borrowing a feature introduced in the Ethos semi-auto shotgun, the SBE3 also houses a much-appreciated mechanical upgrade to its rotating bolt; a small detent pin that assists in locking the bolt into battery and keeping it there, despite the tender touch some seem to apply to its operation. Check one out when you're looking for a shotgun that can hunt as hard as you someday hope to. MSRP: $1,899; benelliusa.com.