The U.S. hunting population likely fell by about 1 million between 2006 and 2016, according to surveys by the U.S. Fish and Wildlife Service (FWS), even as annual hunting participation held firm and grew in some states and regions.
The FWS has conducted a survey of outdoor recreation every five years since 1955. In 1980, the survey estimated 17.5 million Americans 16 and older hunted (7 percent of the population). In 2006, it estimated about 12.5 million Americans 16 and older hunted. The number sank in 2016 to 11.5 million, or roughly 5 percent of the nation's population.
Even so, it's inaccurate to say hunting participation is declining coast to coast. A review of FWS annual records from 2012 to 2018 reveals the number of individual paid hunting-license holders actually increased in most Western and Southeastern states, while hunter numbers mostly tumbled across the upper Midwest and Northeast.
The declines remain worrisome, of course, because both the upper Midwest and Northeast have long been home to the nation's largest hunting populations. That region had the most hunters to lose … and lose them it has. Since 2012, for instance, individual hunting-license holders declined 10.25 percent in Michigan, 7 percent in Illinois, and 5.6 percent in Ohio.
Further, of the eight states in the upper Midwest and Northeast with the largest hunting populations—Illinois, Michigan, Minnesota, Missouri, New York, Ohio, Pennsylvania and Wisconsin—only Missouri and Pennsylvania saw increases in individual hunting-license holders, according to FWS data.
Western states are faring better. Of the 11 largest Western states for individual hunting-license holders, six saw increases since 2011—Arizona, Colorado, Idaho, Montana, New Mexico and Utah—and five saw decreases—California, North Dakota, Oregon, South Dakota and Wyoming. In fact four states saw double-digit percentage increases the past six years: Arizona, up 110,487 license holders, or 57 percent; Idaho, up 34,374, 14 percent; New Mexico, up 10,907, 11 percent; and Utah, up 24,278, 11 percent.
Convenient Access
Greg Lemon, communications administrator for Montana's Department of Fish, Wildlife and Parks, said he's not surprised the West is outperforming most Eastern states. "Montana isn't seeing a dip in license sales, and I think the rest of the West is similar," he said. "Hunting is still a big part of our culture out here. We have so much public land compared to most Eastern states, and most of it is within a short drive from town for most residents."
Joe Lewandowski, the Parks and Wildlife Department's public information officer in southwestern Colorado, agrees. He notes that 60 percent of Colorado is public property, with most of it within convenient driving distance of Denver.
It helps, too, that the West also has abundant elk, bears, mule deer and pronghorns to complement its growing whitetail herds, which generally don't attract as much interest. Several states like Colorado and Idaho even offer over-the-counter tags for elk rifle seasons.
"That reflects our commitment to providing as many opportunities as possible," Lewandowski said. "You can hunt elk here every year while also putting in for preference points, and eventually get a different high-quality experience."
Much like the West's "baked-in" hunting culture, Southeastern states showed similar strength in individual hunting-license holders. Of the region's nine largest states for individual hunting-license holders—Alabama, Arkansas, Georgia, Kentucky, Louisiana, North Carolina, Oklahoma, Tennessee and Texas—only Arkansas lost hunters since 2011, according to FWS annual reports. In fact Arkansas lost a staggering 58,716 individual hunting-license holders the past six years, a 15.25 percent decline from 385,275 in 2012 to 326,559 in 2018.
During the same period, Georgia saw a 100 percent increase in hunting-license holders, but with this caveat: Starting in 2015, all boat registrations included a three-day hunting license, which makes the state's hunting participation difficult to assess. Likewise, Alabama now includes hunting in many of its combo licenses, so it's hard to know how many of those buyers actually hunt each year.
Elsewhere in the Southeast, increases in hunting-license holders ranged from 5 percent in Kentucky, which reached 352,408 in 2018; to 13.5 percent in Texas, which increased its nation-leading total to 1.16 million.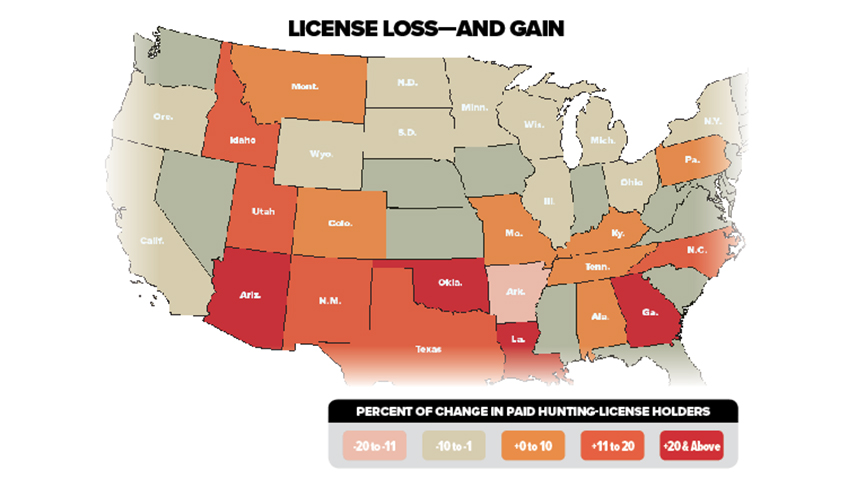 Big-Game Divide
Those numbers include all hunting-license buyers for turkeys, waterfowl, small game or big game. But when looking solely at deer-hunting license sales, many of the nation's top whitetail states are losing license sales, including Pennsylvania, Michigan, Wisconsin, New York and Minnesota. Consider these gun-deer license sales to resident hunters:
• Pennsylvania sales decreased 6 percent from 2012 (760,462) to 2016 (715,647).
• Michigan sales decreased 6.4 percent from 2012 (623,158) to 2016 (583,285).
• Wisconsin sales decreased 7.6 percent from 2012 (600,363) to 2017 (554,937).
• New York sales decreased 1 percent from 2012 (533,624) to 2017 (528,327).
• Minnesota sales decreased 6 percent from 2012 (391,822) to 2017 (368,407).
Meanwhile, several Western states retained their resident big-game hunters:
• Colorado elk applications increased 1.6 percent from 2015 (238,643) to 2018 (242,490).
• Colorado deer applications increased 4.3 percent from 2015 (236,004) to 2018 (246,256).
• Montana elk and deer licenses sold increased 4.7 percent from 2012 (222,548) to 2016 (233,023).
• Wyoming elk and deer licenses sold increased 5.5 percent from 2012 (110,973) to 2016 (117,127).
• Arizona elk applications increased 24 percent from 2012 (79,042) to 2018 (98,339).
Rural Living Matters
Mark Duda, executive director of Responsive Management, a research firm that studies hunting and fishing trends, said much of the decline in hunter numbers in the upper Midwest and Northeast may be explained by three things: urbanization, habitat loss and lost access. Western states haven't been equally affected by urban sprawl and population growth, and their vast public lands remain open to hunters.
Hunting has always fared best in areas with large rural populations and corresponding cultures; current hunting-license data reinforce those facts.